Disney fans gather to celebrate — and mourn — the Tower of Terror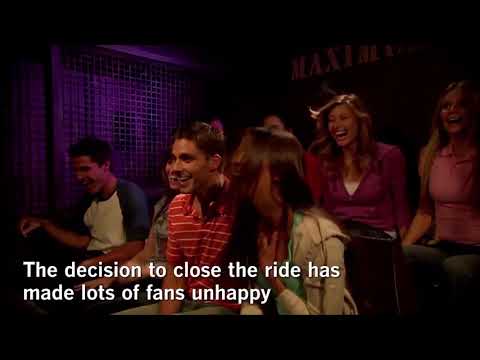 The structure will remain standing, set to reopen later this year as a new attraction themed to Marvel's "Guardians of the Galaxy."
Some came dressed in their best formal attire — suits, skinny ties and flowing glittery gowns. Others wore black, often including a veil as if attending a wake. Both fashions fit the mood. The new year was hours old, and fans of the Disneyland Resort had come to celebrate, and to mourn.
"The Twilight Zone" Tower of Terror attraction in Disney California Adventure — that haunted hotel that loomed over the entire park — would be frightening its final guests the following night. The structure will remain standing, set to reopen later this year as a new attraction themed to Marvel's "Guardians of the Galaxy."
To commemorate the closing, Disneyland threw a gala complete with a red carpet, mock paparazzi, desserts, mixed drinks and the opportunity to purchase a $37 paperweight in the form of an enlarged hotel key.
Still, the night was bittersweet for the dedicated-to-obsessed resort fans for whom a change in the Jungle Cruise script can touch off a seismic reaction. The summer announcement of the Tower's closure was met, predictably, by shock, outrage and online petitions. While many have since made their peace, some of the hundreds who paid an extra $95 to attend the after-hours party were still quite unhappy, and not just because they would miss the ride itself.
By closing the Tower, the resort surrendered one of its most overt and least self-referential connections to Old Hollywood. With its sinister facade, eerie story line and no direct ties to a Disney property, the Tower was very much an adult ride, providing an unexpected palate cleanser to the park's uber-themed and upbeat nature.
The film "Guardians of the Galaxy" is by contrast quippy and cartoonish, leaving California Adventure without a spooky attraction — a complement to the Haunted Mansion in a resort where thrills now far outnumber chills.
"I'm usually good with change and improving the park," said Maxwell Glick, 27, an avid Disney fan who posts his thoughts on the parks on YouTube, "but this felt different. We've taken an iconic attraction based on an iconic show and replaced it with something that has only been around a short time."
For months, the Tower had been operating in a sort of hospice state, the ornate and intentionally crooked sign long gone, the fake hotel's scarred facade shrouded in an unsightly bland beige sheet. Though it felt iconic, it had a relatively short life span.
Like the Disney World attraction on which it was modeled, the $60-million Tower was built around the concept of an abandoned building -- the Hollywood Tower Hotel -- struck by lightning during its 1930s heyday and frozen in time. Guests boarded what was described as a maintenance elevator, and then ascended — and descended — without warning.
The Anaheim edition debuted in 2004, added to California Adventure after the park opened to lukewarm reviews three years earlier. (Disney has stated that there are currently no changes planned for the Orlando Tower of Terror.)
A thrill ride that stayed true to California Adventure's salute to the Golden State, it seemed a perfect answer to the park's initially disappointing reviews and quickly became a favorite among guests, many of whom can't understand why Disney decided to "fix" something no one considered broken.
"I am not one of the Disney purists that hates every new change," said Timothy Dowling, a Studio City-based screenwriter. "I usually welcome it. Star Wars Land instead of Big Thunder Ranch and part of the train ride? Sounds good, sign me up. But it's rare that they get rid of a ride that already is great."
Disney and its champions inevitably respond to complaints about change by pointing out that the parks are not a museum, that Walt Disney himself said Disneyland would never be finished.
And that is true — mostly. Disneyland is a sort of living museum, a monument to American pop culture. It shifts with the trends of the time, sure, but its lands also reflect the Hollywood of different eras, whether in the form of classic fairy tales, a western-based frontier town, the sci-fi optimism of Space Mountain (currently retrofitted to honor "Star Wars"), and now, coming soon, the modern age of the superhero movie.
The loss of the Tower of Terror cuts into both California Adventure's ties to Hollywood's Golden Age and more broadly, the big-screen nostalgia that drives the entire resort. In California Adventure, Buena Vista Street leads to the old-time backlot feel of Hollywood Land – each essentially a living art installation that mythologizes Walt Disney and his first art form — which led to the Tower.
"It had a great theme and great atmosphere," said Dowling of the Tower. "I think this was why it had a cult around it. And you saw this at the goodbye party with so many people dressing up like they were in a Hollywood of the past. The hotel represented a bygone era of Hollywood. Like Main Street U.S.A., it takes us back to a time that we weren't part of and lets us live in it for a few minutes."
The attraction itself was impeccably themed, its ornate lobby featuring dead foliage and abandoned card games, as well as numerous references to various episodes of "The Twilight Zone." Listening closely, one could have heard ghostly voices in the hotel's boiler room, or spied a period poem.
It also felt lived in. The Tower was one of the rare Disney rides visible from most other lands of the park; standing on Route 66 in Cars Land, the hotel's facade made it easy to imagine a more bustling, urban area off in the distance. The space-like theme of "Guardians of the Galaxy" will alter that — potentially clashing with the yesteryear feel of Hollywood Land, Buena Vista Street, and even the distant Cars Land and Paradise Pier.
The initial description as a "warehouse, fortress power plant" may have raised more questions than answers. Early concept art has shown a semi-futuristic building outfitted with pipes and symbols, leading to some skepticism among the Tower's most dedicated fans.
"I am disappointed that the tallest building in Anaheim will look like a giant golden oil refinery," said Jerry Kasai, 34, of Irvine, who documents his many Disneyland trips, including the Tower's farewell party, on social media. "I could understand the decision to re-theme Tower of Terror if it was unpopular, but it is one of the park's busiest attractions."
And yet a more whimsical tone — as well as tweaks to the ride system — could be welcomed.
"My first reaction when I heard the ride was closing was sadness," said Kayse Sheppard, 23, of Hacienda Heights. But now, she adds, "I'm excited for the 'Guardians of the Galaxy' theme. I wonder if they are going to update the ride by changing the number, frequency, and intensity of drops."
Disney has, in fact, made it clear that Guardians of the Galaxy — Mission Breakout will maintain the same heart-racing drops as Tower of Terror. There have also been hints that Mission Breakout is the first of a planned slate of Marvel offerings coming to California Adventure.
If done right, people's memories of the Tower may be short.
"If the drop portion is just as unpredictable, thrilling and fun as the current ride — married to a great fun 'Guardians' story — I will be very excited for the new ride," Dowling said.
And every guest approached at the farewell fete said they were hopeful about the new ride, for which they said they would be happy to stand in line.They all wanted Marvel, though not necessarily at the expense of the Tower.
"I really wish there was a way they could have kept the Tower, and also had a 'Guardians' ride," said Glick. "
Certainly, no one let the closure dim the mood on Sunday evening. There was swing-dancing and those who wanted to experience the attraction for a final time — or five — could do so thanks to relatively brisk lines at 20 minutes or less. Often, the wait to buy merchandise — ornaments or shirts or the aforementioned paperweight, already heavily marked up on eBay — was longer.
Characters such as Goofy and Chip and Dale were available for photo ops, and live music, courtesy of Hollywood Tower Hotel "regulars" the Silver Lake Sisters, peppered the evening.
Their vocals on songs such as "Chattanooga Choo Choo" could be heard throughout the night — harmonizing one last time before Anaheim's Tower of Terror dropped into another dimension:
The past.
Follow me on Twitter: @toddmartens
ALSO
Digging up the ghosts of Disneyland's Haunted Mansion ride
In defense of Ariel: In a post-'Brave,' post-'Frozen' world, why the time is right for Hollywood Bowl's 'Little Mermaid'
Review: Anna and Elsa are unstoppable in Disney's 'Frozen Live' at California Adventure
Get our L.A. Goes Out newsletter, with the week's best events, to help you explore and experience our city.
You may occasionally receive promotional content from the Los Angeles Times.