'Westworld' creators on love, violence and human nature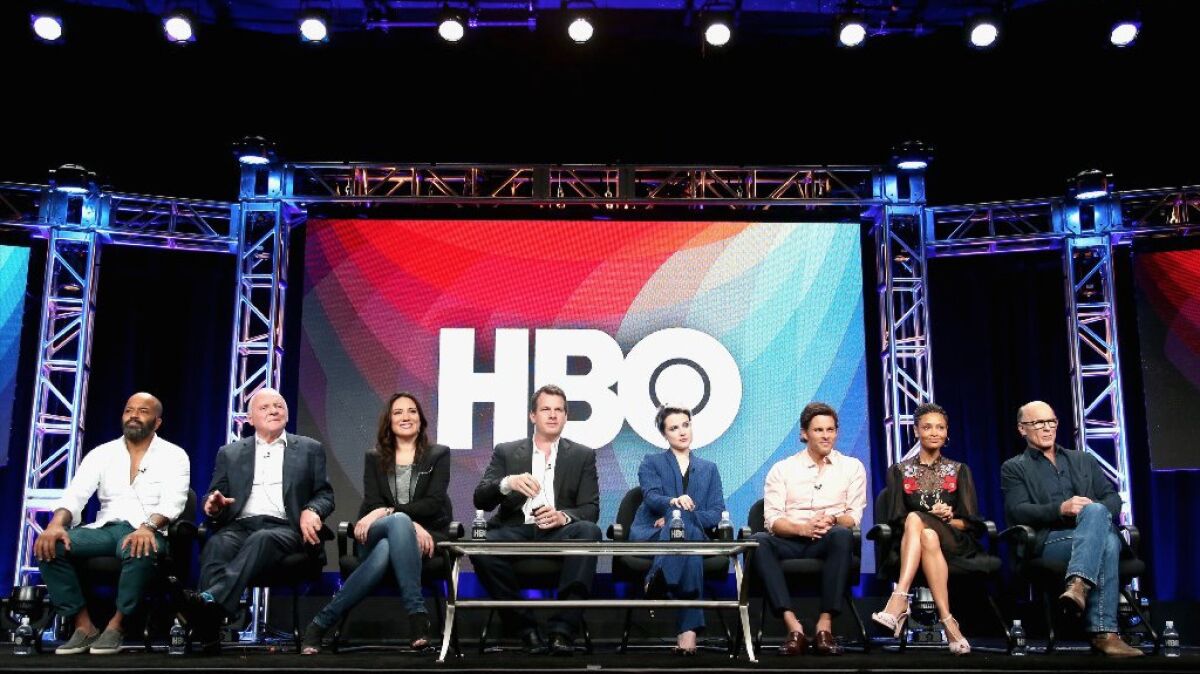 HBO's "Westworld," a sci-fi/western based on Michael Crichton's 1973 film, made a buzzy debut at the Television Critics Assn. summer press tour Saturday in Beverly Hills.
For months the premium cable network has kept information about "Westworld" a closely-guarded secret. But this week the details of the robot-filled universe finally began to emerge, as did the premiere date: Oct. 2.
The cast of "Westworld" — Jeffrey Wright, Sir Anthony Hopkins, Evan Rachel Wood, James Marsden, Thandie Newton and Ed Harris-- joined co-creators Lisa Joy and Jonathan Nolan to talk robots in cowboys hats, and the new "Westworld" sounds intense.
Set in the future, "Westworld" takes place inside a fantasy-fulfilling theme park populated with humanoid robots (a.k.a. "hosts").
This army of hosts is programmed to think it lives inside an American frontier town during the late 19th century. For a price, "guests" can act out their wildest fantasies. Whether that means merely participating in a bit of costumed old-timey fun, or murdering a collection of "hosts" followed by a salacious night at the local brothel, the experience is entirely up to the "guest." Think Pleasure Island but with horses and more dust. But what happens when the "Fantasy Island" experience goes dark?
Spoilers ahead:
The first question from the reporters helped demonstrate how "Westworld" straddles the dueling genres.
In the "Westworld" saloon, its player piano (which gets more than its fair share of screen time) has a tendency to crank out familiar tunes such as "Black Hole Sun" and "Paint it Black."
"One of the advantages of being able to make a western, that is actually a synthetic western set in the future, is you get to play with contemporary music," Jonathan Nolan explained.
"My brother [Oscar-nominated director Christopher Nolan] never wanted to put any of it in his films. I had this pent-up appetite of 10 years not being able to do it."
The creators wanted to avoid introducing audiences to "Westworld" in a traditional western manner.
"We made a very conscious choice to start the series through the point of view of [the host] Dolores," Joy said of Wood's character. "So that we could fully be with her in believing the reality and the familial connections that she had. And after establishing that empathy, we start to broaden the world. Not only examining the lives of the guests who come into the park, but also the technicians who work in the park below the ground."
Wood detailed the process of finding the physical and emotional tics of her character, which could change instantly. "We call them acting Olympics," she said. "You have to shift from a panic attack, into a complete freeze-computer analysis mode in the span of seconds."
The producers also tackled a question about rape and physical violence towards women in the pilot. (It was an issue that spilled over from the earlier executive panel with Casey Bloys, new president of HBO programming, who was asked three different times about sexualized violence in "Game of Thrones" and now "Westworld.")
"It was definitely something that was heavily discussed and heavily considered as we worked on this," Joy said. The series, she explained, is an examination of human nature including both love and enlightenment and also its baser instincts.
"Violence and sexual violence have sadly been a fact of human history since the beginning of human history," Joy continued. "So when we were tackling a project about a park in which the premise is you can come there and do whatever you want, whatever desire you have with impunity, without consequence — it seems like it's an issue that we had to address."
"Now, when addressing it, there's a lot of thinking that goes into it. Sexual violence, not only for me but for everybody on our team, is an issue that we take seriously. It's extraordinarily disturbing and horrifying. In its portrayal we really endeavored for it to not be about the fetishization of those acts. It is about exploring the crime and establishing the crime, and the torment of the characters within this story. And exploring their stories, hopefully with dignity and depth."
Twitter: @MdellW
---
Get our daily Entertainment newsletter
Get the day's top stories on Hollywood, film, television, music, arts, culture and more.
You may occasionally receive promotional content from the Los Angeles Times.