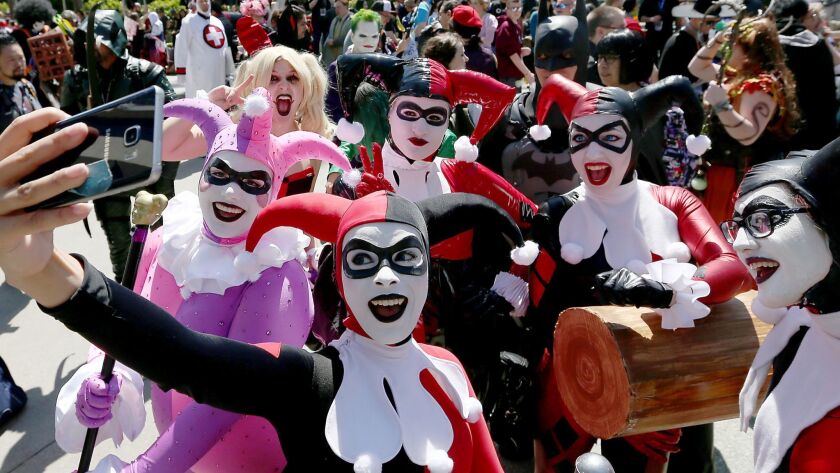 WonderCon 2019 kicks off on Friday, which means legions of comic-book fans, cosplayers and pop-culture enthusiasts will descend upon Anaheim for the three-day entertainment extravaganza.
Held down the street from the "Happiest Place on Earth," last year's event attracted 66,000 attendees to the various festivities at the Anaheim Convention Center.
San Diego Comic-Con's sister convention boasts its own growing slate of film, TV and comic-related programming to navigate in addition to the various artists and exhibitors who pack the convention center.
Here are some key highlights.
Friday
20th Century Fox: "Dark Phoenix" (Arena, 3:15-4:15 p.m.)
The cast and crew of "Dark Phoenix" will field questions and share a special look at the upcoming X-Men movie.
DC Celebrates 80 Years of Batman Comics (North 200B, 3:30-4:30 p.m.)
Commemorate Batman's 80th birthday with some of the creators behind the Caped Crusader's best comic-book storiesthey'll.
"Marvel's Cloak & Dagger" (North 200A, 4:45-6 p.m.)
"Cloak & Dagger" returns to WonderCon with stars Olivia Holt, Aubrey Joseph, Emma Lahana and showrunner Joe Pokaski bringing an extended sneak peek at the show's second season.
FX's "Legion" screening and Q&A (North 200A, 6-7 p.m.)
What's next for David Haller? "Legion's" cast and executive producers will be on hand to answer your Season 3 questions.
Science of "Game of Thrones": The Facts of Ice and Fire! (North 200B, 7:30-8:30 p.m.)
Learning about the real-life science behind dragons, magic and wildfire from a panel of experts would not only be educational but could help ease the pain caused by the long wait for "Game of Thrones' " final season.
Saturday
DreamWorks' "She-Ra and the Princesses of Power" (Arena, 10-11 a.m.)
"She-Ra" executive producer Noelle Stevenson plus cast members Aimee Carrero (Adora/She-Ra), AJ Michalka (Catra), Karen Fukuhara (Glimmer), Marcus Scribner (Bow), Lauren Ash (Scorpia) and Merit Leighton (Frosta) will gather to discuss what's next for the princesses and their fight against the Evil Horde. Plus, a sneak preview of Season 2.
A Look Inside "The Dragon Prince" (North 200A, 11 a.m.-noon)
Get the story behind Ezran, Callum and Rayla's adventures so far and the scoop on what's to come from "The Dragon Prince" creators Aaron Ehasz and Justin Richmond and voice actors Jason Simpson (Lord Viren), Racquel Belmonte (Claudia), and Jesse Inocalla (Soren).
"Marvel's Agents of S.H.I.E.L.D." (Arena, 1:45-3:15 p.m.)
Be among the first to see the "Agents of S.H.I.E.L.D." Season 6 premiere, then stick around for a Q&A session with the show's stars and executive producers.
Godzilla: Secrets of the Monsterverse (Room 211, 2-3 p.m.)
Legendary Comics' team of Monsterverse experts will be on hand to discuss Godzilla's fellow kaiju, er, Titans and share some of the intel gathered by the secret organization that hunts and studies them.
Costumes for Caped Crusaders: Fashion Versus Function (Room 213AB, 2:30-3:30 p.m.)
Comic-book artists Jen Bartel ("Blackbird"), Joëlle Jones ("Lady Killer"), Tula Lotay ("Supreme: Blue Rose") and Brian Stelfreeze ("Back Panther") break down the most important elements of superhero fashion and functionality.
Entertainment Is Female: A Conversation with Hollywood Executives (Room 209, 3-4 p.m.)
What are women in executive roles doing to push for more female representation in Hollywood while they make comic-book and video-game movies? Panelists including Jeannette Francis (Bad Robot), Mette Norkjaer (BOOM! Studios), Nikki Baida (Genre Films), Grey Cusack (Hasbro/Allspark Pictures), Aubrey Davis Lee (Lord Miller) and Sam Crawley (Skybound) discuss.
Reimagining "The Twilight Zone" for the Modern Audience (North 200A, 4-5 p.m.)
Get ready to enter another dimension — a dimension not only of sight and sound, but of mind. A journey into a wondrous land of imagination from the minds of executive producers Jordan Peele, Simon Kinberg and more. Your next stop: the "Twilight Zone" reboot panel.
Warner Bros./New Line Presentation (Arena, 5-6 p.m.)
Details of the panel have yet to be revealed, but Warner Bros. and New Line releases on the horizon include the DC superhero flick "Shazam!" and the Latinx folklore-inspired horror film "The Curse of La Llorona."
A First Look at "Child's Play" (North 200A, 6-7 p.m.)
The cast and crew of the "Child's Play" reboot come to WonderCon bearing gifts: exclusive footage, special announcements, giveaway items and more. But maybe think twice if the gift is a creepy doll.
Animation Superstars (North 200B, 6:30-7:30 p.m.)
"Spider-Man: Into the Spider-Verse's" Peter Ramsey, "Book of Life's" Jorge Gutiérrez, "Star vs. the Forces of Evil's" Daron Nefcy, "Disenchantment's" Jeanette Moreno King and "Gravity Falls'" Alonso Ramirez Ramos are among the superstars who will discuss the ins and outs of the animation industry.
Sunday
"Lumberjanes": Celebrating Five Years of Friendship! (Room 211, 11 a.m.-noon)
Hardcore lady-type campers April, Jo, Mal, Molly and Ripley are celebrating five years of friendship to the max, supernatural adventures, scout badges and more. Come sing "Happy Birthday" with "Lumberjanes" co-creator Shannon Watters, writer Kat Leyh, writer Lilah Sturges and executive editor Jeanine Schaefer. (Full disclosure: This author will moderate this panel.)
X-Men: A Reflection of Ourselves and Society (Room 213CD, 1-2 p.m.)
"X-Men: The Animated Series" showrunner Eric Lewald and writer Julia Lewald will be among the panelists of Marvel vets and comics experts to discuss what the fan-favorite mutant superhero team, created by Stan Lee and Jack Kirby, means to them.
"Batman vs. Teenage Mutant Ninja Turtles" (Arena, 1:45-3:45 p.m.)
A screening of the new animated movie "Batman vs. Teenage Mutant Ninja Turtles." The title speaks for itself.
"Archer: 1999" Advanced Screening and Q&A (North 200A, 2 - 3 p.m.)
Get a sneak peek at Archer's space adventures as co-captain of the USS Figgis, plus hear what the show's cast and executive producers have to share about the crew's upcoming Season 10 encounters with space princes, intergalactic pirates, vicious bounty hunters and more.
Twitter: @tracycbrown
---