Westworld, Ho! Inside Evermore, where the future of theme parks is not about rides but play
The future of theme parks might just be in a Salt Lake City suburb. This is where you will find Evermore.
Reporting from Pleasant Grove, Utah —
The future of theme parks might just be in a Salt Lake City suburb. This is where you will find Evermore, where one of its star attractions is not a state-of-the-art coaster nor a thrill ride populated with scenes from a recent superhero movie. Instead, it is a tavern called the Crooked Lantern.
To get to the Crooked Lantern, one of the oddest and liveliest bars west of the Mississippi, you must dodge the druids near the town border, walk past the aviary without being distracted by the woman with a baby dragon and hang a left at the gaggle of buzzing faeries.
They'll want to chat — faeries are a chipper lot — but it's best to get inside the pub's doors before one gets led astray. Faeries lie. Everyone here seems to know that, especially the ghosts. And everyone is welcome.
This is evident by the troll-like figure awaiting a chess player in the corner. That's not an insult — he may very well be a troll, the sort who lives under a mystical bridge rather than the more modern breed found on social media.
Whether you are a regular or entering the Crooked Lantern for the first time, expect to receive a friendly and loud greeting, likely from the bartender Suds McBride. Crowds are attracted to Suds, who walks atop the bar and likes to tell guests about the time he was swallowed whole by a fish — the 4- or 5-foot monster that lies dead, intestines out, in the back of the bar.
On this particular Friday night, Suds had an announcement to make: "My tavern is not for getting drunk and forgetting everything," he shouted. "My tavern is a place for good memories!"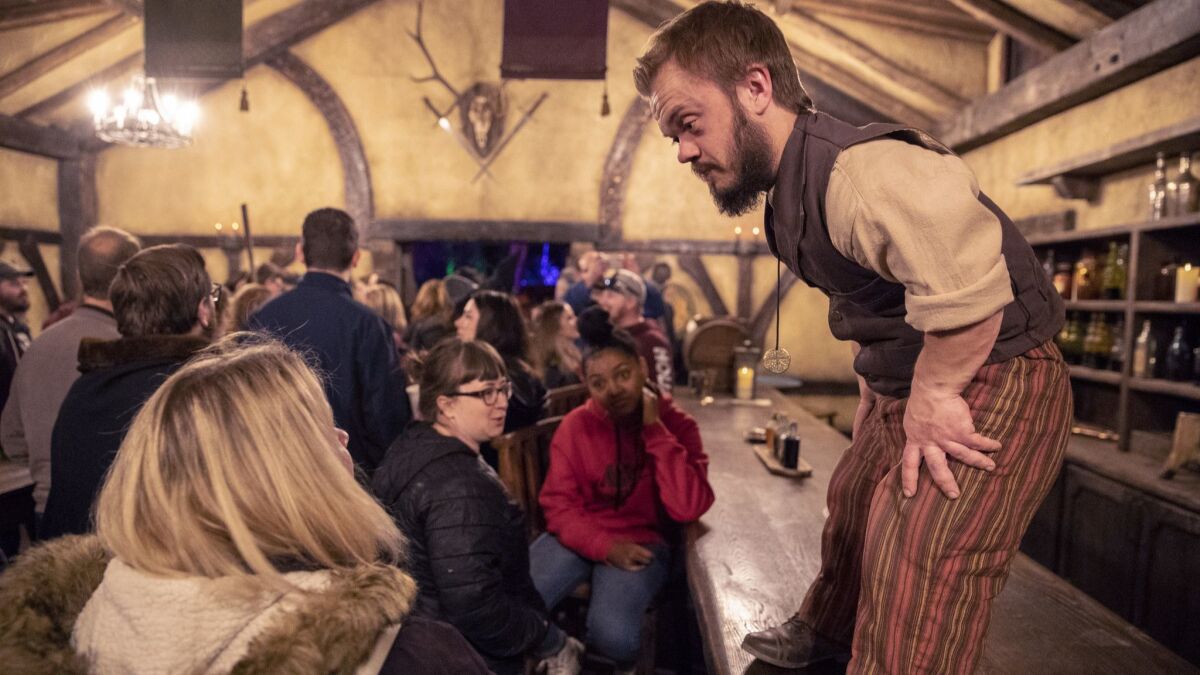 The secret sauce of theme parks is that they're really about the experience they create between people who are visiting.
— Phil Hettema, veteran theme park designer
Just don't tell that to the hunters — they're the stoic ones in all-black, ready to warn you of your impending doom.
Your journey through Evermore, where the emphasis is on play and human interaction, has only just begun.
No rides, no dice, no maps
Imagine a renaissance fair, if it consisted of permanent buildings built across a dozen acres and possessed a Disneyland-like attention to detail. Or a game of "Dungeons & Dragons," only there are no dice and maps. Or picture walking down Disneyland's Main Street U.S.A., but instead of Mickey Mouse posing for photo ops, he asks for help finding Minnie and suggests you go talk to Goofy — only to talk to Goofy you first must discover a way to earn his trust.
To fully experience Evermore, a quirky old-English town with crooked roads, dizzying catacombs and a bustling population of fantastical creatures, is to not just enter a theater but to become one of its central characters. There are no rides — at least not yet. Instead, there are game-like quests to seek out and lots of role play. It's the sort of alternate reality envisioned by video games and teased — or warned — by TV's "Westworld," and it's going to forever change how we view theme parks.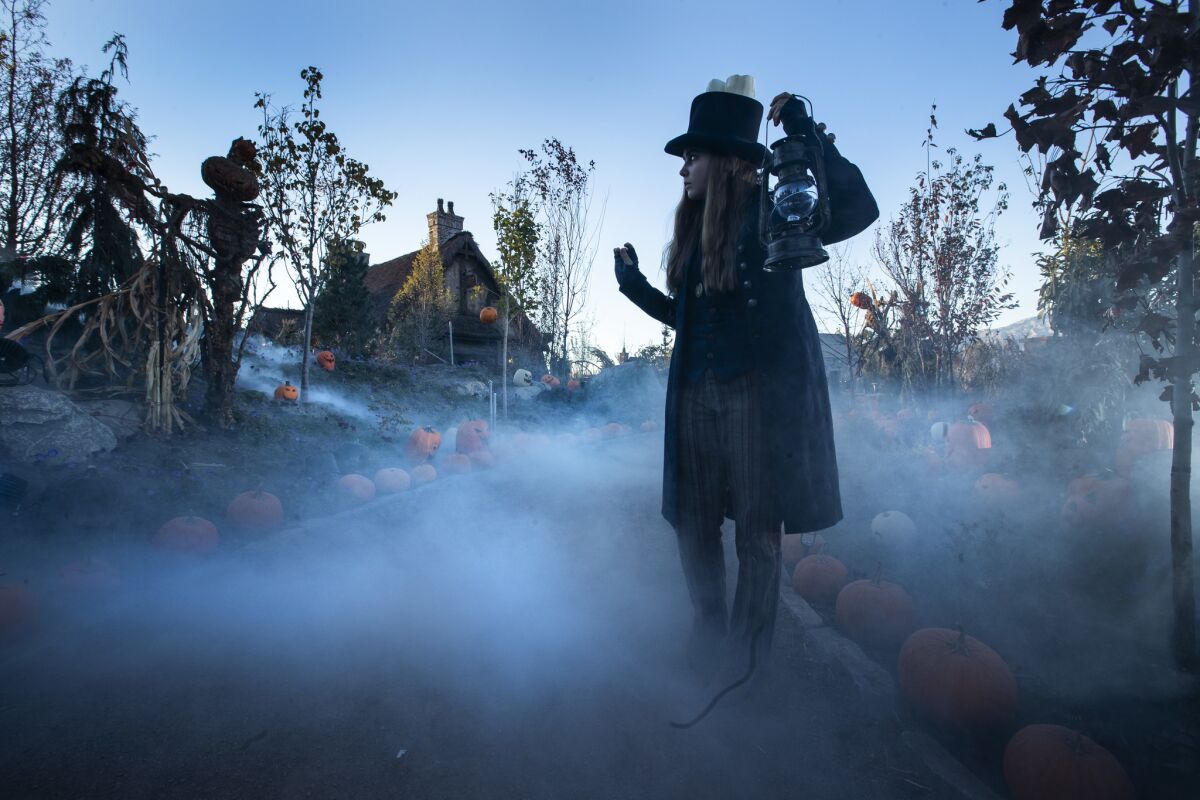 That's because the tenets at the core of Evermore are already reverberating across the theme park industry. Evermore taps into a hunger for non-screen-based, experience-focused entertainment, and it arrives at a time when escape rooms continue to dot the country and we're seeing a rise in interactive theater, such as the site-specific production "Sleep No More," which helped spawn an immersive entertainment movement.
For the past three summers, Knott's Berry Farm in Buena Park has transformed its Old West-themed area into Ghost Town Alive!, which follows a loose story centered on the drama in the mining town of Calico, where one can avoid shootouts, partake in gambling or even create a newspaper. In the words of one Knott's exec, Ghost Town Alive! is primarily about "connecting with other people."
Then there's Meow Wolf in Santa Fe, N.M., which transformed a bowling alley into the so-called House of Eternal Ruin, an art gallery-turned-indoor theme park where one can step into a fridge and enter an "Alice in Wonderland"-like universe to uncover an "X-Files"-worthy mystery. It's been such a hit that Meow Wolf is expanding to Denver and Las Vegas.
In downtown Los Angeles there's the recently opened Two Bit Circus, where beyond tech-savvy carnival games lie "story rooms" such as Space Squad in Space, in which you play the role of an intergalactic peacemaker.
"The classic amusement park experience is relatively passive," says Two Bit Circus founder Brent Bushnell. "You have some active participation, but at the end of the day you sit in a seat and you're entertained. With immersive theater, the moment you are one-on-one with an actor under a staircase — and you were the only one pulled into that space and they are responding to what you do — that hasn't happened before.
"That's powerful," he continues. "All of a sudden you have been recognized. They called you by your name. That is awesome. Yes, I love theme parks, but the moment you have that magical experience, entertainment has been changed for you."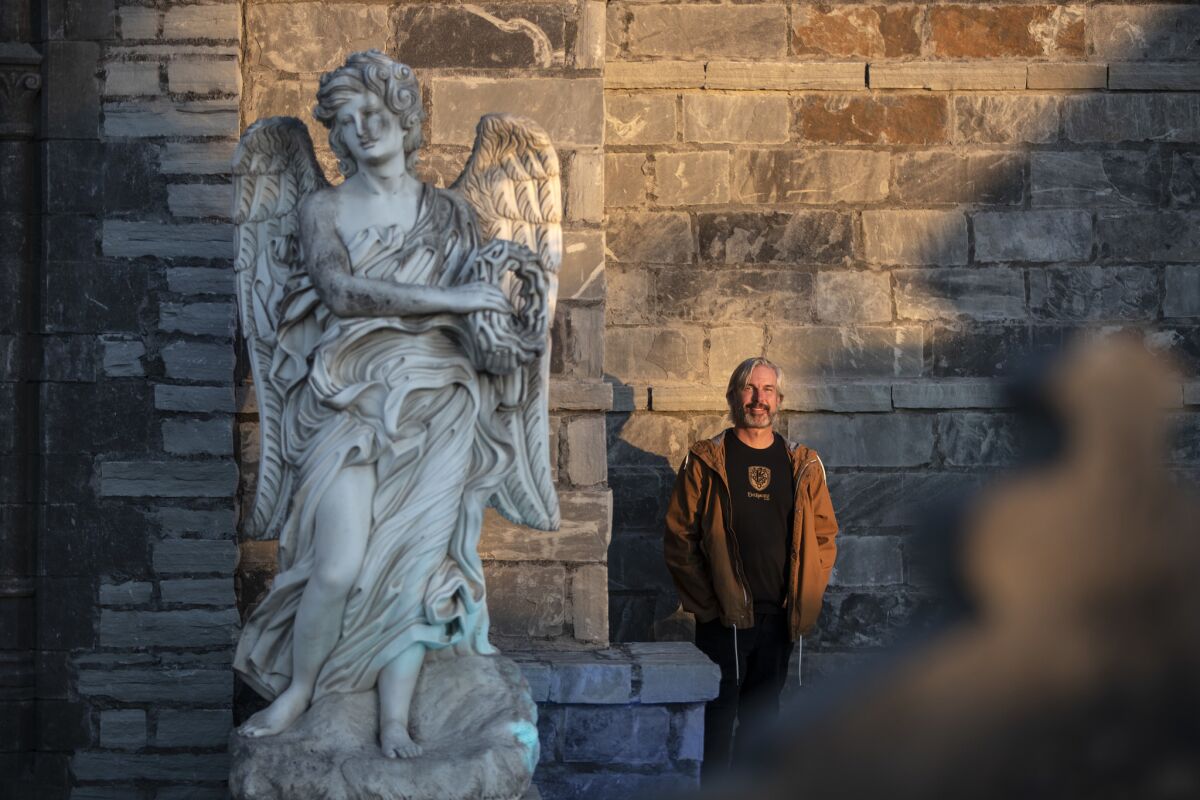 Halloween every night
Evermore is the dream of Ken Bretschneider, a tech-industry innovator who co-founded the virtual reality firm The Void. The latter's "Star Wars" adventures can be found at Downtown Disney and the Glendale Galleria, among other locales. Before The Void, Bretschneider was behind the web security company DigiCert, and when Bretschneider ran the latter he treated his employees and their families to a yearly retreat to Disneyland.
While it was Disneyland that shaped how Bretschneider viewed entertainment, it was Halloween parties that inspired Evermore.
"Every year I've done a big Halloween experience at my house," Bretschneider says inside Evermore's Crooked Lantern, sitting at the long, wooden communal table an hour after park closing at 1 a.m. Gone is Suds, and any sign of a goblin or a cynical hunter, the latter a woman who sized up wannabe heroes with a scoff. "That was the crux of me wanting to do this thing."
Bretschneider's Halloween parties sound like the kind of byzantine mazes you'd see at Universal Studios or Knott's Berry Farm. Mermaids swam in his backward pool, and projections indicated that there were dueling pirates behind impossible-to-reach rooms.
Utah papers covered the parties, for which the public was invited, as if they were amusement parks, writing of pianos played by animatronic skeletons and illusions of heads floating in vases. In 2013, Bretschneider estimates that 11,000 people visited his Lindon home.
"Everyone — literally everyone who came through — said, 'This is better than Disneyland.' Now, how can anyone think my house is better than Disneyland? I mean, I love Disneyland and I have a very positive opinion of Disneyland. But I started thinking about that, and I could see that for one night, this was better."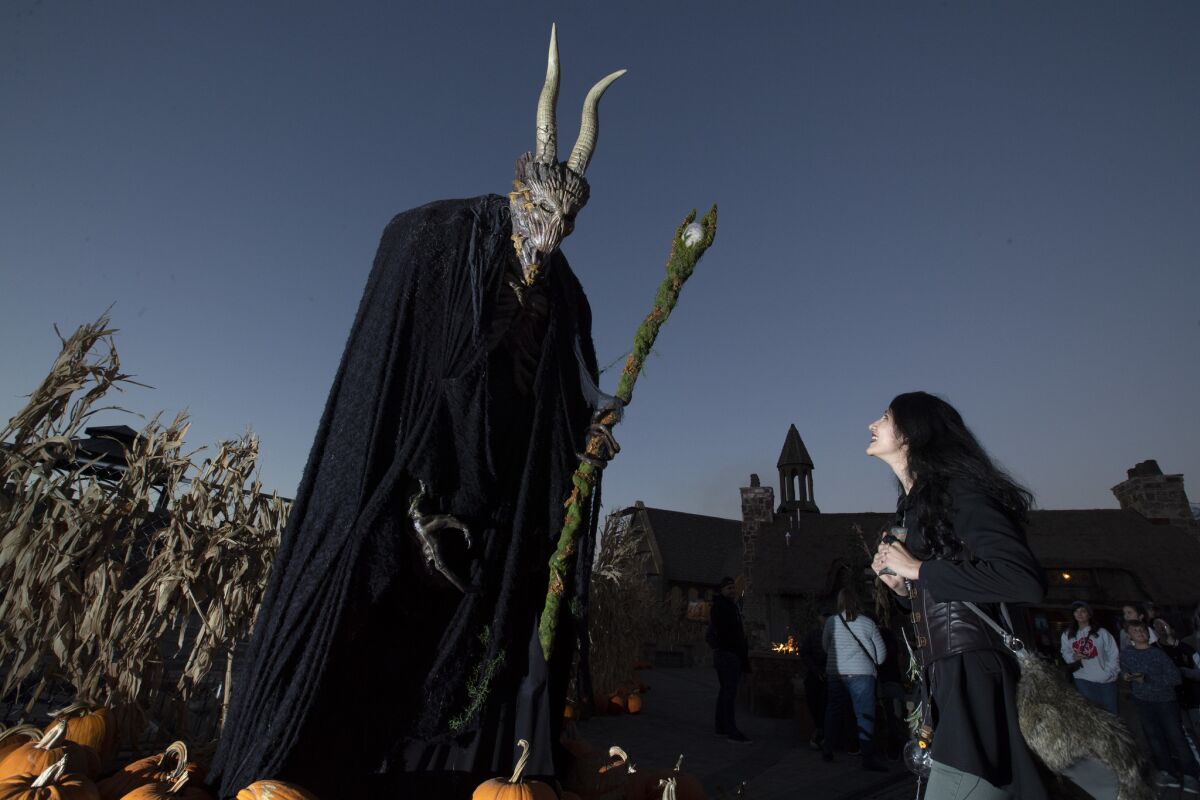 It's the sort of alternate reality envisioned by video games, and teased—or warned—by TV's "Westworld." It's going to forever change how we view theme parks.
His home, reasons Bretschneider, was not just more intimate but "more immersive. There was more detail. That's what made it more exciting for people for that one night. So I said, 'What if I open up a place that can be more exciting … for a whole bunch of nights?'"
While Evermore is far from completion, Bretschneider opened the park for the month of October to let guests take part in a Halloween-themed narrative that shifted not just nightly but hourly. More than 20,000 visitors showed up during the first three weeks. Later this month Evermore, which will operate seasonally, debuts a Dickensian-inspired holiday program.
By then, Bretschneider hopes to have completed the park's train. And still to come is a massive mansion-like structure that can serve as a castle or haunted palace, depending on the need, filled with hidden passages and secret stairwells.
Guests who actively sought out Evermore's myths and storylines earlier this fall learned of a plague that was inflicting the town — those infected had roots and tree bark growing out of their skin. Guests could align with various guilds, the battle-scarred hunters, for instance, or the Fae King, a towering animatronic puppet that pledged cult-like protection to those who kneeled before him.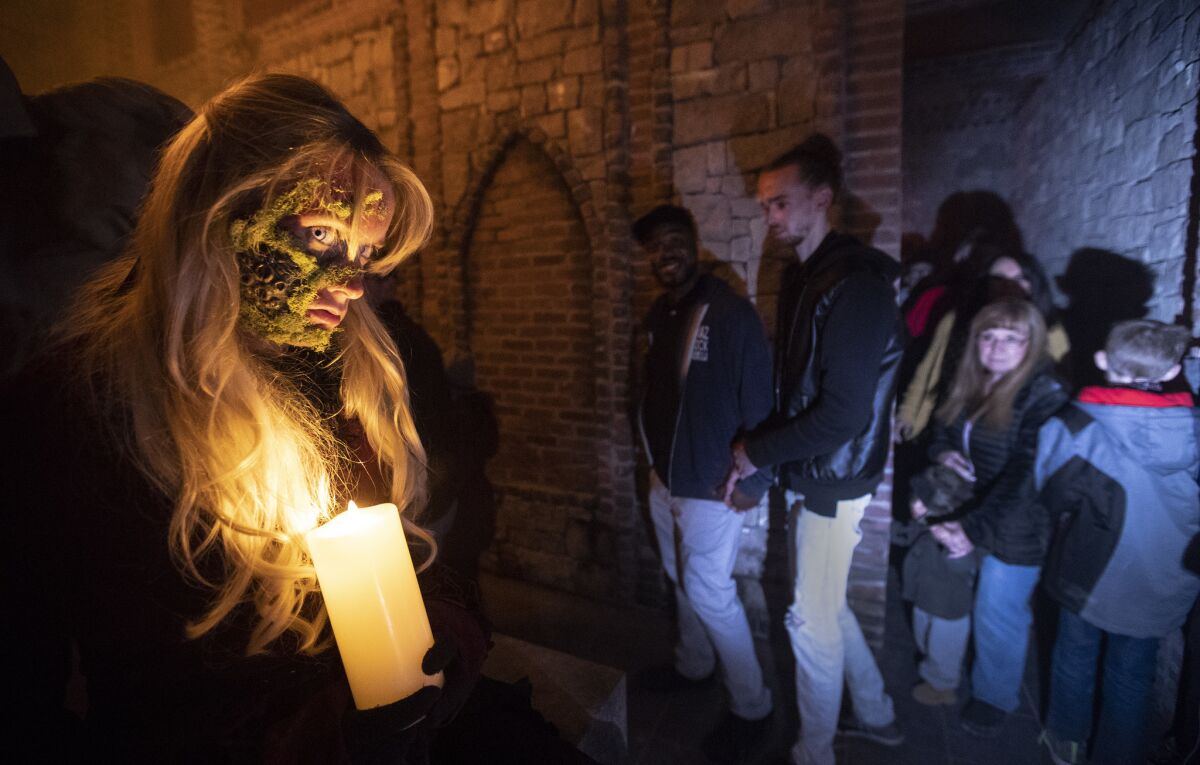 The shy could simply enjoy the park's entertainment — folksy bands, fire-wielders, fortune tellers or archery ranges. But all of that also is intertwined into Evermore's story.
You could spend a night learning about the ways of the hunters, but for them to open up to you it helps to prove you have skill with a bow. If you pass that test, they may send you deep into the crypts — in a cemetery filled with very-real antique gravestones purchased in Europe — to retrieve a requested item, which in turn could lead you to a witch's house.
Or you could avoid the main plot altogether. A lovesick ghost may give you messages to her living crush, a man who just so happens to keep suffering random, near-death accidents.
Some quests are made up on the spot, with no input whatsoever from Evermore's chief creative officer Josh Shipley, a two-decade veteran of Walt Disney Imagineering, the company's division dedicated to theme park experiences. Shipley recounts a recent night when a group of guests asked the bartender Suds if he fancied any of the women in town. Suds randomly mentioned one of Evermore's characters, resulting in the customers spending the entire night trying to create a meet-cute.
"All these guests were running around trying to convey the message that Suds liked Clara," Shipley says. "This was not part of any aspect of our story, but our antique seller, who didn't know what was going on, said, 'Take this box to Suds. It's a gift he can give to Clara.' By the end of the night, our guests had created this romantic world.
"We had never opened the door to romance," Shipley says, "but that was kind of awesome."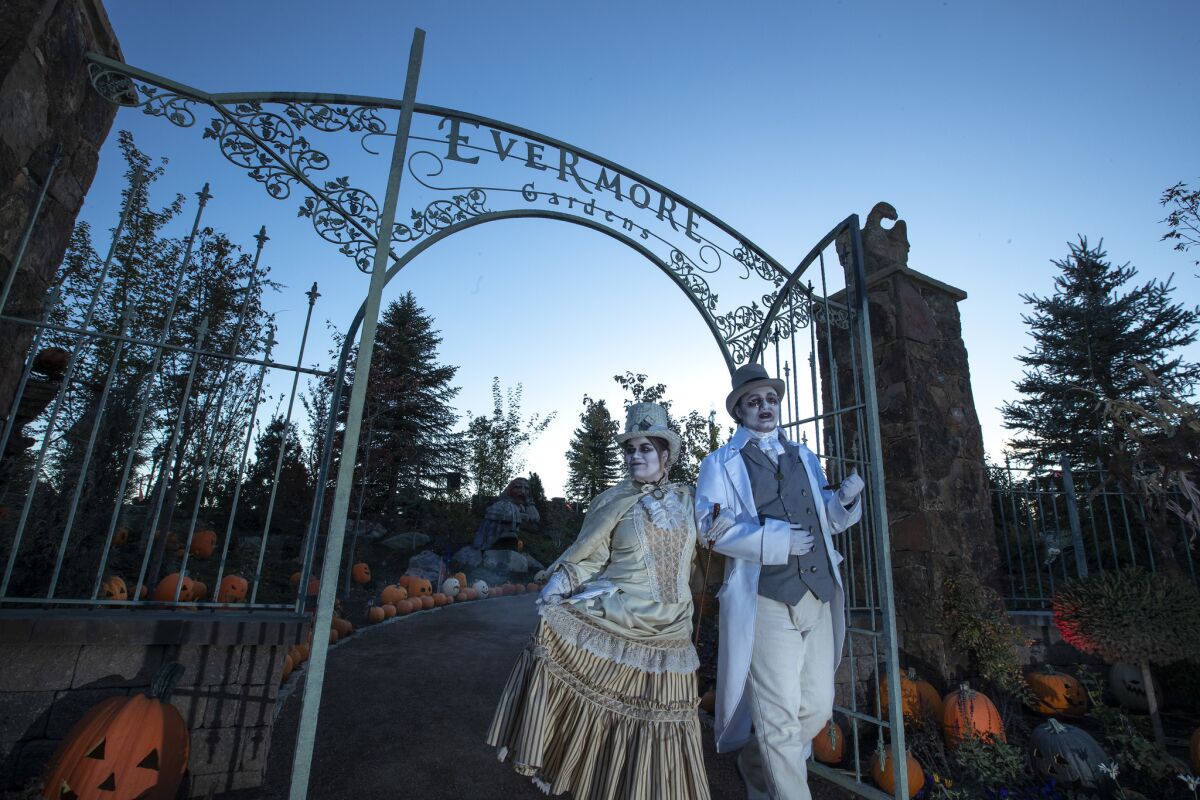 Back to play
At the moment, high-tech wizardry is used relatively sparingly at Evermore. One can find ghostly projections in some of the crypts, and Shipley and Bretschneider are looking at ways to bring in augmented reality. But Evermore feels decidedly old-fashioned. Much of its stone and bricks were imported from Europe, and Bretschneider hunted down statues and artifacts from pre-1900 to give it a lived-in feel.
That's fitting. Evermore, as well as the exploratory rooms of Meow Wolf, the themed stories of Two Bit or the ghost town at Knott's, specialize in a rather ancient form of play, one reliant on guest interaction and imagination. Such an illusion of freedom harks back to the early days of Disneyland and the initial vision of Frontierland and Tom Sawyer Island.
"We're saturated with media and bombarded with digital media from all sides all the time," says Phil Hettema, an esteemed designer in the theme park world who currently runs his own company and was previously a senior executive at Universal. "We're actually becoming more isolated, and the secret sauce of theme parks is that they're really about the experience they create between people who are visiting."
Whether Evermore is ultimately a success, Hettema says to expect more of what the park is trying to accomplish beyond its borders.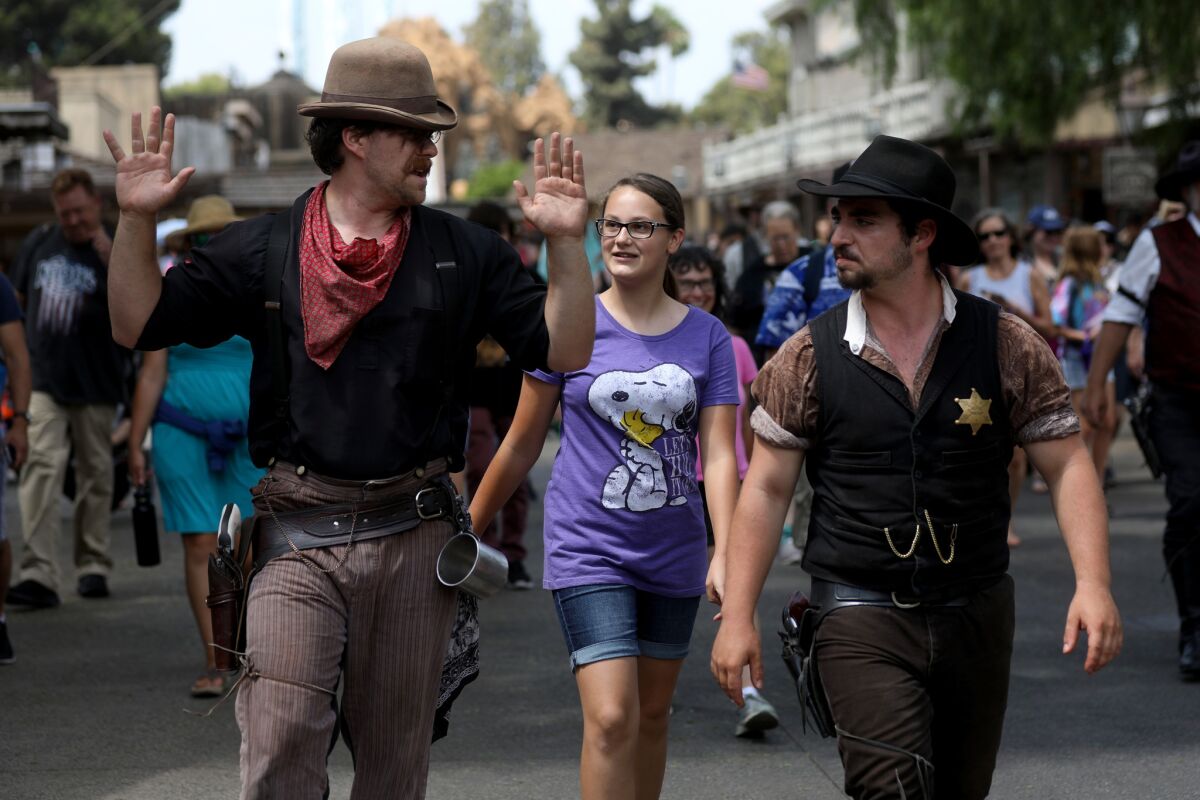 Some of the stars of Universal's Wizarding World are its interactive wands, which allow guests to play with one another and turn the land itself into an attraction. Disney, for its part, is currently building a "Star Wars"-themed hotel in Florida, one in which guests will be immersed in a storyline that unfolds over the length of the stay.
And at Disney's upcoming Star Wars: Galaxy's Edge, opening next year at Disneyland and Walt Disney World, it's been said that guests can take on various roles. "If you want to be a bounty hunter and you want to go on a cool mission, we'll let you do that," the company said at its 2017 fan convention, the D23 Expo.
The more that guests are buried in cellphones, says Hettema, the less interested they became in pure tech-driven experiences.
"To me, where it's really special is where it becomes that one-on-one intimate experience, five or six people together discovering something, playing a role maybe and going and doing something that you just never would have imagined you could do." Hettema says.
Of course, theme parks have experimented with such experiences in the past.
Before Knott's had its Ghost Town Alive!, Disneyland had the short-lived Legends of Frontierland. And throughout the 1990s, Walt Disney World had the Adventurers Club, a beloved nightclub dedicated to fictional exploits where stones could come alive, artifacts were haunted and guests were treated like prospective members. There were old-fashioned radio shows, cabaret-like routines and plenty of seemingly drunken songs.
Despite a fan outcry, the Adventurers Club closed about a decade ago. "Adventurers Club did work," says Shipley. "To this day, I think it's a tragedy that it doesn't exist, or that it wasn't evolved, if that was the need from a business model."
Fans, however, will find a way.
There's growing evidence that many are going to Disneyland to role play, even if the park isn't officially giving them experiences to do so. Wildly popular non-Disney-run events such as Dapper Day allow guests to play dress-up in the park and embody a character.
Smaller, fan-created gatherings such as Adventureland Day also emphasize costumes, but additionally throw in some light scavenger hunts. About 400 people showed up for this year's March event.
"Every kid now has the power in their hand to do all these amazing things and they don't wanna go to a park and just be passive," says "Tiki" Tony Murphy, who helped organize Adventureland Day. "They want to go and interact socially. When you go to these organized events it gives you that license to interact in a different way and also to be a part of the fantasy of it — to dress up and be a different person. I think it gives them a chance to explore who they are."
Such play is the ultimate form of escapism.
"The things that were most immersive actually were the lowest-tech things — Tom Sawyer's Island, you know things like that," says Hettema. "And I think we're coming full circle back to finding out that's where the real magic was. Technology is less and less dazzling to us as every day goes by because it's so ubiquitous."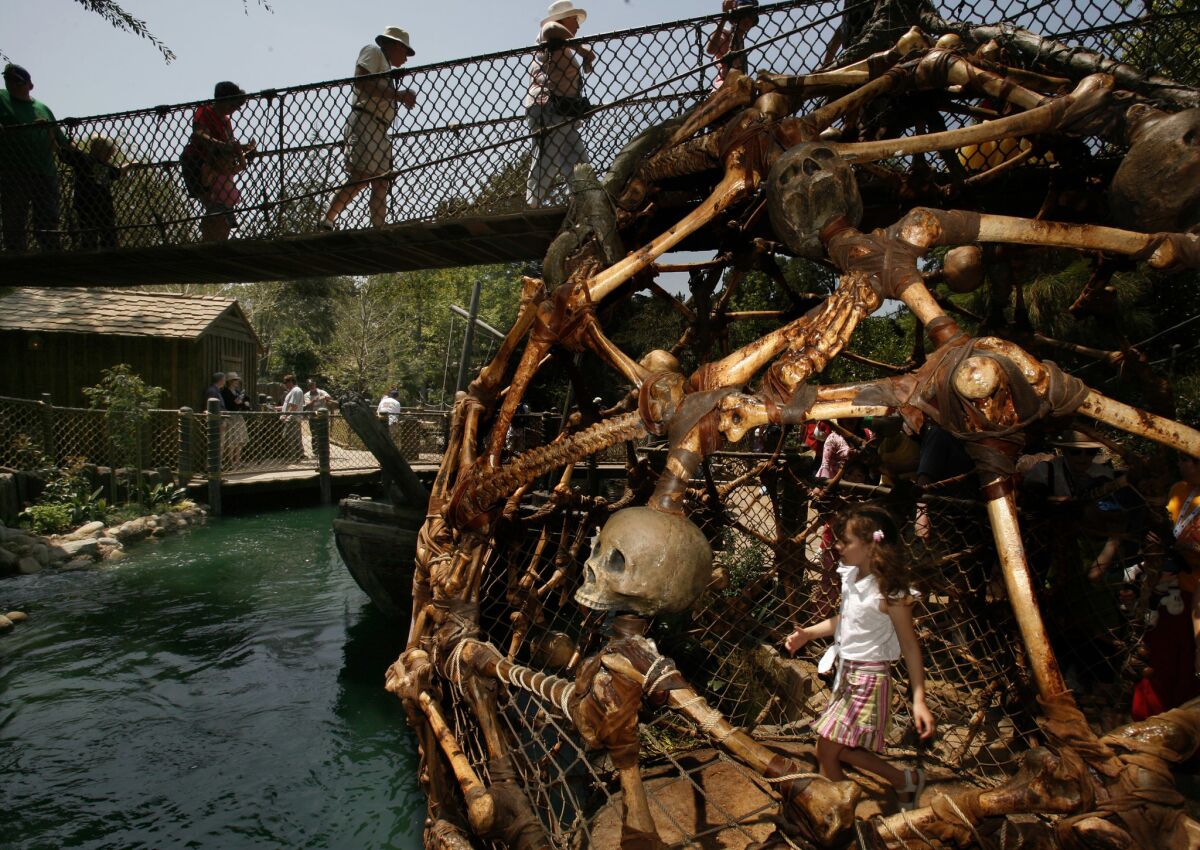 Evermore, though, has advantages that Disney and Universal do not.
For one, it doesn't have to struggle with creating intimate experiences for tens of thousands of people per day. And while Bretschneider says he is open to doing special events and one-off nights catered to a specific brand — business will likely depend upon it, he concedes — he pledges that Evermore will exist as "original IP" or intellectual property.
Asked why he believes Evermore can succeed without linking with, say, a known fantasy franchise or video game, he says without hesitation, "New Orleans Square," referencing the ornately themed area of Disneyland with wholly original attractions such as the Pirates of the Caribbean and the Haunted Mansion. "It's a classic pirates story," Bretschneider says of the ride that spawned the film franchise instead of the reverse. "And it's a classic story about a haunted mansion. It is not IP. You don't associate it with anything."
More importantly, for a park that relies on improvisation, the less branding the better.
"We can create whatever is needed for story purposes," Shipley says. "All the characters you met here were created for the purpose of helping a story along. When you have an established IP with business partners relying on that format, you're boxed in. Walls get smaller and smaller. There are things you would love to do creatively, but you can't because you have to stay within confines that other business units need."
He adds, "We don't have walls."
ALSO
An early Disneyland designer won over Walt Disney with his rebel reputation. Now he laments: 'The park is gone'
Meet Disney's philosopher king Joe Rohde: the brain behind 'Avatar's' Pandora and Marvel's 'Guardians' ride
Digging up the ghosts of Disneyland's Haunted Mansion ride
This is your brain on Disneyland: A Disney addict's quest to discover why he loves the parks so much
Two Bit Circus brings an indoor game-focused theme park to downtown Los Angeles
Themed entertainment designers from Disney, Knott's, Efteling and more preach the importance of play over technology
Follow me on Twitter: @toddmartens
Get our L.A. Goes Out newsletter, with the week's best events, to help you explore and experience our city.
You may occasionally receive promotional content from the Los Angeles Times.