The new crew of 'Mystery Science Theater 3000' takes us behind the scenes for the Netflix revival
"Door!" a voice calls out.
The sound triggers two crew members into action. Standing on either side of a large, spaceship doorway, they manually push the cumbersome gate shut. It's not a fluid movement like the swooshing panels aboard the Starship Enterprise. The plywood doors aboard the Satellite of Love have their own, imperfect flow. Comically covered in unidentifiable bits of machinery — a mishmash of handmade tubes and gears — the prop eschews high-tech sleekness and tumbles together like the closing of a vaudeville curtain.
It's perfect.
That endearing low-rent aesthetic paired with high-quality comedy gags was what made cult TV series "Mystery Science Theater 3000" special. Created in 1988, "MST3K" centered on a man and his robot pals, floating through space doomed to comment on low-budget sci-fi flicks for viewers' amusement.
With characters cobbled together from ping pong balls, a bowling pin and an empty gumball machine, the show often mirrored the very movies they were satirizing. The screws were visible in this screwball comedy, and fans loved it. The homespun humor of "MST3K" was a safe place for a certain kind of misfit, becoming a cult classic in dorm rooms and wood-paneled basements across America.
Almost three decades after the premiere, a new crew of dedicated comedians, writers, puppeteers, engineers, Kickstarter backers, and artists are piled into a North Hollywood studio, trying to rekindle the old DIY magic for lovers of the original and a new generation of viewers. The rebooted "MST3K" returns Friday on Netflix with 14 episodes including a Christmas special.
The set is littered with objects as random as the premise of the show. Robot heads, plastic brains and tiny easels adorn the corners. A crew member sits on the floor taping the Gizmonics logo (the corporation for which all "MST3K" hosts labor) to the side of a bass drum. But on this September day the attention is on the bridge of the Satellite of Love, the ship that houses the "MST3K" crew.
Standing in front of the rickety doors, new host Jonah Ray readies for the call to action — or in this case "Door!" (Any die-hard "MSTie" worth their jumpsuit knows that you can't start an episode without the ceremonial door sequence.)
Sandwiched between a pair of robot puppets, Ray runs lines with Baron Vaughn (who voices red robot Tom Servo) and Hampton Yount (the voice behind golden Crow T. Robot). In this scene they're hosting a "low-expectations carnival." It is "a show that is well within the realms of your imagination," Vaughn jokes, fully embracing the bravado of his character. While Servo and Crow are being puppeted from beneath the classic "MST3K" stage, Vaughn and Yount stand just off to the side working hand held contraptions that remotely control their character's puppet mouths.
The crew can't settle on a name for their side-show act at the carnival. Mimicking the voice of a carnival barker, Yount reads, "Behold the boy struggling with social anxiety." "Struggling with melancholy?" suggests series creator Joel Hodgson, the driving force behind the revival. Hodgson offers another: "Struggling with existential ennui?" Bouncing off each other with glee, they go back and forth.
There's an intimacy to the interaction, like watching a group of old friends goof around but with infinitely better jokes. And fast, scary fast. For one sketch, the cast started running lines at 9:16 p.m. and by 9:22 the director was calling "Door!" At 9:24, Crow's mouth had to be repaired. By 9:27 the scene had wrapped.
Pair the pace with the reality that each "MST3K" scene includes puppetry, comedy, often a magic trick or two and one camera to capture it all, and you have a shoot with a high degree of difficulty.
"It's like stage comedy," Ray says of the hurdles. You can't hide any mistakes.
But Ray wouldn't dare mess with the makeup of the series. He's acutely aware of the responsibility he's shouldering as the new face of "MST3K," and he knows what it means to fans because he's one of them. "'Mystery Science Theater' is one of the things that got me interested in comedy," he says. "It's the way I joke around. It's the way I talk with some of my friends. The first time I had a showbiz meeting with some managers and they asked, 'What would the Jonah Ray show be?' I said, 'Oh I'd remake Mystery Science Theater 3000.' And they said, 'No! That's a terrible idea!'"
To be fair, despite many years on Comedy Central and the (formerly titled) Sci Fi Channel, "MST3K" struggled to break into the mainstream. It did, however, garner two Emmy nominations, a Peabody Award and a fervent fan base — which proved its might by raising $5.7 million for Hodgson's "MST3K" revival on Kickstarter, far surpassing the original $2-million goal.
So why relaunch the Satellite of Love now?
"More than anything, I felt like I was really going to regret it if I died before I got to spin it over and get this new group going," Hodgson says backstage. "That was on my mind a lot. I'm going to really regret it if I get hit by a car or something. With only two days of shooting left, it's unlikely I'll get hit by a car so I feel really grateful. And even if I got killed they could do a rough edit, it would be pretty close."
Hodgson had been approached previously to bring back the bots, but the comic with the deadpan delivery and Zen-like demeanor had no interest in making the return all about him. He wanted to find new comedic voices for the odd little galaxy. He turned to Ray, whom he'd met while guesting on the "Nerdist" podcast.
"We're in our 50s, why not let somebody in their 30s do it like when we started?" Hodgson says. "Most of the narrative out there was, 'Just re-create it exactly as we remember it.' I felt like that that's not the real spirit of it. I didn't want to make a love letter to the past, and instead make a love letter to the future, maybe."
Fortunately when you're a beloved cult classic that raised half of Hollywood's comedic actors, the talent comes to you. Elliott Kalan, former head writer for "The Daily Show With Jon Stewart," is the lead writer on the new season with contributions also coming from Dan Harmon ("Community"), Justin Roiland ("Rick and Morty") and Joel McHale ("Community"). Patton Oswalt and Felicia Day play the new villains who beam the B-movies into the Satellite for torture/hilarity. Neil Patrick Harris, Jerry Seinfeld and Mark Hamill are all reportedly making cameos.
But despite the long list of names — and Hodgson promises that there are even more big surprises and cameos to come — the series remains focused on newer faces.
"We were already friends," Vaughn says of the trio who met on the stand-up circuit. "We already have a little bit of a chemistry and a dynamic."
Other cast members were found through Hodgson's comedic travels, including Second City alum Rebecca Hanson, the first woman to voice Gypsy, who also wrote for the series along with the rest of the cast.
Hanson confirms that Gypsy will be in the legendary theater from time to time, riffing with the other bots. "She runs the ship and she has to keep everything on task," she says. "She's definitely a little sassier this go around."
"I just felt like we never put the time in on Gypsy" Hodgson says. "I'm trying to develop that and make it more like a real character… We're just slowly starting to do that, she comes into every movie segment now and lands really good jokes."
Ray admits he got choked up the first time they slapped the Gizmonics patch on his yellow jumpsuit. "The big trick is not getting overwhelmed emotionally and doing my best to feel that I've done a lot of work to earn this, but still be grateful for being able to do it," Ray says. "There are a lot of people who grew up on this show, and what I have to do is honor it as best as I can."
Hodgson halts production to play the new "MST3K" love song for the cast and crew. The instrumental, one of seven new songs in the new series, was arranged by Charlie Erickson, who also wrote the "MST3K" theme song. The song serenades the set into silence. A few Kickstarter backers — being on set a perk of their donations — tear up and Ray laughs, "I'm not crying, you guys are crying," while wiping his face.
In the late hours, the cast starts to get a little punchy. Ray flubs a line and launches into an impression of Norm Macdonald doing a David Letterman, "Eeeeeeh you got any gum?" He waits for a reaction, nothing. "Nailed it," he murmurs. Vaughn and Yount laugh, and the show is once again what it always was, a bunch of friends cracking jokes.
'Mystery Science Theater 3000: The Return'
Where: Netflix
When: Anytime starting Friday, April 14
See the most-read stories in Entertainment this hour »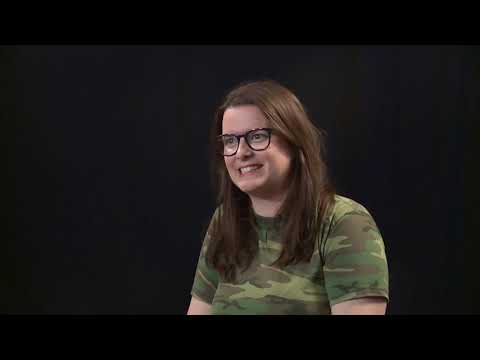 On Now
Cast of 'American Gods' drop divine secrets on the new Starz series
On Now
Liam Cunningham and Isaac Hempstead on finding the humor in 'Game of Thrones'
On Now
Acting opposite a giant Hollywood monster on 'Kong: Skull Island'
On Now
Luc Besson takes us inside his next space odyssey 'Valerian and the City of a Thousand Planets'
On Now
Norman Reedus on the secret Walking Dead' cast Comic-Con ritual
On Now
The cast of 'Orphan Black' reveal what they want to see resolved in the series finale
On Now
'Supergirl' cast on inspiring little girls to pick up a cape of their own
On Now
Video: Comic-Con: Wishing there could be a body swap between Fitz and Mac on 'Agents of S.H.I.E.L.D.'...
On Now
Charlie Hunnam on the hyper-stylized antics of 'King Arthur: Legend of the Sword'
On Now
Comic-Con: Ana Gasteyer and Wyatt Cenac on 'People of Earth'
Twitter: @MdellW
ALSO:
'Mystery Science Theater 3000' returns with new blood for the Turkey Day marathon
Meet the new faces aboard 'Mystery Science Theater 3000's' Satellite of Love
On the Set: A glimpse at the true power behind 'Powerless' - LA Times
For the love of monsters: An insider tour of Guillermo del Toro's Bleak House before his LACMA show
Get our L.A. Goes Out newsletter, with the week's best events, to help you explore and experience our city.
You may occasionally receive promotional content from the Los Angeles Times.