'Mystery Science Theater 3000' returns with new blood for the Turkey Day marathon
Twenty-eight years ago the little science fiction show that could, "Mystery Science Theater 3000," premiered on Thanksgiving Day. It all started with one Earthling, series creator Joel Hodgson, and his gang of lovable robot puppets. Together they drifted through space in the "Satellite of Love," warmly lampooning low-budget B-movies with titles like "Teenagers From Outer Space" and "The Leech Woman."
It was an odd show whose shoe-string budget and screwball tone often mimicked the very movies it skewered. The misfit humor struck a note with fans and despite multiple series cancellations and resurrections, (including a recasting of Hodgson with Mike Nelson), the series endured for 197 episodes. And now, thanks to a successful Kickstarter campaign, "MST3K" will rise again -- this time on Netflix with Hodgson once again steering the ship and new host Jonah Ray (the Nerdist Podcast). They will be joined on their new adventures by Felicia Day and Patton Oswalt.
But before the new episodes premiere in 2017, Ray and Hodgson will engage in the time-honored tradition of hosting the "MST3K" Thanksgiving marathon, featuring six fan-selected classic episodes (beginning at 9 a.m. PT at ShoutFactoryTV.com). The two recently reunited by phone to talk turkey.
How did the Thanksgiving "Mystery Science Theater" marathon tradition come to be?
Hodgson: From an ad sales guy at Comedy Central named Tony Fox. We think he thought it up, the idea of "Turkey Day," and we were really honored that they wanted us to do it. Usually those marathons are reserved for shows like "The Twilight Zone" and stuff like that. This is almost 25 years ago.
[Thanksgiving] was a perfect fit for us, because sometimes "Mystery Science Theater" needs somebody to help you negotiate it and explain what's going on. That worked with families, "What are you looking at? What is this?" It helped kind of promote the show in a gentle way, and for some reason it worked.
Jonah, did you grow up watching the Thanksgiving marathon?
Ray: That was my Thanksgiving, usually. I'd always be off in another room that didn't have football on, watching the Turkey Day marathon. Then I'd call my friend that was doing the same thing at his house, "They're playing this one again! They're playing 'Final Sacrifice!'" That was the family I had more fun with than the family that was actually near me physically.
Even when I started living on my own, having the "MST3K" tapes on, it made it feel like I was less alone. You could have it on in the background and come into a conversation and leave the conversation. That's what was so great about it.
Hodgson: So what was great about it was, it wasn't all that good because you could walk away. The secret to the "MST3K" success is it's not that good. It's not must-see TV. It's "I'll see it when I feel like it TV." [Laughs]
Ray: [Laughs] That's what makes it so relaxed. It's like a friend that's a pretty good friend, but he's not that needy, and that's why you like him so much. He's not always calling you to hang out.
Where are you guys going to watch the marathon?
Ray: I'm going to try to stream it on my phone as I'm flying from New York to Los Angeles on Thanksgiving day. I'll be watching it with other sad travelers.
Hodgson: I like to check in on it and see what's going on online. It is a little self-conscious for me with my family. "Hey, let's go watch dad on TV." It's a little weird that way. It's more like I love to see what people are saying. I love to see how people are talking about it, remembering it. It's really fun. I do that when I can.
Joel, as the creator, what was it like directing someone else as a host on the new Netflix series?
Hodgson: The thing that it really reminded me of, and I hadn't thought about this in so long, is how much work it is to be the host on "MST3K." You're working with two inanimate objects, two robots. You have to do a lot of acting and emoting, not just for you, but for them too. It's a really big job when you think about all the props, and all the stuff that has to happen and Jonah did a really good job just getting in there. There's a lot of physicality to it.
Ray: Our schedule was so tight that we just sprinted into doing the shoots. The show is so relaxed, but the actual process of doing it— my legs were getting sore from how many times I had to freak out because of the movie sign. One thing that was so great was when Joel would come on in between the movie segments. I remember he said, "When you come onto screen, just blast onto the screen. Burst on like you're in a rock and roll performance." I was also learning how to work props, how to do sleight-of-hand magic on the spot.
Hodgson: If you look at "MST3K," especially on the "Satellite of Love" set, it's one shot, and we don't cut away. It's really like a live show... There's all these things that people don't know about when you have that gig. It's not easy. I guess I never really thought about it until I had to look at what Jonah had to do, and go through that with him again. I realized how many feelings I had about it that were kind of unresolved. Nobody knows how hard this is except for this guy and Mike.
Ray: It did really feel like old show biz. I'm working with puppets. I'm on a platform on a set. It's live to tape for the most part. I have to sing. It felt like the "Colgate Comedy Hour" in the '50s.
Hodgson: "You've got to get into your gladiator costume now, and we got to get on stage!" It really is like that because we fill it with so much. Each sketch usually has a really interesting visual component, and that all has to be managed by Jonah while he's also doing the job of hosting the show. It's a lot, man. I'm actually kind of amazed we got through it, but you did an awesome job, man.
Ray: I had great support.
Joel, why was Jonah the right person to take over hosting duties on the new show?
Hodgson: I couldn't tell you exactly, other than I liked him, he can really do a lot of different things. The thing that made me really think seriously [about Jonah for the host] was when Dan Harmon and Rob Schrab asked me to present at Channel 101's Channy Awards. I realized I needed to get some jokes, and I had just met Jonah and I really liked him (I guess in the back of my mind I was thinking this could be the guy), so I said, "I've got to kind of see what he's like to write with." We got together at the coffee house at Sportsman's Lodge and started writing. It was just super easy, and really fun. He was really good. I think that's when I started to think about him more seriously. He was very easy, didn't really have an ego in the writing room, was very generous and was fun to work with, that was really important. I think more than anything, that was the thing where I started to go, "Oh, this could be the guy. This might be the guy."
Ray: Joel is being nice. I threatened to beat him up. That's how I got it.
Hodgson: He's a giant man. Number one, when you're around a man that big, you immediately just defer to him and letting him do whatever he wants. That's kind of what it was like too. I just immediately started to go, "What do you think I should do with this joke, Jonah? I don't know."
Ray: Do the Pretenders reference, Joel. It's classic.
The sets, props and costumes also make the show feel almost timeless. Was that something that was important for the new series?
Hodgson: That was really important. Now with digital effects you can put everything off until post, and the way we do our show, everything is on-camera. In some ways it makes it easier, though it took a while to get everybody on the same page, and say, "No, we can't put off anything into post. We have to do everything on-camera. Everything that they see we have to make, and we have to do it in the studio." In some ways, I think that was a little disorienting for a lot of people. And also the idea that we couldn't do cut-aways had a little bit of a learning curve for the production team. But once they got it, everybody got it, and then we were off and running.
Jonah, as a fan, was there a particular moment making the new series that really stuck out for you?
Ray: It was when we were doing the silhouette shoots. I was seeing a whole new side of the show. It was different, there was no real familiarity to it for me, visually. Also, on the set we had to figure out the height for me behind the countertop. I got onto the platform and [the robots] Crow and Servo popped up on either side of me, and I looked into a monitor and I saw myself on the Satellite of Love between, kind of, two old friends. It was one of the most overwhelming moments of my life.
See the most-read stories in Entertainment this hour »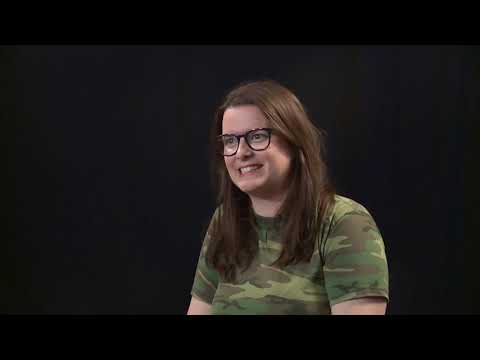 On Now
Cast of 'American Gods' drop divine secrets on the new Starz series
On Now
Liam Cunningham and Isaac Hempstead on finding the humor in 'Game of Thrones'
On Now
Acting opposite a giant Hollywood monster on 'Kong: Skull Island'
On Now
Luc Besson takes us inside his next space odyssey 'Valerian and the City of a Thousand Planets'
On Now
Norman Reedus on the secret Walking Dead' cast Comic-Con ritual
On Now
The cast of 'Orphan Black' reveal what they want to see resolved in the series finale
On Now
'Supergirl' cast on inspiring little girls to pick up a cape of their own
On Now
Video: Comic-Con: Wishing there could be a body swap between Fitz and Mac on 'Agents of S.H.I.E.L.D.'...
On Now
Charlie Hunnam on the hyper-stylized antics of 'King Arthur: Legend of the Sword'
On Now
Comic-Con: Ana Gasteyer and Wyatt Cenac on 'People of Earth'
'MST3K Turkey Day '16 Marathon'
Where: www.shoutfactorytvlive.com
When: 9 a.m. Thursday
Not rated
Twitter: @MdellW
ALSO
Um, maybe don't pass the turkey: Stephen Colbert gives 'expert' Thanksgiving cooking tips
That political point you want to make over Thanksgiving dinner? Leave it on this art project's voicemail instead
The complicated, controversial history of 'Batman: The Killing Joke'
For the love of monsters: An insider tour of Guillermo del Toro's Bleak House before his LACMA show
Get our L.A. Goes Out newsletter, with the week's best events, to help you explore and experience our city.
You may occasionally receive promotional content from the Los Angeles Times.