Calendar Letters: Gaga for Lady Gaga? 'Crazy Rich Asians' and stereotypes. 'First Man's' flag wave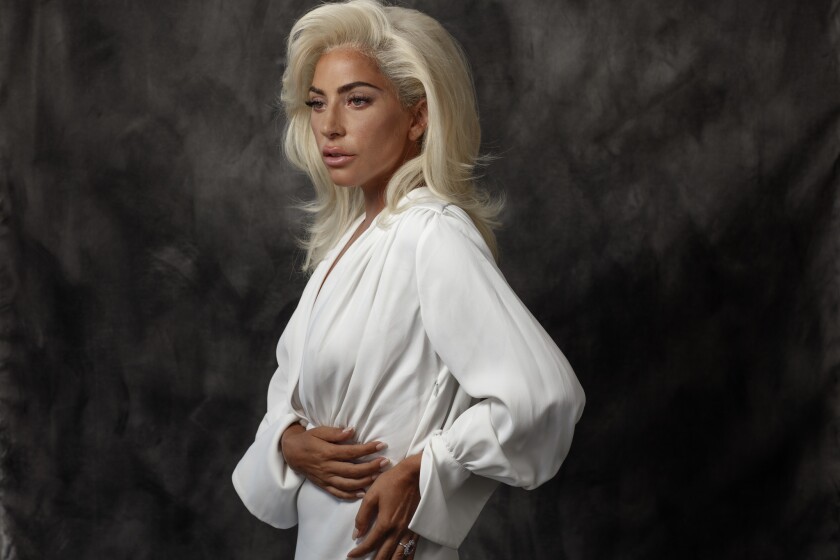 Regarding "Lady Gaga: A Star Is Reborn" [Sept. 2] Ever since her 2010 Grammy performance with Elton John, Lady Gaga was destined to become famous. I recall when she yelled out to the crowd, "Take my picture, Hollywood. I wanna be a star," during her act.
I look forward to her in a leading role in a motion picture. Sure, she was excellent in "American Horror Story," but I believe her role in "A Star Is Born" will bring her to higher fame.
Sorry, but I'm not gaga over Lady.
Race and color in our language
Regarding " 'Yellow' and Proud" [Aug. 28] by Randall Roberts: Congratulations to Katherine Ho for getting to sing a Mandarin cover of Coldplay's "Yellow" in "Crazy Rich Asians." But there's a dark note here. When I traveled in China in the Olympic summer of 2008, I never heard the many Chinese people who spoke to me in excellent English ever once refer to themselves as yellow.
The color stereotyping in the U.S. reflects a white view of nonwhite people, who are compelled to go along with it to be accepted.
L.A. schools on the wrong track
How is L.A. Unified's one-size-fits-all working? In my recent algebra and geometry classes (now retired) about half my students had no idea what I was teaching. If I watered down the material any more, I would have lost the other half.
Memo to L.A. School Board: Most students want to learn. Give them a chance.
Disturbing echo from the past
Regarding "Pain of Separation" [Sept. 1] by Carolina Miranda: The similarity between the Kindertransport program, in the separation of 10,000 Jewish children from their parents in Germany during World War II, and the attempt by President Trump to separate immigrant Latino parents from their children is chilling.
We don't want history to repeat itself.
Planting the flag was important
I enjoyed Josh Rottenberg's article about the Neil Armstrong movie [" 'First Man' Shoots for the Moon," Sept. 3], but I believe you might have missed the point. The primary reason for the moon race was rooted in beating the Russians, who had a head start. It was a nationalistic effort. Not showing the flag planting was a mistake. Love the story, but they will not get my $12.
Louis C.K. is still taking the heat
Regarding "C.K. Has More to do Before a Comeback" [Aug. 29] by Libby Hill: Do these offenders disappear from the world forever? Should we forgive and move on, or do we insist that they earn our trust and respect by paying their dues with community service programs or a 12-step program or maybe a public apology to those they wronged?
I wonder: If it were women who were the abusers, would men make us wear the scarlet letter for the rest of our lives?
Hill offered her thoughts on whether comedian Louis C.K. should be forgiven after 10 months of contrition. In the same edition of The Times, in the California section, Matt Pearce writes about the resignation of novelist and teacher Ron Carlson from UC Irvine ["Professor Quits After Allegations of Sexual Abuse"] after it has come to light that some 45 years ago, when in his early 20s, Carlson may have touched a teenage female student.
Pearce notes that there have been no other complaints about his behavior in the nearly half-century since then. Carlson's teaching life is now over — a loss to those who would be writers — and his reputation as a distinguished American novelist is damaged — a loss to readers of serious literature. Meanwhile Louis C.K. is back on stage at the Comedy Cellar, having done as Hill notes, "291 days" of penance. Where's the justice?
Not a crime to like these stories
Regarding "Calendar Feedback: Physician Offers a Different Review" [Sept. 2]: Since when does a crime (felony or otherwise) render a musical or movie plot flawed? "Chicago" starts with a murder. "Hamilton" and others have plots centered around tragedies. Most of us know right from wrong and can still enjoy the show. I think "Waitress" was wonderful and entertaining. It made me laugh and cry.
Is this a form of discrimination
Regarding "Drama on Set and Off" [Sept. 1] by Alejandra Reyes-Velarde about protests against the TV show "Vida" on Starz: I read your use of the word "gentrification" as white people moving into Hispanic neighborhoods, and Hispanics complaining about that for any number or reasons.
If Hispanics complain, it is gentrification that they are complaining about. If whites complained about the reverse situation, it would be racism, correct?
Aren't we supposed to be able to chose a location for our business or our home without worrying about color issues of the neighborhood?
Movie deserves a tummy scratch
Thank you for Katie Walsh's inspiring review of the film "Pick of the Litter" ["Guide Dogs Will Also Lift up Spirits," Aug. 31]. A friend and I just went to see this wonderful, absorbing and positive documentary on the challenging but heartwarming road to developing a successful working guide dog. One does emerge with a new respect for all the good people who devote much time, money and energy in pursuit of every stage of this transformative process — a gorgeous puppy into a fine, disciplined, healthy, thriving guide dog.
The conversation continues online with comments and letters from readers at
latimes.com/calendarfeedback
---
Inside the business of entertainment
The Wide Shot brings you news, analysis and insights on everything from streaming wars to production — and what it all means for the future.
You may occasionally receive promotional content from the Los Angeles Times.