A TV show chronicling gentrification in Boyle Heights is protested as an example of, well, gentrification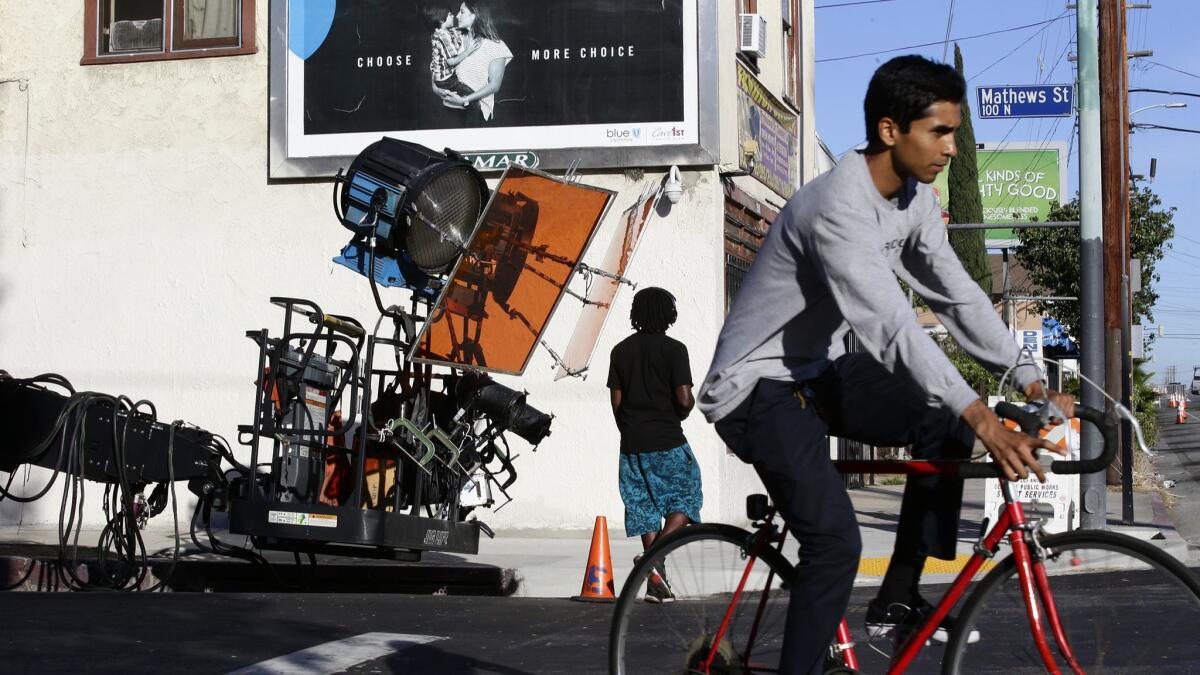 "Vida" was meant to be a TV show ripped from the headlines of L.A., portraying the battles over gentrification that have gripped Boyle Heights in recent years.
Aiming for a realistic look, the producers Thursday night set one scene on 1st Street in the predominantly Mexican American neighborhood, transforming a building into a rental listing office complete with graffiti decrying "Rental Crimes" and "Eviction Notice: Gentry get the ... out."
But what was supposed to be dramatization about the effects of gentrification is now generating its own protests, with some activists accusing the show of being part of the problem.
The activist group Defend Boyle Heights sent a call-out — or "HOOD ALERT!!!"— for a demonstration during the filming, claiming the production was taking advantage of the neighborhood. The group slammed the show, saying that it "tastelessly exploits the anti-gentrification struggles of Boyle Heights" and that it stole images from activists.
It's the latest in a series of battles over the future of Boyle Heights, the barrio east of downtown L.A. that in recent years has seen an influx of artists, hipster retailers and new development moving in. Some residents have welcomed the changes, especially homeowners who have seen real estate prices rise and the shopping variety improve.
But others fear the immigrant working-class residents who for generations called Boyle Heights home will be pushed out, along with the Mexican American culture for which the district is famous. Activists have protested the opening of art galleries and even an independent coffeehouse, saying they are doing harm to the community. The protests themselves have been polarizing, with some residents saying the activists go too far and even demonize white people. In late 2016, the L.A. Police Department investigated three acts of vandalism targeting art galleries, including graffiti at one gallery that read "(Expletive) white art," as possible hate crimes.
The protests over the filming mark a new ironic twist, because producers of the Starz show said they were simply trying to honestly portray the debate about gentrification.
The activists said they have long been concerned about the show, now in its second season, and the how it portrays the community. Their biggest complaint is that those involved are profiting off the struggles of those trying to stay in their homes. They also say the show pokes fun at them and stole the image of the Ovarian Psycos Bicycle Brigade, a grass-roots group of female activists who lead bike rides in Boyle Heights to combat gentrification and other social issues.
But Defend Boyle Heights' planned demonstration didn't quite work out as desired. The group told members to show up at 6 p.m. But by then, the film crew was packing up and no major protest materialized.
As crew members trickled into the Evergreen Cemetery and filled its roads with production trailers and trucks, two young women — one wearing a T-shirt with an anti-gentrification phrase and the other who identified herself as a Defend Boyle Heights member — sat at a bus station across the street from the original filming location, appearing to monitor the scene.
A Defend Boyle Heights member, who would not give her name, declined to comment on the group's future plans, saying a reporter should check the group's social media feed.
"We have a longstanding boycott against the L.A. Times," she said.
The group later posted blurry photos on Instagram showing members of the film crew eating during an apparent break. The post also mentioned "Vida's" showrunner, Tanya Saracho. "Don't rest easy, we got eyes on ya."
A Starz publicist declined to comment on the protests Friday and said Saracho would not be speaking on the matter.
After an earlier protest while "Vida" was filming at Mariachi Plaza, Saracho and the crew left the area out of respect for the protesters.
In a May interview with The Times, Saracho said she works with a community liaison to help ease any tension. She said the person reached out to several community organizations, including Defend Boyle Heights, to create an open dialogue.
"I'm building this world with a lot of respect, with a lot of admiration," Saracho said. "We try for the images, the sounds to be true to life as much as TV can get true to life."
Saracho was relatively unfamiliar with L.A. — she was born in Mexico and started her career in Chicago — but she jumped at the chance to depict the intersection of Latino culture, sexuality and politics in Boyle Heights, a part of town that isn't often represented on TV or film. "Vida" focuses on two estranged sisters who return to their hometown of Boyle heights after their mother dies, and find themselves becoming targets of local anti-gentrification activists.
In one scene, a young Latina activist glares into the camera, revealing her anger and determination to fight a gentrification movement she fears has invaded her Eastside neighborhood.
"If they think we're going to take this occupation, this recolonization, lying down, they got another thing coming, mi gente," she declares.
The words mirror the ethos of the anti-gentrification activists, whose tactics have been praised by activists in other parts of the U.S. where rapid change in some working-class neighborhoods is seen as an existential threat.
But the aggressive strategy has also generated controversy.
Boyle Heights Alliance Against Artwashing and Displacement, a group affiliated with Defend Boyle Heights, has chased out art galleries that have moved there in recent years, and intimidated businesses, such as the Weird Waves coffee shop and Asher Caffé & Lounge. In July, Defend Boyle Heights disrupted the grand opening event for Asher Caffé after it found anti-immigrant social media posts by its owner, Asher Shalom. In an interview shortly after, Shalom said he would not have set up shop in the neighborhood had he been aware of the gentrification battle.
Many local leaders did not want to comment publicly on the matter for fear of being targeted. One city official who declined to be named said many of the community leaders he has spoken with have reservations about Defend Boyle Heights' decision to focus on "Vida" because the show's producers have generally tried to be sensitive to the community's concerns. Privately, the official said, some people wondered whether the activists ever planned to physically protest or whether the call-out had been a form of psychological warfare.
On the activist group's Facebook page, some people criticized targeting the TV show.
"It's hard for me to sympathize with your cause when you resort to stalking and bullying behavior, intent on creating fear and intimidation," one Instagram user wrote, referencing Defend Boyle Heights' strategy of monitoring the film crew throughout the night. "There are many people, including Latinos, making an honest living on this show … As a Latino living in Boyle Heights, you don't speak for me."
Though Saracho, like the activists, would not comment, it was difficult not to wonder whether an Instagram video story she posted Friday afternoon was a reference to Defend Boyle Heights' campaign.
"How do you heal and protect yourself and deal with the toxic meanness and also listen?" Saracho said. "It makes me sad when we fight. I don't want to be crabs in a bucket."
alejandra.reyesvelarde@latimes.com
Twitter: @r_valejandra
Sign up for Essential California for news, features and recommendations from the L.A. Times and beyond in your inbox six days a week.
You may occasionally receive promotional content from the Los Angeles Times.