Calendar Letters: Readers weigh in on Cosby, Kavanaugh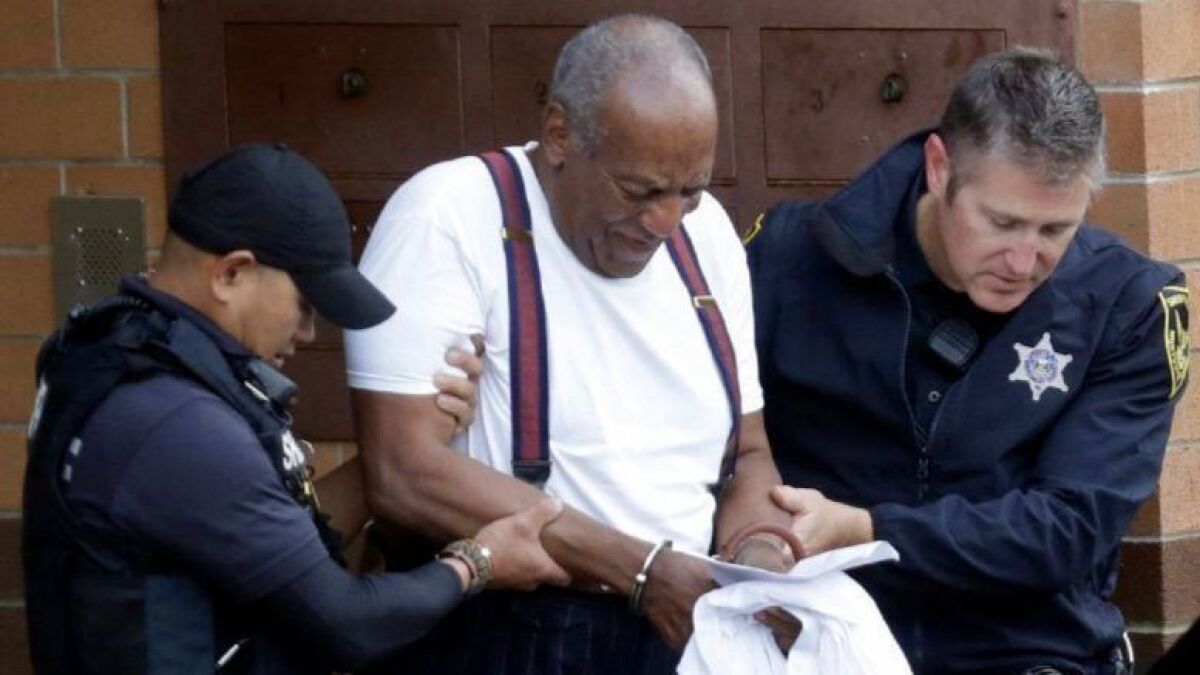 Lorraine Ali's column ["The Reckoning: Bill Cosby in Handcuffs. Kavanaugh Questioned. A #MeToo Shift Is in the Air," Sept. 26] is less than worthy. Cosby has been tried and convicted in a court of law. Judge Kavanaugh has not and yet, in the eyes of some, he is or soon will be a "fallen angel."
By conflating Judge Kavanaugh with Bill Cosby you tar the former with the latter in an unjust and unworthy pairing. You are better than that or should be.
Louis H. Nevell
Los Angeles
::
Thank you very much for your excellent article about the beginning of justice for every woman who has ever been damaged by misogynistic men in positions of power.
Cosby's arrest was no victory. It's merely a long overdue first step in a war that women must not stop short of winning.
Caitlenn Morrisy
North Bethesda
::
The obvious disparity in equality with the reaction, prosecution and treatment of alleged victims and those accused of assault is something no one talks or writes about in the media. If you are accused and are of color, you go to prison, especially if the victim is white.
If you're a victim and not white, you're not taken seriously or are vetted for dirt and it becomes blaming the victim even more than white females. So your value as a human being is presented as even less.
The question of race and the justice system is completely ignored.
Craig Land
Chapel Hill, N.C.
::
The Bill Cosby story is part of the needed cosmic shift in exposing mysoginistic, abusive men who spoil it for the decent men, and there are many.
But on Kavanaugh there is no evidence yet, just words from liberals who are afraid Roe v. Wade will be in jeopardy. Please do not let your justified anger at female abuse cloud objectivity. I share your feelings, I have a daughter and two vibrant granddaughters. You cannot put Kavanaugh into the same box as Cosby, who admitted to drugging women.
Denis Montenaro
Laguna Niguel
Fascism's rise in Germany
Regarding "Calendar Feedback: 'KAMP' Is a Good Reminder" [Sept. 30]: I would like to remind the letter writer that Hitler didn't start with murderous camps. He began blaming others for Germany's defeat in WWI and scapegoating people and restricting participation in organizations. When I was in high school in 1939, classmates were reporting on letters received from relatives in Germany how the Nazis were making life difficult for Jews. I am with those people the letter complains about who are protesting the words and actions of our current president that remind us how fascism came to Germany.
Theresa H. McGowan
Santa Monica
A concert like no other
I read with sadness about Marty Balin's passing ["Marty Balin, 1942-2018: Co-founded '60s Jefferson Airplane," Sept. 29]: I was at a concert at UC Berkeley (must have been 1966) where Jefferson Airplane performed at the Pauley Ballroom. That concert was one of the best and most exciting of my life. There were probably 200 of us students and others sitting on the floor watching and listening to this great new band perform.
It was the first time I saw a light show, several projections of colored light moving and overlapping at the same time, so much exciting input. Definitely a show I will never forget.
Bob Baron
Glendora
Arts newsletter's essential work
Every week I look forward to the email newsletter "Essential Arts and Culture" from Carolina Miranda, catching me up on the best of the arts in Los Angeles. An avid culture buff, I simply can't keep up with the myriad of offerings on the L.A. scene and Carolina always seems to have some wonderful experiences that I know I must get out to as soon as possible. Thanks, and keep up this amazing work.
Kathy Crandall
Pasadena
One person's performance art?
Regarding "Unrelenting Effort Rewarded" [Sept. 30]: I would like to tell your readers about my performance piece: "Man Sleeping in Bed." I perform it every night in my bedroom, from around 11 p.m. to 7 a.m. (with occasional bathroom breaks). At its core, it is about me reexamining the things that have shaped me and reckoning with their significance. I call this process "Dreaming." (Reservations are recommended.)
Richard Showstack
Irvine
Casual lows at Disney Hall
Congratulations to the LA Phil. ["L.A. Phil at 100," Oct. 2]. However, I am sorry that casual dress is encouraged at Disney Hall — just like pop/rock concerts. What's next?
Dael Klippenstein
Los Angeles
Instead of 'Solo,' choose life
Regarding Kenneth Turan's review of "Free Solo" ["Hang on for a Dizzying Ride," [Sept. 28]: What's so cool about risking your life unnecessarily? Suicide isn't funny and flirting with suicide — even in the passive-aggressive way of extreme-risk athletes — is that something that you really want to glorify?
Every year, it seems, two or three rock climbers fall to their deaths in Yosemite — they get what they were looking for on some level, I suppose. My memo to Alex Honnold would be, "Hey kid, quit the human-fly act while you're ahead of the game."
Jim Picco
Santa Monica
'Creek' love shines through
I just read your story of our night of love at the Ace Hotel ["The 'Creek' Overfloweth," Sept. 26] with our favorite people, the Roses, and other characters from the comedy "Schitt's Creek." Being in that audience and sharing our admiration, encouragement, love and empathy with the creators of that show was amazing. I was actually a bit surprised, but there I was, a 70-year-old fan, jumping to my feet and screaming. I haven't felt that passion since early Springsteen concerts. I was so pleased to see your article letting the public, many of whom think I'm nuts, know that there is such deep feeling for that show.
Katherine Beattie
Oxnard
The conversation continues online with comments and letters from readers at
---
Get our L.A. Goes Out newsletter, with the week's best events, to help you explore and experience our city.
You may occasionally receive promotional content from the Los Angeles Times.