'Schitt's Creek: Up Close & Personal' at the Ace Hotel brings 'conversation, surprises, merriment'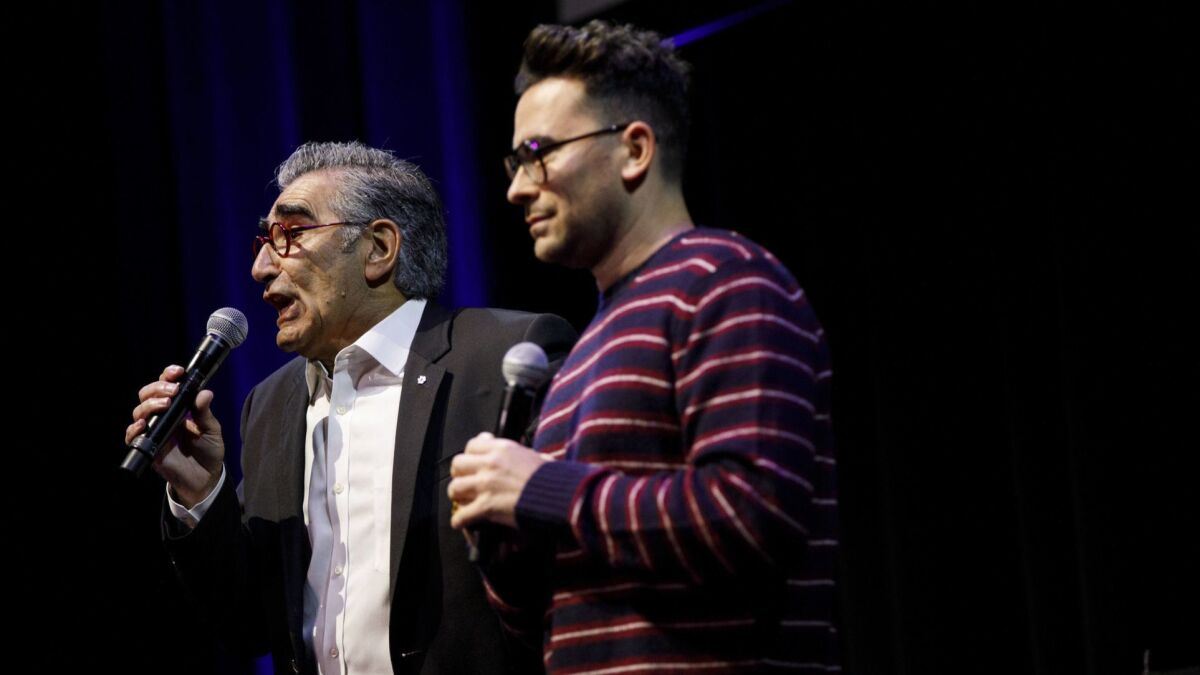 Television Critic
"Schitt's Creek," a comedy about the Roses, a self-centered wealthy family that loses its money and finds itself — and also finds itself -- in an eccentric small town, came out of television and onto the stage of the Theatre at Ace Hotel on Sunday night.
The occasion was "Schitt's Creek: Up Close & Personal," an evening of "conversation… a few surprises … some general merriment, hopefully," in the introductory words of its moderator, Dan Levy, who co-created the series with his father, Canadian comedy god Eugene Levy. In a bit of typecasting, the Levys play father and son, Johnny and David Rose. Annie Murphy is David's sister, Alexis; and Canadian comedy goddess Catherine O'Hara — the elder Levy's partner on "SCTV" and in a series of Christopher Guest movies — plays Moira, Mrs. Rose, armored against downward mobility in an endless array of wigs and aesthetically aggressive couture.
All were there onstage Sunday, along with Emily Hampshire, who plays Stevie, who runs the motel where the Roses live in two adjoining rooms, and Noah Reid, who plays David's patient boyfriend, Patrick. (It is a relationship, to judge by the cheers in the room, that makes the fans happy, perhaps because David had so resisted happiness.) They took the stage to ascending waves of delirium, as if every appearance were a delightful surprise, like it was a Christmas when everyone forgot they were getting presents.
Other cast members, including Chris Elliott as mayor Roland Schitt and Jennifer Robertson as his schoolteacher wife, Jocelyn, and Dustin Milligan as veterinarian Ted, Alexis' sometime boss and love interest, were present only in film clips. But they got love, too.
After three increasingly good seasons, "Schitt's Creek" took a leap into loveliness in season four, pushing the Rose family toward acceptance or commitment or self-reliance in a way that has made this strange little comedy one of the most genuinely romantic shows on television. At the same time, the fact that the series — a co-production between the American cable network Pop TV and Canada's CBC — also became available on Netflix has given it new life.
The event, which sold out quickly, "stemmed from reading amazing, thoughtful talkback from fans and realizing we don't get to see anybody," Dan Levy told me in a dressing room, not long before he and Eugene would take the stage to a standing ovation. (There would be another, maybe greater, for O'Hara.) "The building blocks of our show have slowly but surely built a really loving fan base, and I think this last season was the most emotional and sensitive and tender. The idea of putting a live show together really stemmed from the enthusiasm of the fans and the desire to provide a venue where we could celebrate the show with them."
As one would expect from "Schitt's Creek" itself, the evening was both hilarious and moving. Dan Levy led his castmates back to the show's beginnings. Murphy and Hampshire had funny, end-of-their-rope audition stories. (Hampshire: "I had just gotten divorced, I had 800 dollars — 800 whole Canadian dollars — I hadn't worked in almost a year because I could no longer go to auditions because I would break out in full body hives.") Each spoke about his or her character and favorite scenes, as actors often do on panel appearances. But as this was their own, self-created, self-contained "Schitt's" show, it also had the flavor of a family dinner.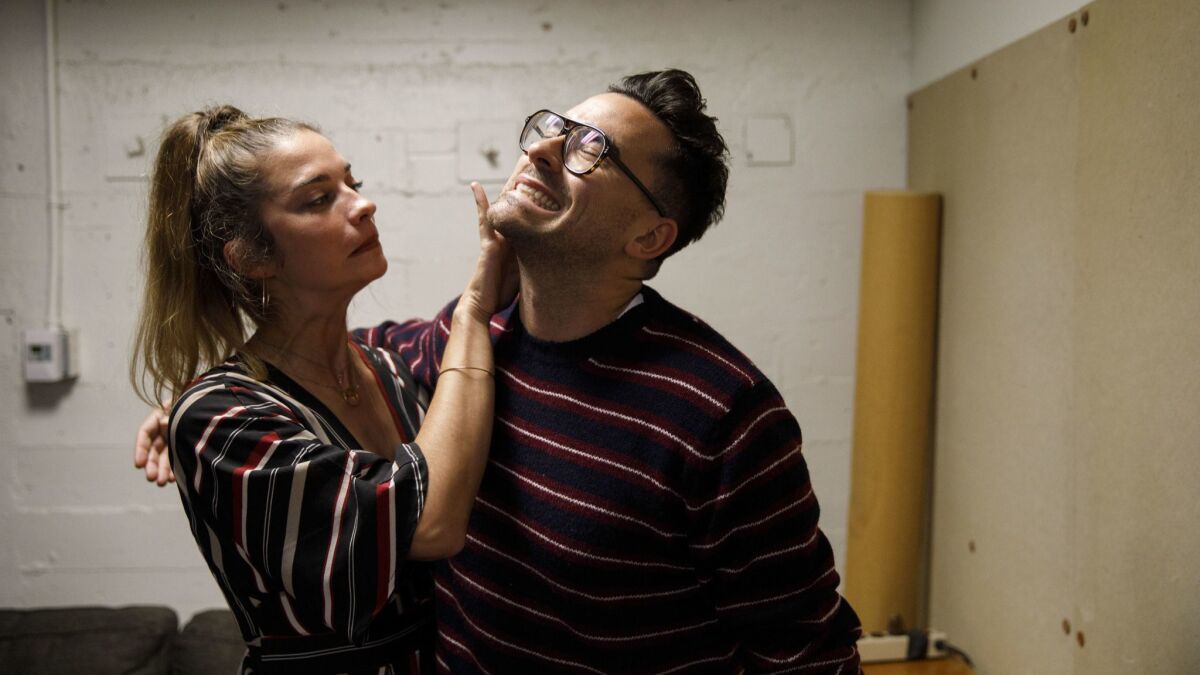 "Do you remember pitching the show?" Eugene asked his son, whom he sometimes refers to as "the lad."
"I do remember pitching the show," said Dan, who calls his father Dad. "I'm 35; I have a very clear memory."
Murphy demonstrated a floppy thing Alexis does with her wrists and got much of the audience to do it with her. O'Hara let her voice slide into Moira's to ecstatic response. There was a slide show of "Schitt's"-themed, fan-made projects. A trivia quiz pitted audience against cast members, including surprise guest Sarah Levy (Eugene's daughter, Dan's sister), who plays waitress Twyla in the series. (Try it at home! 1: What gift did Ted give Alexis on the opening night of Rose Apothecary? 2: How does Twyla serve champagne at the diner? Answers at the end.) Reid accompanied himself on guitar, singing the arrangement of Tina Turner's "Simply the Best" he performed in the show last season; it went Top 10 in Canada.
And right before the song, there was a wedding proposal, appropriately capping the question-and-answer section. The groom-to-be, Jake Penzell, told me later he had sent a note to Dan Levy's publicist to see if something might be arranged. The bride-to-be, Jaimie Szuhay, was not shocked by the proposal, but surprised by the timing. "This is the first thing she ever showed me, pop-culture-wise," he said of "Schitt's Creek"; their mutual love for the series was something by which they understood they were meant for each other.
If it was an opportunity for the cast to see their fans, it was just as much — even more — an opportunity for the fans to demonstrate their love, which does not fully distinguish between the actors and their characters, but lets each magnify the other. (It is true that Dan Levy was asked if he's single during the question-and-answer period; I couldn't be sure with all the screaming, but I believe he said he is.)
"I continually fight my Canadian instinct to wonder how and why this is happening," Dan Levy said before the show of the growing Creekmania. "It's surreal. Truly. I've had families from grandparents to grandchildren all come up and say that they watch it together, but I have not found, like, a through line in terms of what that fan base is. Because, especially in America, it's Democrats, it's Republicans, it's people whose beliefs are not necessarily mine or our show's.
"Some of the most touching feedback I've received has been from right-wing religious-based people who have never understood" — he paused, searching for the phrase — "queer culture. If we can continue to open people's eyes to realize that everyone's deserving of love, that's a wonderful thing."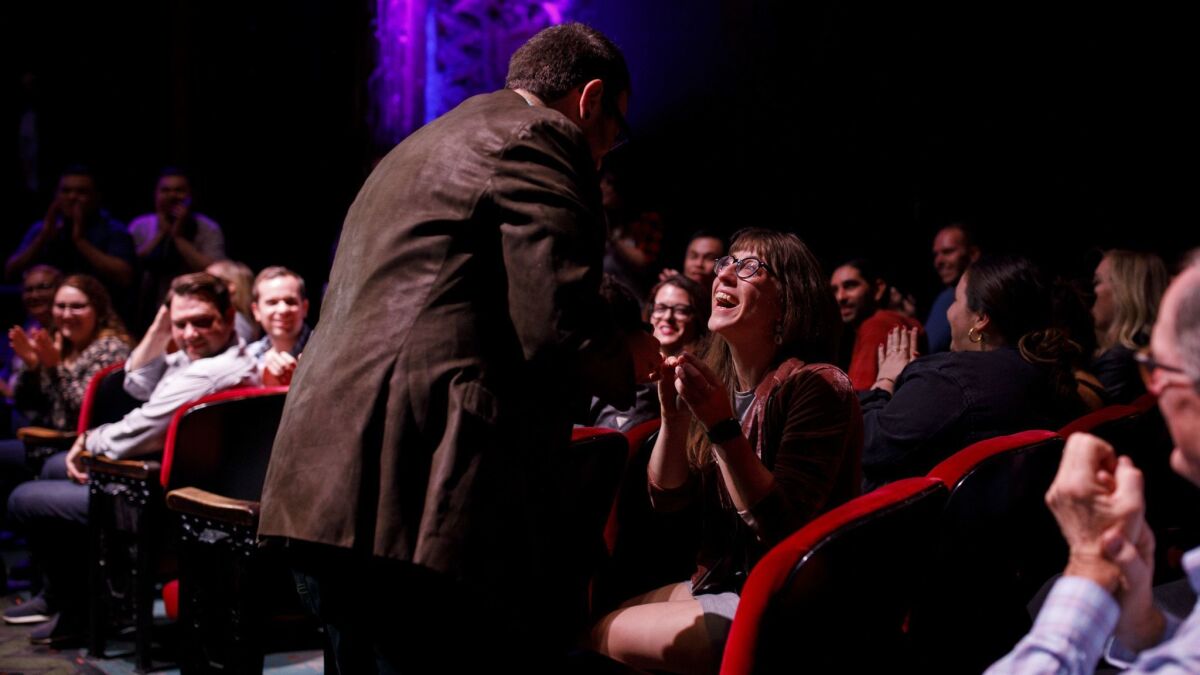 I mentioned to Eugene Levy that the show, from being a Little Engine That Could, seemed to be turning into a steaming locomotive.
"I still think of it as a Little Engine That Could," he replied. "Awareness is starting to percolate. More people are stopping me at airports and saying things about 'Schitt's Creek,' and I know that's a great sign."
"I know I can come off with a kind of faux sense of humility," Dan Levy told me, "but this really did start as just a very small idea up in Canada that we did because we loved it. And to now have a theater full of people showing up just to hear us answer some questions – it's wild."
"It's a good show," Eugene Levy said. "The lad has crafted a very lovely show."
QUIZ ANSWERS: Question 1: A pencil shaped like a twig. Question 2: With a raisin.
ALSO:
Canadian 'Creek' overflows with good humor
Q&A: Eugene Levy and Catherine O'Hara on comedy, Canada, 'Creek'
Father-son team Eugene and Dan Levy go with the very funny flow on their second season of 'Creek'
Further up the 'Creek': Eugene and Dan Levy talk more about Canadian comedy
If you missed shows like 'Schitt's Creek' and 'The Detour' in the Peak TV deluge, those and more are back, and still good
Follow Robert Lloyd on Twitter @LATimesTVLloyd
Get our L.A. Goes Out newsletter, with the week's best events, to help you explore and experience our city.
You may occasionally receive promotional content from the Los Angeles Times.