Is Chelsea Handler playing it safe with her Netflix docuseries 'Chelsea Does'? Ha - never!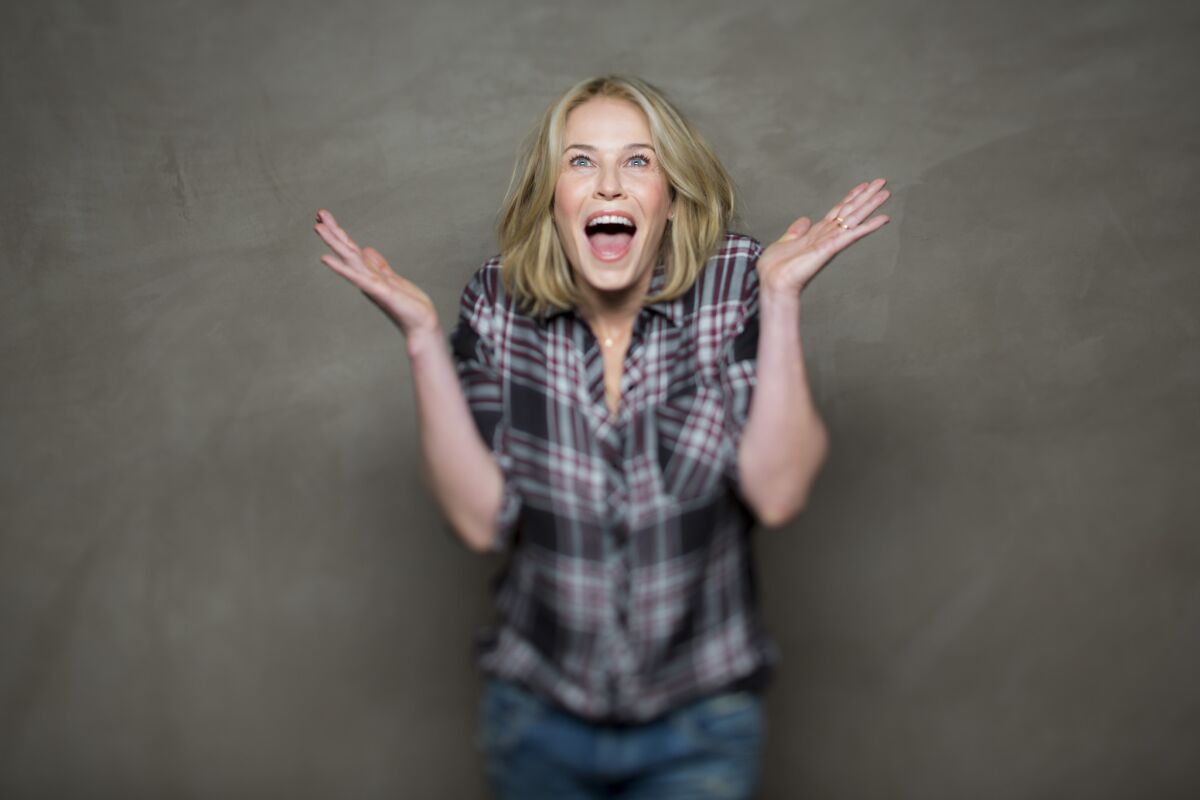 All it takes is two sips, and then she's done. She lies back on a mat and closes her eyes, listening to the shaman's hypnotic chanting. There's a bucket next to her, in case she starts vomiting.
But she doesn't. She isn't even nauseous. In fact, she barely feels anything at all. Chelsea Handler has traveled all the way to Peru to get high on ayahuasca, and it isn't working.
See more of Entertainment's top stories on Facebook >>
"I was feeling buzzing, and then it just went out the window," she tells friends Jenny Mollen and Daniel Maurio, who have also consumed the Amazonian plant brew.
"I feel like I had too much," Maurio replies, looking sweaty and scared.
"It's just the initial, then you'll be OK — just breathe it in," Handler says, before muttering to herself, "I could easily operate a 747 right now."
Somehow it's not entirely surprising that Handler was immune to the effects of the hallucinogen. There's a toughness to her that even substances seem to have a difficult time permeating. In high school, after doing mushrooms or acid with her friends, she was always selected as the designated driver. In her five books, she talks about how much and how often she drinks alcohol.
"I just have a high tolerance for things. But I'm sure now that I've said that, someone's gonna see me face down in the lobby of a hotel," she says, sitting in her bedroom months after her trek to South America.
Handler decided to experiment with ayahuasca as part of her new docuseries, "Chelsea Does," which will premiere at the Sundance Film Festival this week, a day before it launches on Netflix on Jan. 23. In each of the series' four episodes, Handler explores a different topic: There's one about race and prejudice, in which she visits an old Southern plantation and sits down with prominent leaders like the Rev. Al Sharpton and former Israeli President Shimon Peres. In one on marriage, she goes on a painfully awkward series of blind dates and then grills an ex-boyfriend.
She explores technology by traveling to Silicon Valley to pitch her own app and learn what streaming is from Netflix co-founder Reed Hastings. And of course there are drugs as she tries mixing alcohol with Ambien and also invites her friends over for a marijuana-infused dinner.
The series, Handler says, is meant to serve as a tonal introduction for her new late-night talk show, which will debut in May on Netflix, where it will be streaming three times a week in May. After eight years on E!, she quit her show "Chelsea Lately" in 2014. She loudly declared that she was ready to distance herself from the Kardashian-affiliated cable network, telling Howard Stern that she felt she was "getting dumber" with each episode she filmed. It wasn't long before she'd teamed with Netflix.
It seemed a logical move for Handler, who has always had a reputation for pushing boundaries. She's the first major star to experiment with the platform on a streaming service, which has the potential to reach far more viewers than the 600,000 who typically tuned in during her final season on E!
Handler clearly aspires to be taken seriously, though that desire sometimes seems at odds with her reputation. Even though she publicly trashes many celebrities, she also pals around with them, counting Jennifer Aniston, Gwyneth Paltrow and Sandra Bullock among her closest friends. Tabloids reported that her recent 40th birthday party — attended by a handful of A-listers — was so raucous that neighbors called the police to complain.
"I know what people think of me. I'm not an idiot. I'm sure they think I drink too much," she says. "People never show you the ugly side of things. ... But I can be myself and have my same personality and explore richer or more interesting topics. I want these docs to inform viewers of the direction I'm going in with my show. Imagine Google but as a TV show with me as your host — and swearing. You're finding out information in a cool way that's fast, so you don't feel like you're watching '60 Minutes.'"
Feeling like an adult
It's raining, and Handler's room feels like a Zen retreat. It smells like pot, and there are books piled everywhere: "1,001 Best Places to Have Sex in America," George Orwell's "1984," the Judy Blume classic "Are You There God? It's Me, Margaret." One of her dogs, a German Shepherd-Chow Chow mix named Chunk, is curled up on a shag rug.
She's lived on this Bel-Air hillside since 2010, when she bought the home from Esther Williams for $5.9 million and completely renovated it. Now it looks like one of those modern marvels featured in Architectural Digest: pristine gallery walls, a pool lighted with wicker lanterns, televisions that descend from the ceiling.
"I spent a lot of time on this house," says Handler, who speaks at a frenetic pace. "This is my first year living alone since I was 26. I've always had a roommate. And I thought I would be so scared, but I love it. I take baths now. Once I turned 40, my whole life changed in the most mature — not boring way but much cooler way. I feel much more like an adult."
That growth is reflected in "Chelsea Does," which was executive produced by Morgan Neville, an Oscar-winning filmmaker who brought an added level of credibility to the project. Though the series is peppered with jaw-dropping moments, it's clear the experience was more than a superficial exercise for Handler.
"When I said I was working with Chelsea, I can't tell you how many people in the industry said, 'Oh, she's really smart,'" recalls Neville, who directed the popular doc about backup singers "Twenty Feet From Stardom." "Even on her E! show, she showed a lot of smarts — she just wanted the chance to flex those muscles in a bigger forum. I don't think anyone was surprised that she had something to say."
That's particularly apparent in the race episode, in which Handler discusses her humor with a table full of representatives from groups like the Anti-Defamation League, the NAACP and the Council on American-Islamic Relations. During the roundtable, Guy Aoki, head of the Media Action Network for Asian Americans, tells Handler that he took umbrage with a joke she made on "The Tonight Show With Jay Leno."
The joke poked fun at Angelina Jolie's son Pax, whom the actress adopted from Vietnam when he was a toddler. Pax was so young, Handler said, that he was probably still unaware that he was Asian and would go on to become a "horrible driver" who could be "amazing at doing nails."
"Angelina Jolie also adopted a girl from Ethiopia. But you did not go after her because the NAACP would have been protesting outside the E! channels the next day, asking for your head," Aoki argues. "He's a 3-year-old kid. He didn't ask to be a public kid."
"I would say I'd write him a letter of apology, but I won't," Handler responds.
"Is it that big a deal, comedians making a joke on television?" asks Aoki. "Yes, because it affects people watching it. You basically told the audience watching at home, 'You can make fun of this kid, even though he's a 3-year-old kid.'"
Handler thrives on confrontation like this, and it's the kind of conversation she's hoping to have more of on her talk show. Though the program will feature a "live" segment filmed on the Sony Pictures Studios lot in Culver City, she's adamant that the show not stick to a rigid format with an opening monologue, celebrity guests and a musical performance.
"I want it to be richer than that and fuller than that," she says. "We already have those shows. There are 11 shows which celebrities rotate around. If I'm gonna have five celebrities on, I want to have them in a roundtable situation where we talk about racism or sexism or drugs or who's sober and who's not and why. The way Dick Cavett used to have on, like, Henry Kissinger and Janis Joplin and a cosmonaut."
Ted Sarandos, Netflix's chief content officer, said he expects users will binge-watch the three new episodes of Handler's show each week.
"Most people watched 'Chelsea Lately' not at 11:30 — they'd DVR the episodes and watch them in stacks, spending Saturday catching up on the shows," says Sarandos. "One of the things I find frustrating about late-night TV — and I'm a fan of it — is that there's such intent to create a viral moment that the show becomes kind of chaotic. Chelsea's show will become viral just in the way it's watched."
If the talk show ends up being anything like "Chelsea Does," it'll likely spur online chatter. And Handler — who last year continuously posted topless photos of herself on Twitter because Instagram censored them — recognizes the value of her shock factor. Maurio, her ayahuasca buddy who was a producer on "Chelsea Lately," believes that's what viewers like about her — how genuine she is.
"I think people pick up on the fact that she's exactly the same on camera as she is off camera," said Maurio, who is married to Oscar-winning writer Diablo Cody and starts work on Handler's new show on Monday. "It's, like, 'Let's watch this girl go out into the world and get unfiltered responses.' She doesn't do multiple takes."
As for the ayahuasca journey, Handler doesn't give up after her first failed attempt. She decides to visit the shaman alone for a second night, and this time things unfold rather differently.
"I don't have a problem being the one to embarrass myself — asking the questions that people pretend they know the answers to," says Handler, who wanted to experiment with even more drugs before Netflix lawyers nixed the idea. "I think if you're gonna do something as silly and lighthearted as entertainment, then why not be interesting when you're doing it? I don't want to play it safe."
Get our L.A. Goes Out newsletter, with the week's best events, to help you explore and experience our city.
You may occasionally receive promotional content from the Los Angeles Times.