Overrated/Underrated: Let's keep the Guns N' Roses reunion hype in perspective
There's a lot of pop culture to sort through week after week. Times staff writer Chris Barton offers his take on what's up and what's down in music, movies, television and just about anything else out there that is worth considering.
UNDERRATED
Bomani Jones: The writer, radio host and frequent guest on the many round-tables that fill the space between ESPN's occasional live sports landed in hot water last week when he wore a mock team-logo T-shirt that read "Caucasians" in the style of baseball's Cleveland Indians. While Jones deserves credit for sticking his neck out on a network whose primary function is to promote the many wonders of the sports it pays to broadcast, he also delivered a key reminder of the shameful endurance of some badly insensitive and racist team names that endure for no other reason than money and habit.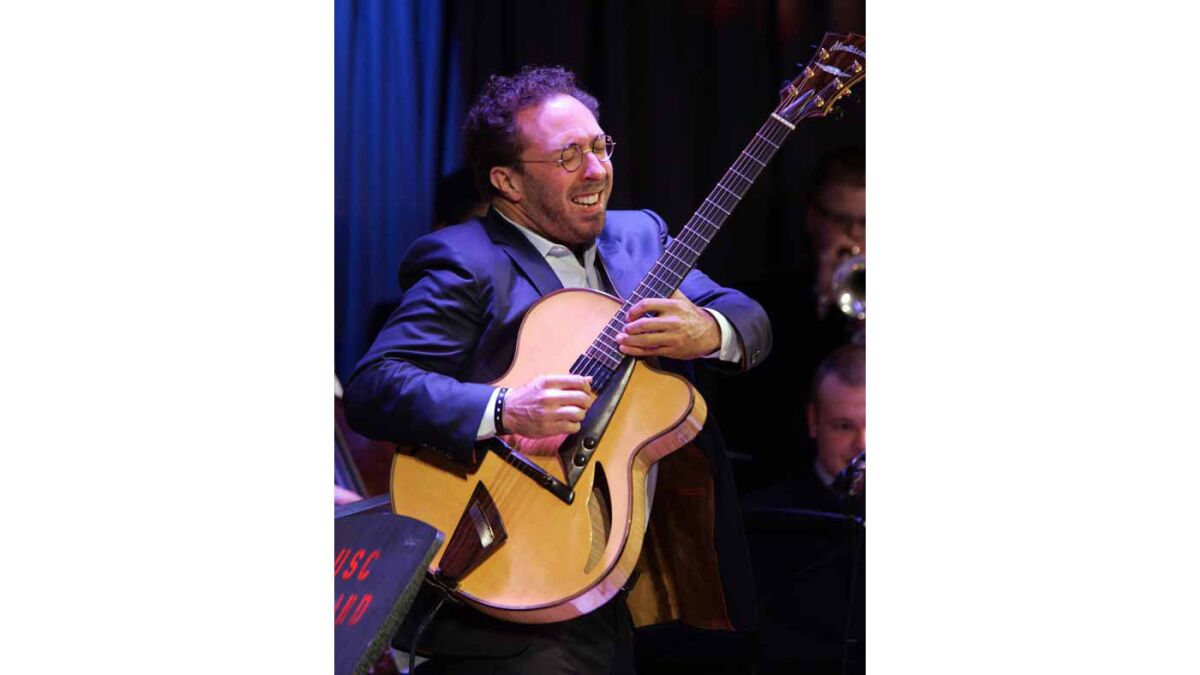 Anthony Wilson's 'Frogtown': Son of revered L.A. bandleader Gerald Wilson as well as a fixture on guitar behind vocalist Diana Krall, Wilson boasts a rich catalog of albums as a guitarist and leader, but his latest may be his most evocative yet. Deftly moving among jazz, folk and pop with the great saxophonist Charles Lloyd on the wistful ballad "Your Footprints," in addition to the rustic guitar churn of "Silver and Flint" and the folk-pop in "Arcadia," Wilson sets his credentials as a civic treasure in his own right backed by the likes of Petra Haden, Jim Keltner and Daniel Rosenboom.
Overrated/Underrated: Pop culture's best and worst >>
OVERRATED
The Guns N' Roses comeback: Given the realities of the modern music industry and the collective shrug that the long-delayed "Chinese Democracy" earned as compared with recordings by the Axl-and-Slash axis of Guns N' Roses, a high-priced reunion at Coachella and beyond was as inevitable as sunshine on a spring polo field. That said, let's retain some perspective and remember that along with some indelible songs comes the baggage of a band that in its prime was packed with misogyny, excess and loutish hair metal antics that helped give rise to Nirvana in the first place. So, in a sense, thanks?
MADtv: If you ever found yourself watching "Saturday Night Live" and thinking, "You know, this show would be a lot funnier if there were more recurring characters and grating catchphrases," then you were probably a big fan of this sketch comedy series, which launched on Fox in 1995 and quietly survived until 2009. Now comes word it's returning on the CW, and you have to wonder why. Although we owe the show for eventually giving us "Key & Peele" and writing gigs to young talent like Patton Oswalt, we already have an uneven, more repetitive version of "SNL" in 2016, and it airs on NBC every Saturday.
---
Get our daily Entertainment newsletter
Get the day's top stories on Hollywood, film, television, music, arts, culture and more.
You may occasionally receive promotional content from the Los Angeles Times.