Overrated/Underrated: 'Keanu' and 'Ghostbusters' are here to save the summer
There's a lot of pop culture to sort through week after week. Times staff writer Chris Barton offers his take on what's up and what's down in music, movies, television and just about anything else out there that is worth considering.
UNDERRATED
Key & Peele's "Keanu": The most dynamic on-screen duo this year doesn't involve the costumed blockbuster mills at Marvel or D.C., it's the return of two forces for good in comedy who left the TV schedule feeling a bit more empty with the end of their show last year. Couched in the K&P comic wheelhouse with a story steeped with cultural code-switching, skewered action movie cliches and an adorable kitten, "Keanu" has to hit a pretty high bar, but if it falls short we'll need a sequel each year or so until they get it right. (Hey, it works for "Spider-Man.")
------------
FOR THE RECORD:
Todd Solondz: In the Underrated/Overrated column in the April 24 Calendar section, the last name of movie director Todd Solondz was misspelled as Solandz. —
------------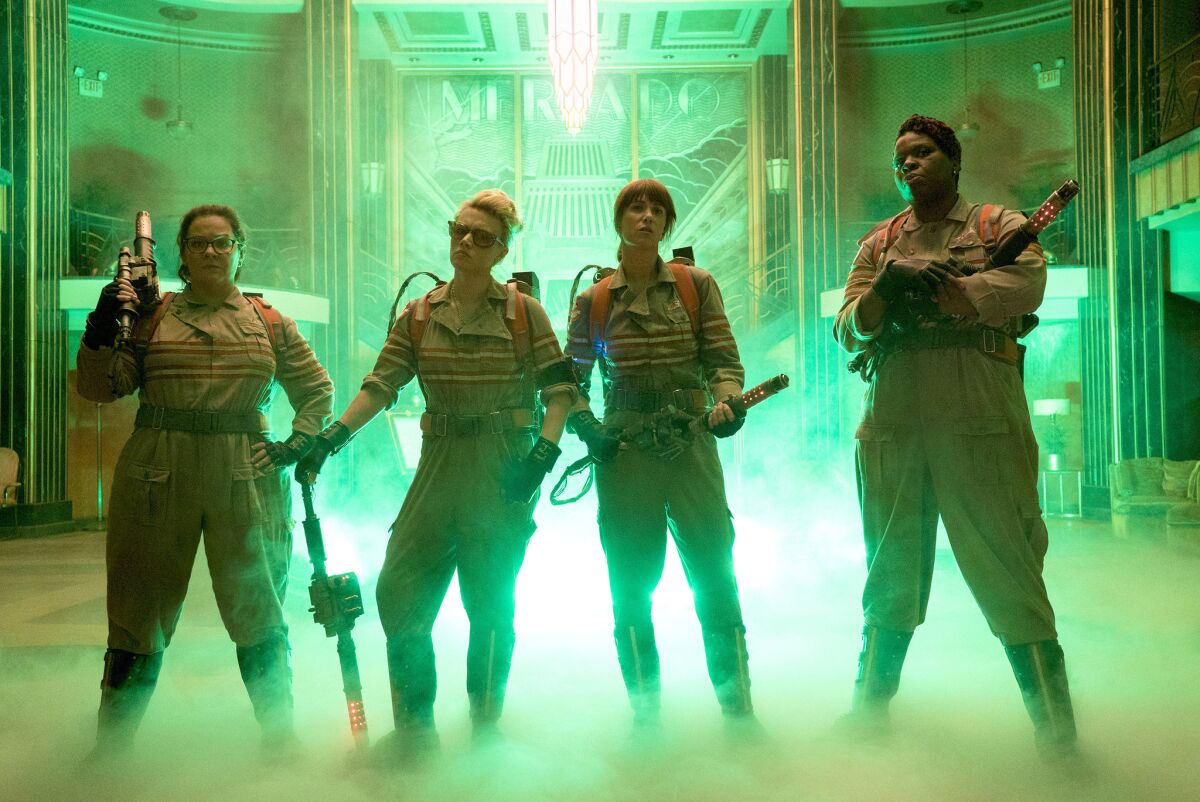 "Ghostbusters": Reboots are like cover songs — they're an undeniable part of life, so if you must take one on at least do something inventive. While the Hall of Fame-level cast of the 1984 original remains untouchable, Paul Fieg flipped the script for this reboot (due July 15) with an all-female lead cast that's a comic murderers' row in its own right. Kate McKinnon, Melissa McCarthy, Leslie Jones and Kristen Wiig are reason enough to buy a ticket, but knowing this film's very existence infuriates sexist Internet trolls makes this movie essential.
Overrated/Underrated: Pop culture's best and worst >>
OVERRATED
The Lonely Island: Best known as the most streamlined vehicle for Andy Samberg's particular brand of tireless mugging and musical mimicry, this comedy trio familiar from "SNL Digital Shorts" excels at viral song spoofs such as "Like a Boss" and "Lazy Sunday," but is that enough to fill a movie? Girded by a boatload of celebrity cameos, "Popstar: Never Stop Never Stopping" (June 3) has plenty of music industry absurdity to draw from, but can we just skip ahead to the three genuinely funny YouTube clips this generates instead?
Todd Solondz: A sort of auteur of unpleasantness, Solondz boasts a haunting filmography that includes "Happiness," "Welcome to the Dollhouse" and "Life During Wartime." While undeniably a master craftsman of stories filled with pitch-black humor and circumstances, his reflexive hopelessness and occasional shock tactics can leave you feeling manipulated, if not consumed by existential dread. His latest film, "Weiner-Dog" (June 24), takes a new tack by following a little dachshund through a series of owners — but don't worry, everything turns out awful in the end.
chris.barton@latimes.com
MORE SUMMER MOVIES:
Our complete summer movie guide >
Every single movie coming out this summer >
5 horror movies to spike your adrenaline >
Fan favorites like 'Ghostbusters,' 'Star Trek' and 'Tarzan' crash the superhero party >
Ryan Gosling, Meryl Streep, and 'Swiss Army Man' lead the counterprogramming charge >
---
Get our L.A. Goes Out newsletter, with the week's best events, to help you explore and experience our city.
You may occasionally receive promotional content from the Los Angeles Times.