A moment with Marisa Tomei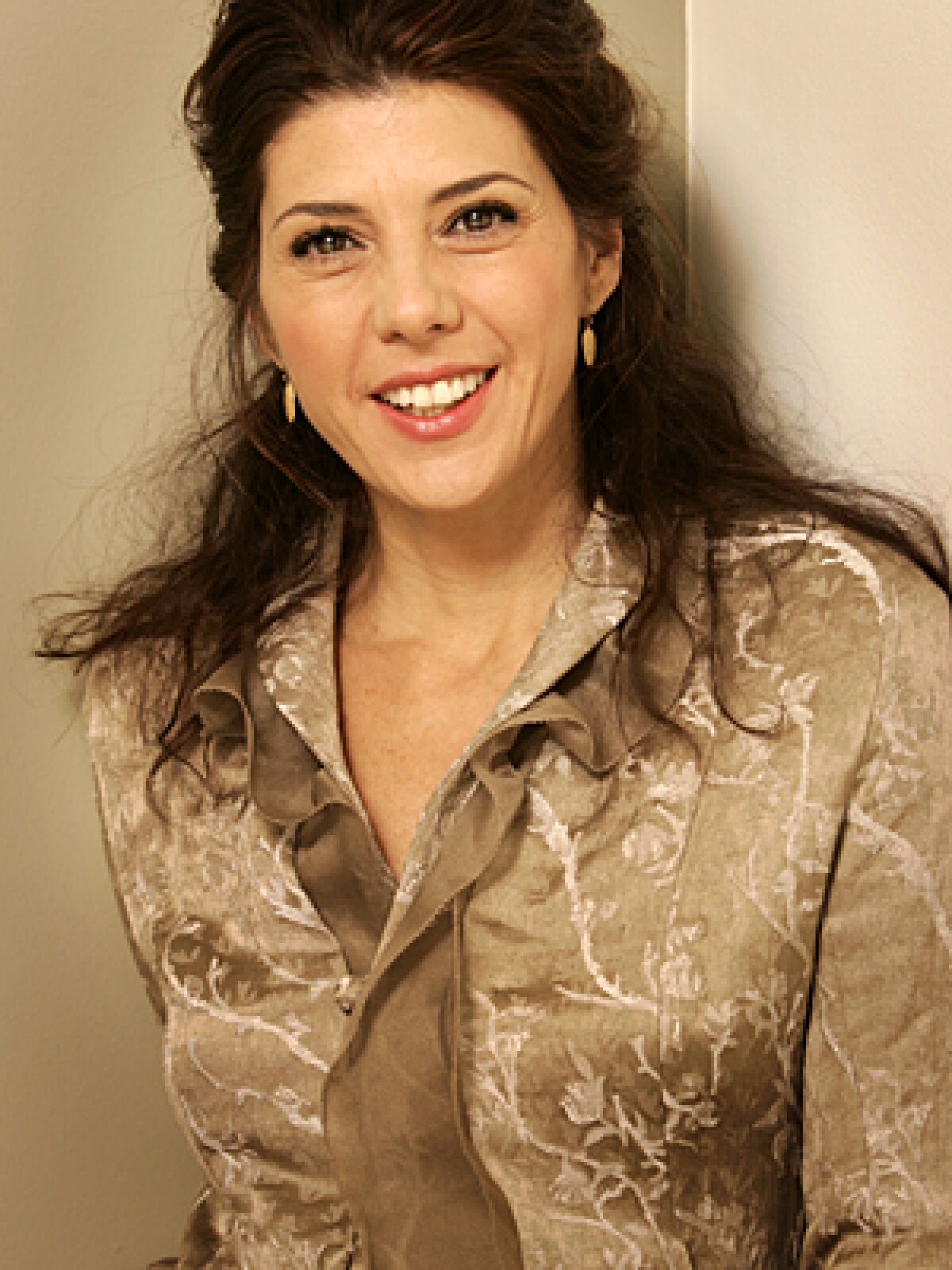 As she walks into the lounge of her publicist's L.A. offices, Marisa Tomei catches a visitor perusing a book from the shelf on interview strategies -- advice to interview subjects on how to keep the media from "clobbering" you. She confesses she hasn't read it and so might not have the proper defenses, flashing that quick smile and, to quote her most famous character, "those big doe eyes" . . . and one suspects she holds a black belt in dealing with the media.
"I think at the end of this incredible time period of making it, having it come out, bringing it to the festivals and now having it receive its recognition and to see Darren [Aronofsky's] work appreciated like this," she says of the entire "Wrestler" gestalt, "when this calms down is when I'll probably have a lot more to say about it. I mean, I know enough so that I really appreciate this time."
It's hard to believe it has been 16 years since she received the Academy Award for her indelible comic turn as Mona Lisa Vito in "My Cousin Vinny." Two more nominations ("In the Bedroom" and now "The Wrestler"), perhaps another deserved for 2007's "Before the Devil Knows You're Dead," and a string of stage successes, Hollywood hits and acclaimed smaller films have long since cemented her acting bona fides.
So what made her take on the physically and emotionally demanding role of an aging stripper who becomes entangled with a broken-down wrestler (played by fellow nominee Mickey Rourke) in a low-budget film, shot in winter?
"It was the dancing that clicked it in for me; I was really, really interested in that," she says of playing stripper Cassidy. "I've always been a physical actor and that's part of the reason I enjoy being onstage, part of the reason I enjoy comedies. I liked that that would get to be part of my job."
Apart from getting her groove on, there was also putting herself in the hands of a talented director, Aronofsky -- for better or worse.
"Darren, up front, said it's going to be a really tough shoot and 'I love to push my actors.' He certainly had us do a lot, a lot of takes, way past our point of where we thought we had nothing left to give. We're, like, clinging to each other for dear life," she says with a laugh.
"I don't mind it. It keeps breaking open the scene -- you hit a wall and then you go into a whole 'nother realm of it."
Slender and enthusiastic, with a frequent warm laugh that doesn't read as nervous, Tomei often leans forward during conversation.
Her innate accessibility serves her well as Cassidy, whose job entails encouraging the fantasies of the club's customers that they have a chance with her.
But Cassidy has been too long in a business in which youth is a prerequisite. She's getting by on guile, like a pitcher whose fastball has deserted him.
"I was very interested in the themes of identity and reinventing yourself and different stages in one's life," says the actress, then perhaps mindful of the obvious Hollywood parallel, adds: "But even though I was drawn to it thematically, did I want to be going around talking about aging with people?" Tomei's playfulness dims only when she's forced at pen-point to discuss the nuts and bolts of her craft.
"Somehow, as these illusions [of who Rourke's character is] get burst and he reaches out to her and shows his vulnerability, it kind of touches another place inside her. And I think that's more of a place of comradeship," she says, tilting back on the couch like a kid being made to recite her homework.
"They've both been through the wringer. And there's something in reaching out to him that's reaching out to a wounded part of herself. I mean, that's enough psychology to make you want to throw up," she says with a laugh.
"But I don't think she knows how to process it because she's had so many layers of pleasing men in different guises. I don't think she can unthread all of it."
The actress says some of the difficulties of the shoot helped crystallize the experience as special.
"On a physical level, we're exposed to the elements: It's freezing, we're half-naked, the characters' lives are falling apart, we're against the clock in terms of shooting all the time," she says. "And we were constantly with our cameraman because of the hand-held nature [of the cinematography]. So it was a like a tango, a duet going on. I think the kind of underworld we were inhabiting was special; kind of decaying beauty in a way. All that was rich to be around and raw."
Get our L.A. Goes Out newsletter, with the week's best events, to help you explore and experience our city.
You may occasionally receive promotional content from the Los Angeles Times.