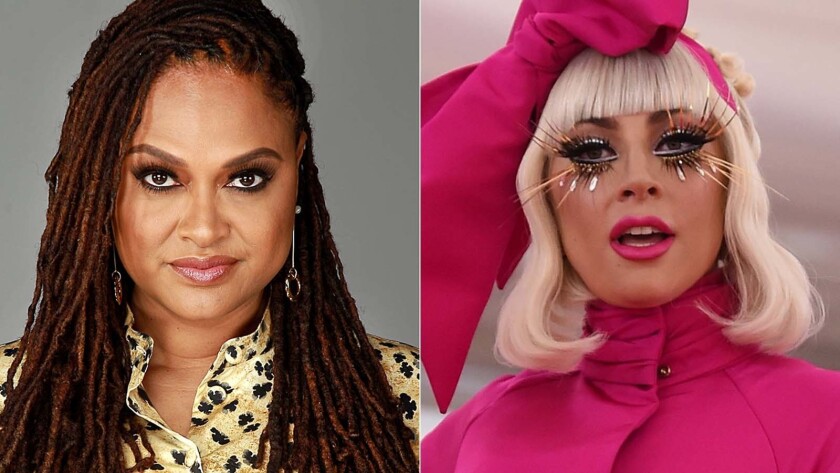 As states pass more legislation to restrict abortion in states such as Georgia and Alabama, Hollywood and its famous faces are speaking out almost uniformly in support of reproductive rights.
Musician and actress Lady Gaga, director Ava DuVernay and more reacted swiftly after Alabama's Senate passed a bill Tuesday night that effectively bans abortion in the state. The bill was signed into law by Republican Gov. Kay Ivey on Wednesday.
DuVernay urged women to speak up in the wake of the Alabama vote.
"Don't move forward after reading this like everything is normal," the filmmaker tweeted. "Don't shake your head at Alabama and then keep going about your day. Realize that this is a warning. It's Alabama and abortion today. It's you and your rights tomorrow. Your silence will not save you. So speak up."
Lady Gaga called the move "a travesty" on Wednesday and said she was praying for the women and young girls in the state.
Georgia governor postpones L.A. visit amid Hollywood clash over abortion law »
"It is an outrage to ban abortion in Alabama period, and all the more heinous that it excludes those that have been raped or are experiencing incest …," the pop star said on Twitter.
Meanwhile, actress Alyssa Milano, whose #SexStrike proposal didn't go as planned last week, played it straight by posting a picture of her child and saying, "This is my daughter. Her rights are human rights."
That was an uncharacteristically mild protest from Milano, who in March posted an open letter signed by 50 actors who work regularly in Georgia, asking the governor not to sign HB 481, which, starting Jan. 1, will prohibit abortions in the state once a fetal heartbeat exists.
Several people focused on the fact that only men voted "yes" on the bill. The 35-member Alabama Senate has only four women, all of whom are Democrats. Two of those women voted against the bill, with one abstaining and the other a "pass," either absent or not voting.
Rihanna on Thursday wrote on Twitter, "Governor Kay Ivey … SHAME ON YOU!!!!"
Calling the law "absolutely unbelievable," Chris Evans wrote on Twitter: "This is why voting matters!!"
"These statehouses are waging all-out war on women and their right to control their reproductive decisions," wrote singer John Legend. "This is awful."
Once the law goes into effect, in six months barring the expected court challenges, all abortions will be banned in Alabama, including after rape or incest, unless the health of the woman were in critical jeopardy.
This law and another signed last week by Georgia Gov. Brian Kemp — which had some filmmakers promising to boycott the state and prompted Kemp to change his travel plans — are largely seen as steps toward getting abortion laws heard by the Supreme Court, with an eye on overturning the 1973 Roe vs. Wade decision that made abortion legal nationwide.
Filmmaker Mark Duplass was among those pulling out of the state, saying, "Don't give your business to Georgia. Will you pledge with me not to film anything in Georgia until they reverse this backwards legislation?"
Dear Hollywood: Georgia's new abortion law means you have to stop shooting there. Now »
Meanwhile, reacting to last week's Georgia law but ahead of actress Busy Philipps starting her #youknowme abortion awareness campaign, actress Milla Jovovich on Tuesday shared the story of her own abortion on Instagram.
George Takei spoke out against filming in Georgia as long as the new law stands, but spun out a wry joke after the Alabama news.
And Rosanna Arquette tweeted out, "Alabama is No sweet home" before launching into a series of retweets pertaining to the issue.
British singer Dua Lipa stood "in solidarity" with other women, she said Thursday on Twitter.
"How is it that abortion gets banned before guns? Our rights need to be heard," Lipa wrote. "And we have a right to be outraged."
Actress Jameela Jamil predicted Wednesday on Twitter that a ban on abortions would greatly boost the number of unwanted children in the Alabama foster care system, as well as poverty and welfare needs.
"Hope the people of Alabama who want the abortion ban are up for donating their money and space to the MEGA influx of kids in need of care, coming your way," she wrote.
Here's how other Hollywood stars have reacted to the new abortion legislation:
@theCDZ on Twitter and Instagram
---