Best Coast plays in the sand of a new California sound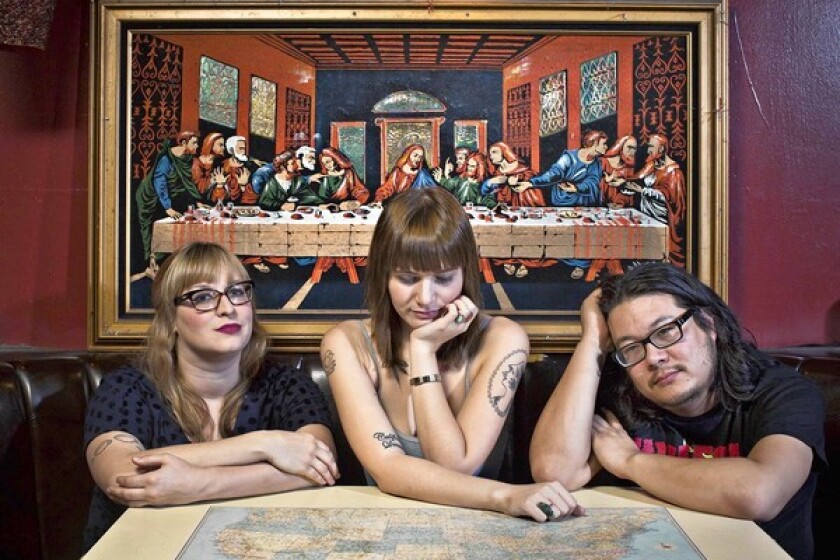 Bethany Cosentino, the frontwoman of the Los Angeles three-piece Best Coast, didn't know how much she loved California until she moved to New York. In 2008, she enrolled in the writing program at the New School in Manhattan to follow her dream of becoming a writer as eloquent as her hero Joan Didion.
By April 2009, the L.A. native bailed on the East Coast with one thing on her mind: to get back to the blowzy, brilliant power of "whoa-oa-oa," the siren call of '60s girl-group pop, sung as one sticky brick of harmony, preferably on a beach somewhere in Southern California.
Best Coast's debut full-length, the reverb-soaked "Crazy for You," came out in the summer, and finds Cosentino singing plenty of "whoa" and rhyming the words "lazy" and "crazy." Didion it is not, but the band, which also includes multi-instrumentalist Bobb Bruno and the very recent addition of drummer Ali Koehler (formerly of Vivian Girls), slouches toward its own burned-out paradise.
Along with Wavves and Girls, Best Coast has invented a new California sound, with "Crazy for You" as its irresistible template. It's surf pop made by a woman with permanent grit in her ratty hair and a soft spot for guys who might be more articulate with a skateboard than their feelings.
Speaking in September at a video shoot for "Boyfriend," the album's keening first track, at Kenneth Hahn State Park, Cosentino remembers the letter she wrote to Bruno while still in New York. They'd met earlier around the L.A. music scene and reconnected when she was playing in Pocahaunted, a drone-centric affair she abandoned (with no love lost).
"I described the vibe to him," she said. "I wanted to make something for people stuck in the Midwest with no beach and no palm trees. I wanted to make that California sound accessible to everyone."
Back in his native L.A., Bruno had similar thoughts. Having played with underground acts such as Mika Miko, Polar Goldie Cats, Imaad Wasif and his former roommate Nels Cline, he was eager for some direct pop.
"I was really excited to hear her ideas," Bruno said. "I've liked pop music for a long time but I've always been in bands that are heavy and experimental. I knew Bethany had an amazing voice and I wanted to work with her."
Best Coast's vision of a new California sound has caught on nationwide. After releasing some 7 inches, including Cosentino and Bruno's first collaboration, "Sun Was High (So Was I)," on uber-cool labels like Group Tightener and No Age drummer Dean Spunt's PPM, they were getting attention from Pitchfork and Rolling Stone.
But "Crazy for You" catapulted them to new heights, reminiscent of the kind of giddy buzz that surrounded the Yeah Yeah Yeahs in the early aughts. Best Coast's debut has sold more than 30,000 records, according to Soundscan, hearty numbers for a young band in today's rugged sales climate.
And the offers to participate in all kinds of opportunities are pouring in for Best Coast. Cosentino recently spent a day collaborating on a song called "Go Away" with Weezer's Rivers Cuomo. With her boyfriend, Wavves' Nathan Williams, she's written music that will be part of an upcoming Target campaign. And perhaps unsurprisingly for a woman whose lyrics often sound ripped from the pages of a teen diary, she's trying to get some new tracks in the next "Twilight" movie.
"This is a band that has everything they need to be successful," said the band's manager, Adam Shore, speaking from New York. "They're very open to new opportunities, to doing things in the nontraditional ways that you have to do now to survive in the music industry."
At the park, while Cosentino, Bruno and Koehler were waiting for extras to arrive for the video, the conversation turned toward some of the inane gossip percolating on the Internet regarding Cosentino's personal life.
"It's something I never expected," said Cosentino, whose Twitter account claims more than 17,000 followers. "I'm learning to deal with having my life exposed. People want to talk about who I'm dating, what I'm doing."
She shook her head. "I can't wait until Bobb starts dating Lindsay Lohan."
A charismatic frontwoman with a deadpan sense of humor — Chelsea Handler is one of her favorites — Cosentino gets nearly all of the media attention, but at its heart, Best Coast is the story of a musical bond between what might appear to be unlikely conspirators. Bruno, 37, is 13 years older than Cosentino, 24; she's chatty and extroverted, while he is shy and reserved.
But a mutual love for the Ramones and the Ronettes can go a long way. "I completely trust Bobb," Cosentino said. "We're on the same wavelength as far as songwriting goes. I can tell him what I want, but he'd be thinking of it anyway."
In the Black Iris studio recording "Crazy for You" with producer Lewis Pesacov earlier this year, that trust formed an important foundation as the band broke out of its comfort zone. Pesacov, who also plays in the bands Foreign Born and Fool's Gold, wanted to scrub the distortion off Cosentino's voice, though it had always defined her vocals.
"Once she heard her voice cleaned up, really reverby and beautiful, she fell in love with it," Pesacov said. "She's a great singer and she's very decisive. She knows what she wants to do, how she wants to capture these songs full of longing."
While Cosentino experienced her own revelations, Bruno did what he does best: a little bit of everything. He played drums, bass, guitar and geeked out with Pesacov on the numerous gadgets used to capture the album's sun-bleached sound: tape machines, fuzz pedals and what Pesacov calls a painter's sense of reverb.
Currently on tour, the band hasn't had much time to record music but ideas are coming to Cosentino at a fast clip. Where "Crazy for You" was about pining for love while the summer slips away, whatever comes next, Cosentino said, will be more about "loneliness and isolation, pressure and people talking about you."
Maybe she'll put some of her ideas up on her Twitter account for fans to see. "I operate the real account," she said. "There are at least two other fake Best Coasts out there. I think that means you've made it."
---
Get our daily Entertainment newsletter
Get the day's top stories on Hollywood, film, television, music, arts, culture and more.
You may occasionally receive promotional content from the Los Angeles Times.