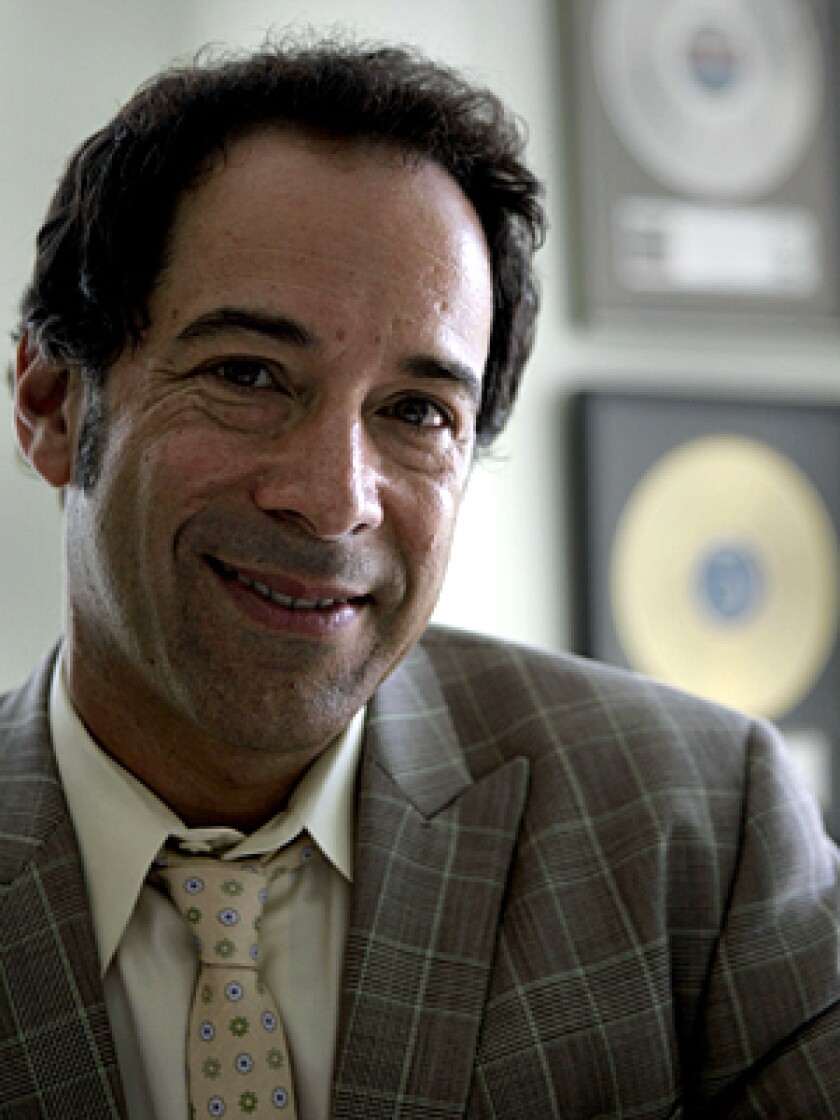 Los Angeles Times Staff Writer
JOEL FLATOW'S life is all about connections. Over the past decade, he's used his political links and savvy to help the recording industry wage its fight against piracy. Now he's using the musical ones to help politicians and nonprofit organizations raise the funds for their causes.
In the process, he's become the go-to guy for the events that promise to make both this summer's national political conventions memorable occasions: Want an A-list singer for your Democratic National Committee party? He's your man. Want the hottest country band around to serenade Sen. John McCain's convention victory lap? Call Joel.
Trim and stylishly turned out, he studied law in Washington, D.C., but decided instead to go to work lobbying for arts funding on Capitol Hill. (He also moonlighted as a singer for the Washington National Opera.) Eight years ago, the Long Island native came to L.A. to start the Recording Industry Assn. of America's West Coast office, a move that made him a musical diplomat in a town dominated by film and television.
"I wanted to make sure music had air in the room," he said recently at his Burbank office.
Now 44, Flatow's own list of credits is as long as it is various.
He reunited Fleetwood Mac to play for Bill Clinton two weeks before he left office. He helped Johnny Cash prepare his comments to Congress urging stronger copyright laws. "I remember sitting on a piano bench with him before the hearing," Flatow said. "He was really quite nervous about testifying. He had never done it before. But he knocked it out of the ballpark." He helped Sheryl Crow organize a coalition of stars calling for legislation to end illegally downloading music on the Internet. (They've since become friends.)
Working with Rock the Vote, he helped line up the Red Hot Chili Peppers for the Democratic National Convention in 2004. Recently, he organized a meeting between Mayor Antonio Villaraigosa and Melissa Etheridge at the singer's San Fernando Valley home, where they met to discuss ways to shut down music counterfeiters. (He also lobbied the City Council and the LAPD to crack down on the fake-goods vendors in downtown Los Angeles. "The city's efforts have become a template for other communities," he said.)
He's been working with Rep. Howard L. Berman (D- Valley Village) on legislation that would require local broadcast stations to pay royalties to performers.
And last week, he co-organized a star-studded event in New York City -- with Sandra Bernhard, Alan Cumming, Rosie Perez and Idina Menzel -- to raise money for the Trevor Project, a group that provides counseling and a suicide hotline for troubled gay teens.
THIS week, Flatow was busy rallying talent for both the Republican and Democratic conventions, making sure musicians have a voice at the country's largest political events as more than just entertainers. Recently, Rock the Vote tapped him to help with their events for the Dems in Denver and the GOP in Minneapolis-St. Paul, as did Bono's One Foundation.
"I'm very passionate about the people who bring music to life, with an eye to Washington," he said. "You'll see artists participating in getting out the vote for both campaigns. It's a chance to unite people."
Etheridge said she's looking forward to singing in Denver, where she will unveil a song written for the Democrats.
"We should all become involved in politics," the singer-songwriter said by phone this week from New York. "It's a government of 'us.' "
She credits Flatow for being an important connector between musicians and their politics, regardless of the party.
"Times are changing, especially in the recording industry," Etheridge said. "Joel does a very good job of representing artists and keeping their interest alive in this corporate environment."
FLATOW grew up in a musical, socially conscious family. He learned to play the piano at age 7, moved on to French horn and then voice lessons. He ended up at Juilliard and the Manhattan School of Music. From there, he went to Yale.
"I was studying American history, but I was singing all the time," he said.
While finishing his undergraduate degree, he noticed an ad for an internship for the Congressional Arts Caucus in Washington.
"Like many kids, I wanted to intern on Capitol Hill," he said. While he worked for the Arts Caucus, he went to law school. "I felt this gravitational pull of entertainment and policy," he said.
After Congress cut the funding for the Arts Caucus, he went to work for legendary New York Sen. Daniel Patrick Moynihan.
From there, he joined the staff of the Recording Industry Assn. of America and never looked back.
"I've been really lucky," he said.
His success is hardly luck, said Los Angeles City Councilwoman Wendy Greuel, who has known Flatow since her days working in public affairs at DreamWorks Studios.
"He delivers," she said. "There wasn't anyone here before Joel, and you can't imagine a recording association without him."
---