David Archuleta: Who the people want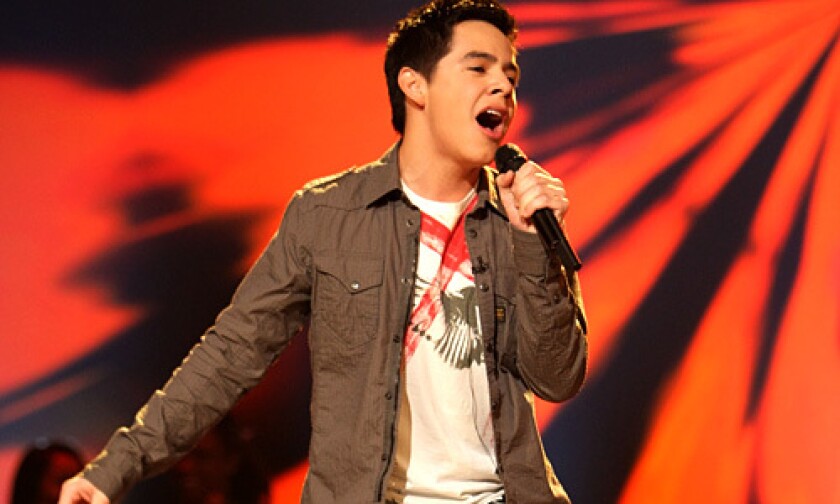 Channel Island
THE top 12 " American Idol" contestants arrived as a group at the post-show party in West Hollywood on Thursday night, but the scrum of paparazzi left little doubt who was the object of their obsession.
"David!" the photographers shouted. "David, over here!"
Their desired subject was, of course, David Archuleta, anointed by no less an authority than Simon Cowell last month as the front-runner in the singing contest, now in its seventh season and still far and away America's No. 1 TV series. Archuleta was doing his best to oblige as the strobes kept popping. His chipmunk cheeks were illuminated with a perfect smile. He meandered alone toward one beckoning photographer until a handler ushered him away to rejoin the other "Idol" finalists.
Every "Idol" season has had its early favorites (Chris Daughtry, Melinda Doolittle), but the focus has fixed notably fast and hard on young David. His enormous, obvious-even-to-the-tone-deaf vocal gifts have at times made him look like nothing so much as that beloved show-biz trope, the competition-crushing prodigy: Think Tom Hulce as Mozart in "Amadeus."
The gossip site TMZ.com offered an unsourced report last week claiming that out of this year's "Idol" crop, music-industry execs are interested only in Archuleta and David Hernandez (whose own back story is filling in thanks to a recently revealed past as a stripper). An amateurish home video of Archuleta soaring through "O Holy Night" last year has become an unlikely favorite on YouTube. Archuleta's rabid fans -- akin to Taylor Hicks' Soul Patrol -- call themselves, amusingly, the Archies.
At certain times, Archuleta's ascendancy looks so assured it threatens this year's "Idol" ratings: Why bother tuning in when it's obvious who will win?
But a surprising backlash to this presumptive (but never presumptuous!) boy king has settled in as well, one that's washing all over the Internet. An MTV blogger, finding Archuleta's charm too programmed, dismissed him as "Archu-D2." A headline on MSNBC.com darkly predicted, "Humility could doom Archuleta" (reckless humility -- the new tragic flaw?). Even the judges seem to be joining in, perhaps in an effort to keep the momentum going on America's top show. They roughed him up a bit after he turned in a vocally impressive if slightly nervous rendition of Phil Collins' "Another Day in Paradise" on last week's show.
Revealing disarming shyness and an unprepossessing demeanor for one so talented, Archuleta is at risk of becoming a blank screen on which viewers can project their own biases and cultural assumptions. And that's not generally a fun place to be.
Did we mention that Archuleta is a 17-year-old high school junior?
Whether you love "Idol" -- and our house is a formidable rock spring of affection for the show -- the hubbub over Archuleta seems a trifle demented. Since the tournament funneled down to the top 24 contestants last month, viewers have seen him perform all of three times (although he was a junior vocal champ a few years back on CBS' little-watched "Star Search"). He's stepping into a white-hot spotlight at an age when most singers -- even the prodigiously talented ones -- are given plenty of space to develop their styles and learn from mistakes.
Sure, show business has always valued responding quickly to audience desires over something as vague and risky as talent development. But reality TV shows, and "Idol" in particular, have hastened that tendency. Discoveries such as Archuleta become overnight sensations. They may then graduate to true stardom, like Daughtry or Carrie Underwood. Or they may, you know, not.
Not too far away from Archuleta on the "Idol" red carpet Thursday stood Constantine Maroulis, the almost-was from Season 4 who has since struggled to find his rightful place in the show-biz constellation. Some perspective may come easier to him, however, since he's the ripe old age of 32.
"Idol's" producers seem to do a fairly responsible job of cocooning its young charges. This isn't "Kid Nation." " 'Idol' protects them while they're on the show," Rodney Ho, who writes an "Idol" blog for the Atlanta Journal-Constitution, e-mailed me. "It chooses to keep the off-camera stuff extremely limited. We don't see them back at their apartments, dishing about each other, or during rehearsals and such."
That's true, and yet what we see is occasionally troubling enough. Note that this year's crop of semifinalists included some contestants of tender years who were so shattered by their elimination they could barely croak out their farewell songs. Think especially of 17-year-old Alaina Whitaker, who was sobbing onstage and had to lean on peers for support. Kids need to learn to handle disappointment and rejection, but asking them to do so in front of 30 million people on live TV is more than just a tall order.
Archuleta seems a cooler customer, but then he offers so little emotionally when he's not singing that it's hard to say. Like many viewers, I was blown away by his off-melody version of John Lennon's "Imagine," which remodeled a familiar song in pleasing ways.
My colleague Ann Powers, The Times' pop-music critic, was not so easily impressed, however, writing that Archuleta "basically copped" the song's arrangement from the late jazz-pop singer Eva Cassidy and wondering whether his "bashful awe" was manufactured. It was tough, strongly worded criticism, a sign that Archuleta was now playing in the big leagues and would be judged accordingly. (And why not? Each week's performances are now on iTunes, the latest badge of the "Idol" kids' status as commodities.)
For this, Powers said, she received dozens of e-mails defending the "Idol" prodigy, including one from Sondra, a classmate of Archuleta's at Murray High School in Utah, who wrote, "There's nothing fake about that light in his eyes. I don't know how you can manufacture that."
No reason exists to doubt her. Yet authenticity -- a favorite pop-culture term -- has become a highly flexible construct these days.
Asked about the Archuleta ascendancy, Kathy Meizel, who teaches at UC Santa Barbara and blogs about "Idol" for the online magazine Slate, told me, "In the end, it doesn't even matter if he wins -- the corporations behind 'Idol' are looking for a viable product, and whether David Archuleta becomes the American Idol or not, they'll still be able to sell him to his enthusiastic audience."
And really, isn't that what show business is all about?
The Channel Island column runs every Monday in Calendar. Contact Scott Collins at scott.collins@ latimes.com.
---
The complete guide to home viewing
Get Screen Gab for weekly recommendations, analysis, interviews and irreverent discussion of the TV and streaming movies everyone's talking about.
You may occasionally receive promotional content from the Los Angeles Times.