Essential Arts & Culture: Glenda Jackson's scalpel, Laurie Anderson's multiverse, losing Laura Aguilar
An unforgettable encounter with Glenda Jackson. Laurie Anderson reinvents the book tour. And the loss of artist and photographer Laura Aguilar, whose subjects were her own body and Chicano identity. For Carolina Miranda, who is taking a well-deserved vacation, I'm Laurie Ochoa, arts and entertainment editor of the Los Angeles Times, with the week's essential arts stories.
A 'DISASTROUS' TEA WITH GLENDA JACKSON
When Times theater critic Charles McNulty snagged a dream interview with Glenda Jackson, now starring on Broadway in Edward Albee's "Three Tall Women," he got more than he bargained for. "I had come to worship Jackson, not to grill her," McNulty writes. "I left expertly filleted by that trademark voice she still wields like a scalpel." The encounter is fascinating, not just for the fun of reading McNulty's account of Jackson's uncompromising nature, but because it turns out that for all of her harsh words, the actress was quite generous with revelations about her life on the stage. Los Angeles Times
A MILLENNIAL 'PSYCHO' DRAMA
McNulty also reviews Amy Herzog's "Belleville," which recently opened at the Pasadena Playhouse. Starring Anna Camp and Thomas Sadoski as an American couple in Paris, the play is "a tale of two millennials fumbling abroad" that "morphs into modern-day Hitchcock, complete with a large knife ... rivulets of blood" and the possibility of "veer[ing] into 'Psycho' territory." McNulty calls it "a stylish psychological thriller predicated on the idea that the person closest to you may in fact be a complete stranger." Los Angeles Times
MULTIMEDIA'S MULTIVERSE
Times music critic Mark Swed knows better than most that on stage, "most of the time, extraneous media doesn't work because it's extraneous." But three recent performances show how multimedia "can and does work." At the Wallis Annenberg Center for the Performing Arts, Laurie Anderson, "who has had considerable responsibility for the [multimedia] mania," basically "reinvented the book tour" with "an imaginative performance of talking about" her new book, "All the Things I Lost in the Flood." Composer and pianist David Rosenboom's REDCAT performance included experimental films by Lewis Klahr, and "the room opened up." Sonia Wieder-Atherton's "Chantal? A performance by a cello player," a reflection on the suicide of her partner and filmmaker, Chantal Akerman, also at REDCAT, included Akerman's short "Saute ma Ville" ("Blow up my Town"). The lesson: "The multi matters more than the media." Los Angeles Times
LAURA AGUILAR'S VISION
Gallerist Susanne Vielmetter says of artist Laura Aguilar, "She was both the subject and the object. She was both the photographer and the mood." Aguilar died this week at age 58, just months after her work received new attention at a retrospective at the Vincent Price Art Museum and the two-part PST: LA/LA exhibition "Axis Mundo: Queer Networks in Chicano L.A." As Carolina Miranda wrote in her obituary, the San Gabriel-born photographer was "known for chronicling the denizens of a working-class Eastside lesbian bar in the 1990s and for utilizing her nude body like sculpture in desert landscapes." "Laura's passing is a profound loss," says Chon Noriega, director of the Chicano Studies Research Center. "She had an ability to cut through ... biases and habits of thought. … And she did it as an expression of the stunning beauty of the human body, including her own." Los Angeles Times
LOCAVORE MUSIC
The Hear Now Music Festival, which continues through Sunday, mines the wealth of Los Angeles talent that as festival founder Hugh Levick told The Times' Jessica Gelt, is easier to hear in Paris or Berlin than in the composers' L.A. home base. This year's range is especially broad, stretching from 19-year-old clarinetist Andrew Moses to 95-year-old percussionist and former Los Angeles Philharmonic member William Kraft. Los Angeles Times
TIME SHIFTER
Pianist Jeremy Denk only slightly tamed his tendency for outlandish challenges and gave a recital focused on the theme of time at the Wallis Center for the Performing Arts. Richard Ginell was there for the program that included Mozart, Prokofiev, Schubert and Beethoven. "Denk did nothing to hide the strangeness of Beethoven's Sonata No. 30, Op. 109..." making "a show-stopping passing storm of the penultimate pages of the finale, for which there is no better description than a quote from one of [Denk's] funniest blog posts: 'Trill, baby, trill!' "Los Angeles Times
WHAT TIBET'S WALLS SAY
Times art reviewer Liesl Bradner examines the new Taschen book "Murals of Tibet" from photographer Thomas Laird. His book captures 130 images of the often life-size, centuries-old murals. Partly through his conversations over 10 years with the Dalai Lama, Laird came to understand that the murals "are not just art but motivational tools and philosophical statements." Los Angeles Times
99-SEAT THEATER PICKS
On the 99-seat theater scene, F. Kathleen Foley's picks involve baseball, roller derby, warring relatives and immigrants trying to live the American dream. Among the shows she recommends are "ICE" at 24th Street Theatre, "For the Love Of (Or, the Roller Derby Play)" at Theatre of NOTE, audience favorite "Noises Off" at A Noise Within and "Bad Jews" at the Odyssey. Los Angeles Times
SELF HELP'S SELF-DETERMINATION
Jessica Gelt reports that Self Help Graphics & Arts, the community arts center that emerged from the 1970s Chicano movement, has bought the Boyle Heights building it has occupied since its 2011 move from Cesar Chavez Avenue. "Self-determination through stewardship of this building … means that the organization will no longer be at risk for displacement," Joel Garcia, co-director of programs and operations, said in the announcement Thursday. Los Angeles Times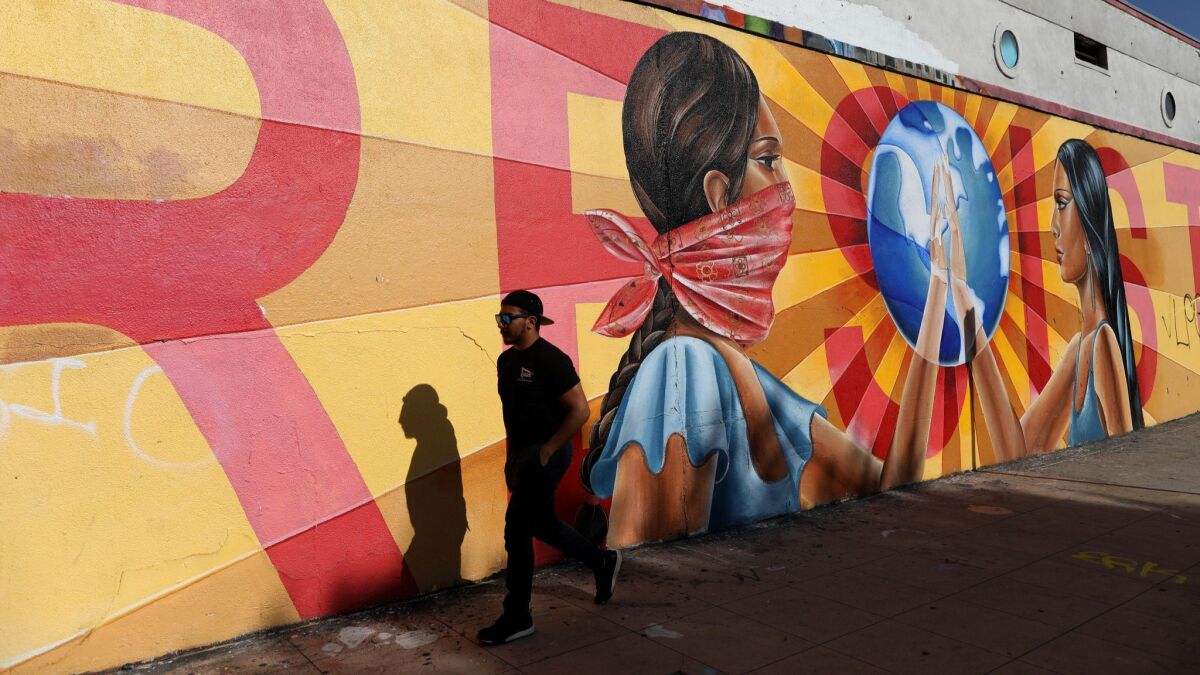 Sign up for our weekly Essential Arts & Culture newsletter »
On Twitter: @Laurie_Ochoa
---
Get our daily Entertainment newsletter
Get the day's top stories on Hollywood, film, television, music, arts, culture and more.
You may occasionally receive promotional content from the Los Angeles Times.