Guitars abound at All for the Hall benefit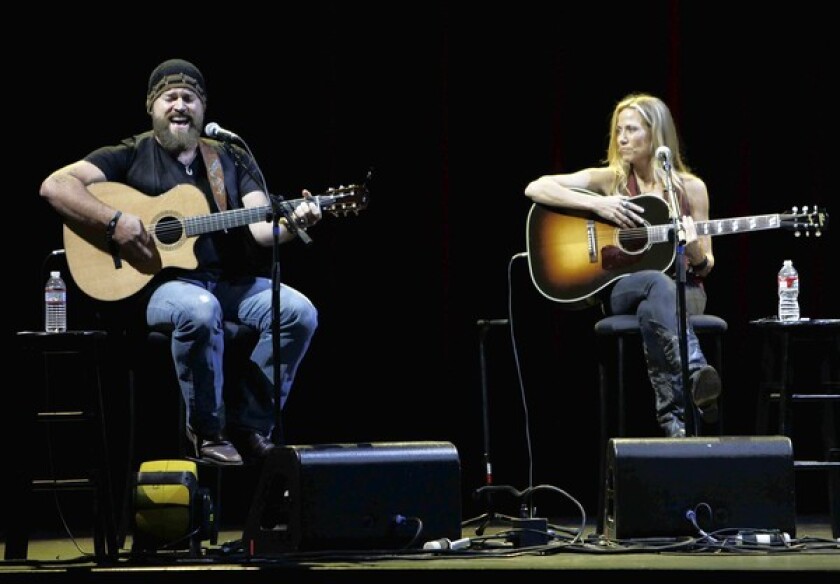 After Zac Brown chose to sing "Martin," a love song to his guitar, everyone on stage with him Tuesday night at Club Nokia for this year's Country Music Hall of Fame and Museum benefit concert quickly fell in line and served up songs inspired by their own instruments.
No surprise there: All musicians have a story about their first instrument. At this annual round-robin "guitar pull" session, rooted in a Nashville living-room music tradition widely credited to Johnny Cash and June Carter, the symbiotic connection between musicians and their tools is a fundamental one.
That relationship is more palpable than ever since last year's flooding ravaged the country music capital and damaged or destroyed an untold number of instruments precious to those who not only earn a living with them, but who use them to express their deepest feelings. It was those emotions that were on display at Club Nokia during a relaxed and communal two-hour performance before an audience of about 2,000 people who paid as much as $1,000 a ticket.
Emmylou Harris offered "The Road" from her latest album, a song about her brief, life-shaping partnership with country-rock pioneer Gram Parsons; Sheryl Crow spoke of how her desire to pay for a prized guitar figured crucially into the writing of her 1996 hit "If It Makes You Happy."
The night's wild-card guest — REO Speedwagon singer-songwriter Kevin Cronin — reached back for "Music Man," which he said was the first song he wrote after seeing the Beatles on "The Ed Sullivan Show" and feeling a newfound confidence about his passion for the guitar he'd started learning two years earlier.
Vince Gill, the show's amiable host and president of the Hall of Fame's board of trustees, told of trading the first guitar he'd owned and spending his entire college fund of $1,500 to buy a top-notch Martin instrument when he was a teenager hoping to make a life in music.
That segment turned into the centerpiece of the All for the Hall benefit, the proceeds of which will aid the facility's recently announced $75-million expansion to more than double its size upon the scheduled completion in 2014. Director Kyle Young told the crowd that since announcing the project plan in July, museum officials have already locked down about $57 million in donations and pledges. Tuesday's benefit is expected to net about $200,000.
The fundraising speeches, however, were kept to a minimum, as event organizers let the artists on hand do the job of showing the gift that music provides to professionals, amateurs and fans alike.
This year Brown handled the role that Taylor Swift handled last year: a relative newcomer to country whose current commercial success helped draw younger fans and expose them to esteemed veterans such as Gill and Harris.
Brown elicited the rowdiest hoots and hollers of the night, and the format in which each musician accompanied him or herself on acoustic guitar allowed him an extra measure of freedom for his powerful vocals, which often have a quality of the boyish charm of James Taylor injected with human growth hormone. That was most evident on "Colder Weather," another song from his band's latest album, "You Get What You Give."
Gill started off the night, in fact, with a song saluting the 80th birthday on Monday of singer George Jones, "Bartender's Blues," a Top 10 single in 1978 on which Jones was accompanied by the song's writer, Taylor.
Crow brought her rock-world cred to the bill, often harmonizing with Gill and Harris or whoever was singing at the moment. Cronin also served up a stripped-down reading of Speedwagon's arena-rock classic "Keep on Lovin' You," his keening voice still pliant as he closes in on turning 60 next month. He took the seat last year occupied by pop-R&B superstar Lionel Richie to show the broad-based scope of the musical community
"Musicians don't give a rip about categories," Gill said backstage shortly before the show began. "When you strip away all the production and whatever it is that defines what style you're playing, it'll all just be folk songs tonight. It's the same thing that happens time and time again — musicians like musicians. That's why you learn to do it in the first place."
---
From the Oscars to the Emmys.
Get the Envelope newsletter for exclusive awards season coverage, behind-the-scenes stories from the Envelope podcast and columnist Glenn Whipp's must-read analysis.
You may occasionally receive promotional content from the Los Angeles Times.