'The Tale of Despereaux'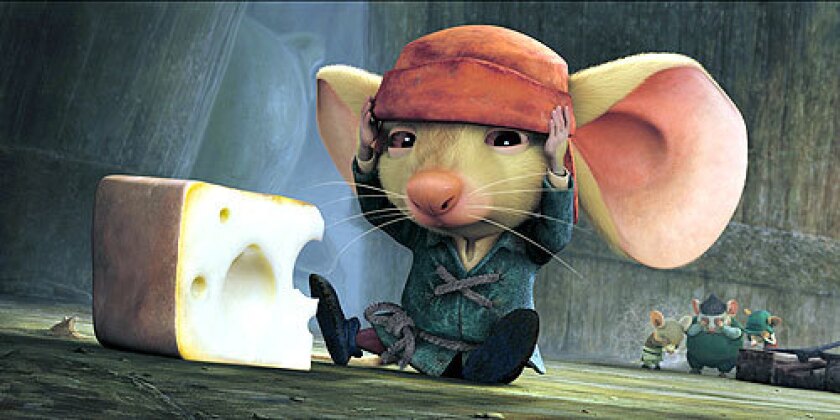 Lovable rodents and a fussy French chef -- there's a soupçon of "Ratatouille" in "The Tale of Despereaux," but this old-fashioned fable cares not a whit about culinary competition or entrepreneurial triumph. It revolves around matters as elemental as grief and longing, the stuff of fairy tales.
Among recent animated features, "Despereaux" is a rare creature, not only for the handmade look and subtlety of its computer-generated imagery but also for its irony-free embrace of once-upon-a-time storytelling. At the heart of this sometimes lumbering saga are the illuminated pages of a storybook and the way they embolden a child or, in this case, a mouse.
The filmmakers don't rely on frenetic action or nonstop yammering of the wink-wink postmodern kind. But in adapting Kate DiCamillo's Newbery Medal-winning children's novel, a work of intricacy and depth, they do struggle to orchestrate multiple stories and to overlay the proceedings with moral lessons.
In this regard, the nudging narration tries too hard, however melodious its delivery by Sigourney Weaver.
Despereaux (Matthew Broderick) is an exceptionally diminutive mouse whose bravery and curiosity are as outsized as his ears. It's impossible to resist a creature who so adorably resists the social conditioning of orderly Mouseworld. Despereaux's unwillingness to scurry and cower like a good little mouse provokes hushed conferences between his parents (William H. Macy, Frances Conroy) and principal (Richard Jenkins).
He incurs Grimm-worthy penalties after venturing into the forbidden human side of the castle and befriending Princess Pea (Emma Watson). Rules are rules, after all, and the Mayor (Frank Langella) banishes him to the dungeon, a.k.a. Ratworld.
In this dank labyrinth, a place Bosch might have imagined, ruler Botticelli (played with delicious menace by Ciarán Hinds) casts his beady white irises on the newcomer, who finds a protector and soul mate in Roscuro, the story's most compelling character. An outcast like Despereaux, he's a light-loving rat, a rat of the world. Best of all, he has soulful hazel eyes and the pitch-perfect voice of Dustin Hoffman.
Much to his shame, Roscuro has been exiled because he ruined the kingdom's annual Soup Day celebration. The festivities began with a bit of overdone shenanigans between the chef and his strange muse (Kevin Kline and Stanley Tucci, departing from the generally low-key tone of the performances). They ended when the queen succumbed to a manner of death not seen in popular entertainment since "Mary Hartman, Mary Hartman."
The grief-stricken king bans soup, rats and, in a nod to present-day hysterias, anyone who shelters a rat.
The focus on hurt and anger is admirable, but Gary Ross' script too often feels like a clunky lesson in character motivation. "Sometimes when your heart breaks, it grows back crooked" is among the narrator's enunciations. True enough, but the preachments on forgiveness are less convincing, particularly after the villain receives a gruesome (off-screen) comeuppance.
And the way Princess Pea inspires mouse, rat and her own maid, the tellingly named Miggery Sow (Tracey Ullman), is less interesting or coherent than the mood that directors Sam Fell and Robert Stevenhagen create. They don't fear the dark. Ratworld is a place of rot and skeletons and cruel gladiator games, none of it sugared-up for kids. Ushering our hero into the underworld is blind mouse Hovis (Christopher Lloyd), a feeble Charon and a wonderfully sunless creation. The absence of shiny cartoon people is as refreshing as the muted palette, even if the royals' Modigliani-narrow faces are far less expressive than those of the rodents.
---
Inside the business of entertainment
The Wide Shot brings you news, analysis and insights on everything from streaming wars to production — and what it all means for the future.
You may occasionally receive promotional content from the Los Angeles Times.