From the Archives: Doris Roberts still knows best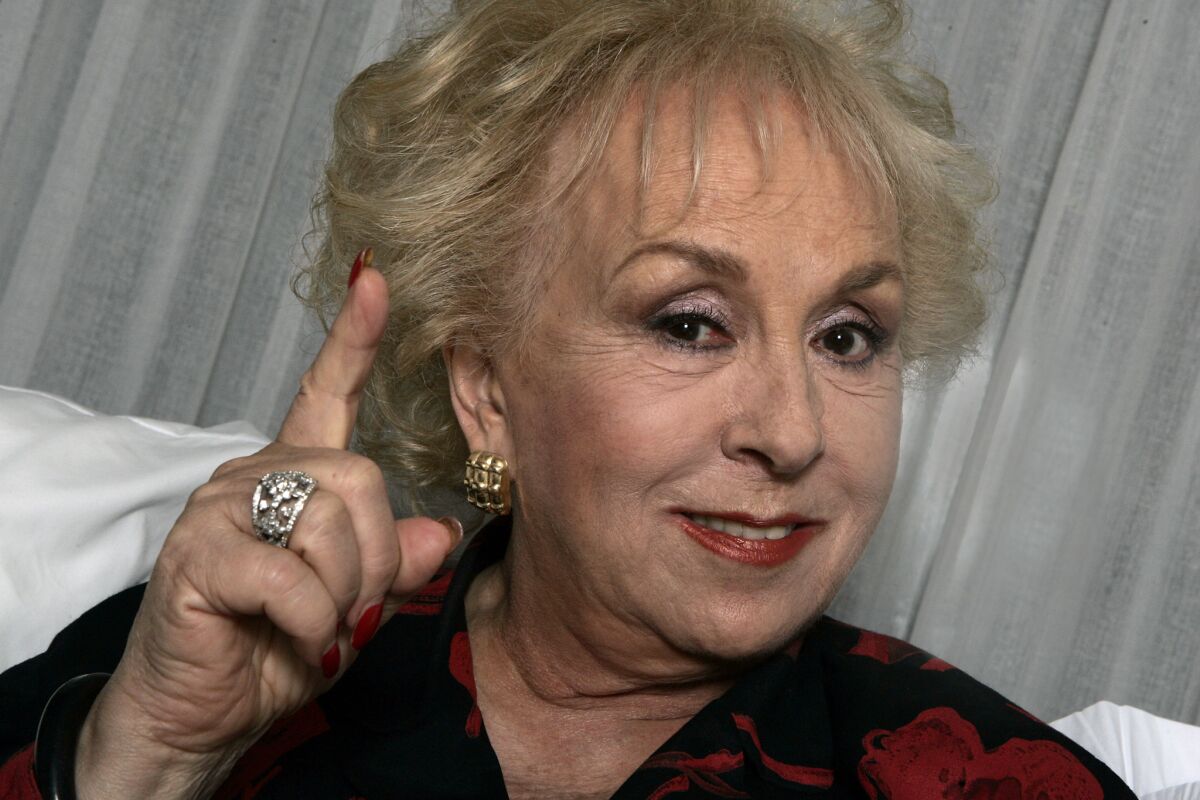 Long before she became a TV icon as the ultimate Italian mamma Marie Barone on "Everybody Loves Raymond," Doris Roberts was a young actress trying to make a name for herself in New York in the 1950s alongside some classmates who went on to bigger things as well.
"I was a member of the Actors Studio," Roberts said in a recent interview. "Marilyn Monroe used to come to class. Martin Balsam was there. Anne Bancroft was there. Geraldine Page."
Monroe, she said, would sit in the class led by the legendary Lee Strasberg "in a coat, with her collar up and a scarf over her head. She would get up and do a scene and she was wonderful. She was a scared little bird."
SIGN UP for the free Classic Hollywood newsletter >>
Roberts made her Broadway debut at age 24 in a 1955 revival of William Saroyan's "The Time of Your Life," which closed after 15 performances. Franchot Tone and Gloria Vanderbilt, mother of CNN anchor Anderson Cooper, starred.
"Franchot Tone would drink Champagne at the bar every night in the play," Roberts recalled. "I used to watch his ankles swell. I had three lines that had to do with Gloria. She said, 'There are tigers in the jungle who know they are loved.' I played a hooker at the bar. When she left the bar I said, 'It's floozies like her that raise hell with our racket.' "
Because the line reading by Vanderbilt was less than ideal -- and she was heiress to a mega-fortune -- the audience found Roberts' retort unintentionally funny.
"The audience went crazy opening night," Roberts said. "At the opening night party, Saroyan come up to me and said, 'Doris, I think I'm going to have to cut that line.' I grabbed him by his lapels and said, 'Do you know what it took for me to get those three lines? Please don't cut them.' He didn't."
Later that year, Roberts had a small role and understudied star Shirley Booth in the comedy hit "The Desk Set." Roberts was more than 30 years younger than Booth. "She was sad," Roberts said of Booth. "She was sad because she never had any women friends. The guys would always take her out for a drink and take her home. She never knew her father. He showed up one day at the box office and she wouldn't let him in."
The 78-year-old Roberts, who -- much like the wickedly funny Marie Barone -- frequently peppers her conversation with "honey" and "dear," hasn't been resting on her laurels since "Raymond" left the airwaves four years ago after a spectacularly successful nine-year run on CBS during which she won four Emmy Awards. Whether it's TV, stage or movies, Roberts is first and foremost a working actress -- and a very busy one at that.
She recently did good friend Terrence McNally's latest play, "Unusual Acts of Devotion," at the La Jolla Playhouse. And she has three feature films coming out including the family-friendly comedy "Aliens in the Attic," which opens Friday. In it, Roberts plays a slightly dotty grandmother who has been injected with a mind-control device by a group of tiny aliens bent on taking over the world. When her grandkids get the controls for her device, they turn her into a "Ninja Nana" who wreaks havoc on a young man (Robert Hoffman) controlled by the aliens.
"I did it because of my grandsons," said Roberts. "One turned 16 last night and the other is 17 1/2 . I didn't know what to do with the character, so I asked them. They said, 'You got to do it, Nana.' "
She and Hoffman went through lengthy kung fu training, "because we would have hurt each other very badly, because we went so fast." But she didn't do any of the fancy wirework. "I wanted to be the crazy woman that I am," Roberts said, laughing. "But they thought the wires wouldn't hold me! For security and also insurance, I didn't do it. But I did all the other stuff, which is insane."
"Aliens" kept Roberts on location in New Zealand for four months. "It was too long," she said. "It's beautiful there, but there is nothing to do. There are 80 million sheep and 4 million people for the entire country."
Roberts did visit Australia during the shoot to promote a "Raymond" marathon. "It's in 175 countries," she said of the series.
"They are doing their own version in Russia," she added. "They brought over Phil Rosenthal, the executive producer. They thought the person who would be perfect to play me, if she spoke Russian, is Cher. They said they are going to invite us over for the premiere. If they do, I'm going to get a Cher wig and go."
Roberts is doubtful there'll be a "Raymond" TV reunion, however, because of the death in 2006 of Peter Boyle, who played Marie's grouchy husband, Frank.
"He told me he had cancer of the bones three years before he died," she said. "He said, 'Should I tell them?' I said, 'No. They will treat you like a dying man and you don't need that. You need for them to write for you.' We had such fun together."
---
Get our L.A. Goes Out newsletter, with the week's best events, to help you explore and experience our city.
You may occasionally receive promotional content from the Los Angeles Times.