What it's like to walk, ride and fly through Disney World's new Pandora park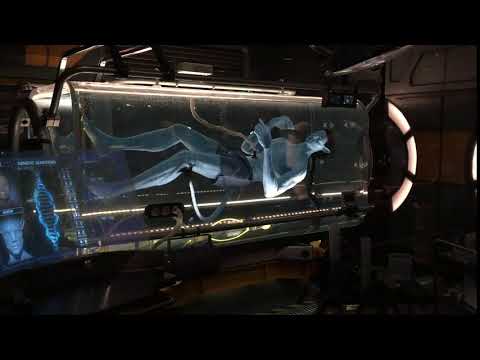 A line queue for the Pandora ride "Flight of Passge" in Disney World's new park.
Midway through James Cameron's 2009 sci-fi action film "Avatar," set on the distant planet of Pandora, lead character Jake Sully (Sam Worthington) observes, "Out there is the true world. In here is the dream."
He's referring to his ability in the film to inhabit an alien body, and not, of course, a theme park. Yet Disney, at its Animal Kingdom park in Orlando, Fla., will on May 27 attempt to transport guests to an otherworldly reality -- a place not inhabited by princesses and castles and singing ghosts but by floating mountains, a bioluminescent forest and mysterious creatures who rustle plants just out of sight of guests.
Pandora -- the World of Avatar, which was inspired by the Cameron film but does not feature any of its main characters, aims to put a true-to-life spin on the fantasy universe. Situated in Animal Kingdom, Pandora will play up themes of conservation as it presents a fragile world on the road to rehabilitation. Set about a generation after the conflict of the film, much of Pandora, which we visited as part of a preview today, conveys a tranquil setting.
The Na'Vi River Journey boat ride is an intimate (the boats seat about eight people each) and calming trip through a bioluminescent forest, culminating in a visit with the Shaman of Songs, a Na'Vi relaxing and serenading guests amid the glowing fauna.
The Shaman of Songs also happens to be one of Disney's most impressive audio-animatronics to date, possessing almost human-like fluidity. Along the journey, guests will encounter flowing jellyfish, pulsating orange plants and the wolf-like creatures that haunt Pandora. The effect is akin to floating through an above-ground coral reef.
Elsewhere, the more thrilling Avatar Flight of Passage aims to simulate the effect of riding a banshee, one of "Avatar's" winged, dragon-like animals. After traversing up a small mountain -- consider it a very moderate hike -- guests enter a cave and see ancient Na'Vi drawings. The cave eventually reveals itself to be a science center, where humans are working with the Na'Vi to protect the banshees from extinction.
In Flight of Passage, guests are matched with an alien body. The aim is to create the illusion of becoming a Na'Vi, who can train and tame the banshees. After boarding a solitary, stationary-bike-like ride system, a back support will rise and push guests forward. Once the ride begins, a screen is revealed and, with the help of 3-D glasses, attendees will soar amid Pandora's flying mountains.
The first half of the 4 1/2-minute ride is rather thrilling, as the banshee careens down mountains, through waterfalls and nearly gets into a tussle with a Great Leonopteryx, a bigger, more orange-hued dragon. The second half slows down, as guests again visit some of Pandora's glowing forests.
The ride was longer than I expected, and also far smoother. As someone who doesn't fare too well on motion simulators -- I cannot ride Star Tours: The Adventure Continues without getting sick -- I experienced no such nausea on Flight of Passage. I attribute that to the variation in ride pace, but also the crispness of the effects.
Pandora is big, about 12 acres, and everything in it is billed as an attraction. Some plants, for instance, will allow guests to interact with them -- acting as drums that affect the lighting of the land or release spores into the air. At night, the ground will glow beneath guests' feet.
If you rush through the land just to hit the two rides, Joe Rohde, the Imagineer behind the project, cautions that you're "wasting your time." Once it opens, for instance, Disney will have cast members act as Pandora expats who will chat up guests on Pandora wildlife.
We'll have more on Pandora for you today, and in the weeks to come.