Los Feliz's Skylight Books is growing up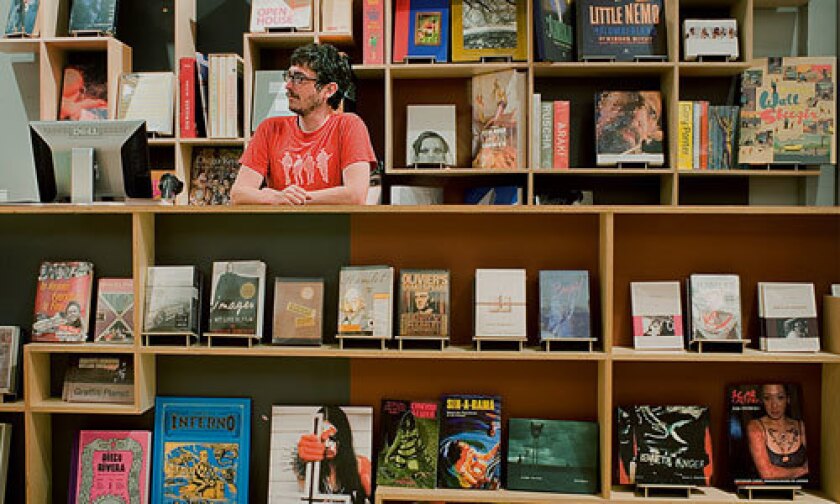 Los Angeles Times Staff Writer
AT FIRST glance, Skylight Books 1814 in Los Feliz might not seem all that family-friendly. On a recent afternoon, the window display featured "There's a Riot Going On: Revolutionaries, Rock Stars and the Rise and Fall of '60s Counter-Culture" and " Richard Avedon: Photographs 1946-2004," among other adult-sounding titles. But it turns out that Skylight Books' new art-themed space benefits kids in more ways than one.
Among its avant-garde selection, there are a few youth-oriented picks -- "The Complete Peanuts," for example. But more important, the new store at 1814 N. Vermont Ave. frees up space in Skylight's original building for its children's corner, which now includes an entire shelf of Caldecott Medal winners. There's also a new, stand-alone young-adult section.
"We're really excited because opening Skylight Books 1814 allows us to expand a number of our sections into the new store, but also expand and better display things in our existing store, including the children's section and the fiction section," co-owner Kerry Slattery says.
Skylight Books 1814 had a "soft" opening last month in a storefront adjacent to its original spot at 1818 N. Vermont Ave. With concrete floors, timber ceilings and a large skylight, the new space is flooded with natural light, much like its predecessor. Wooden shelves hold art, architecture, design, music and theater books. Not surprisingly, there are plenty of Taschen titles and graphic novels.
Although the 1814 space is already luring people off the street (thanks to a lot of press, mostly of the indie-bookstore-grows-while-others-close variety), Slattery and her 20-person staff are throwing an opening gala Saturday that is equal parts coming-out party and thank-you celebration for the community that, as she puts it, made it all possible.
To Eastside literary types, the original Skylight Books is known for hosting author readings and panel discussions under its namesake skylight. But don't expect long-winded poetry readings at the decidedly more festive -- and family-friendly -- opening.
Highlights will include a ribbon-cutting ceremony with L.A. Councilman Tom LaBonge, a christening (think Champagne bottle meets bike rack) and an enormous cake with a photo image of Skylight Books in frosting. The results of Skylight's contest to find a name for the new space will be announced. (Though none was ultimately used, the more than 200 entries ranged from Skylight Books Too to the Sequel to Lucy's Corner, which honored the store's recently deceased cat.)
An impromptu band of musically inclined staff members, called Skylight Juice, will perform. "They've been rehearsing after we close at night, and they got a little rambunctious," Slattery recalls. "I just told them it had to be family-friendly."
If this sounds like a small-town celebration, that's because it essentially is. In fact, a big factor in the bookstore's success is that Skylight has read the neighborhood well.
"When we opened 12 years ago, we were debating if we would even have a children's section, because it seemed to be mostly older people and singles," Slattery says. "But the neighborhood has really changed. All of those people that were single got married or had children."
Those kids, Slattery adds, are the next generation of book lovers.
"Everyone is always asking us how to get young people to read, but we don't know what they are talking about," Slattery says, gesturing to a teenage couple with their heads bent together over a book. "We see young people, and they are reading."
---
Your essential guide to the arts in L.A.
Get Carolina A. Miranda's weekly newsletter for what's happening, plus openings, critics' picks and more.
You may occasionally receive promotional content from the Los Angeles Times.