Rilo Kiley's Jenny Lewis mixes it up on new CD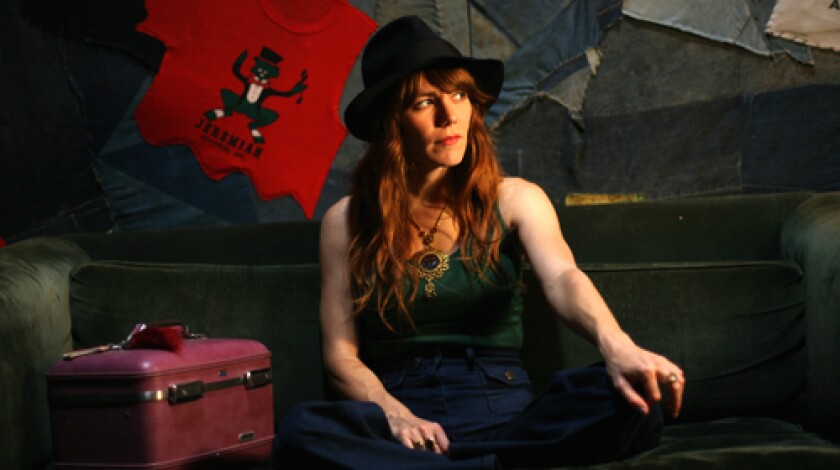 Times Pop Music Critic
Jenny Lewis no longer calls Silver Lake home, but she hasn't moved to Laurel Canyon. The woodsy bungalow she shares with her companion and musical collaborator, Johnathan Rice, sits in an obscure corner of the San Fernando Valley, not too far from either of the neighborhoods favored by L.A.'s rock elite, but on its own ground.
"I feel like this is an undiscovered area," said the 32-year-old singer-songwriter on a recent Friday afternoon.
As Lewis discussed her latest solo album, "Acid Tongue," out this week on Warner Bros. Records, Rice padded around in his swim trunks, tending to some barbecue. Domestic bliss, interrupted by the occasional interview; such is life for a modestly famous member of the city's creative class.
"Lewis, is that you squeaking? What is that noise?" Rice called into the room at one point.
"No babe," she said. "That must have been a bird."
Lewis is comfortable in undiscovered neighborhoods, off to the side of the action. You hear some cool, weird sounds in places like this.
Fans of well-wrought pop have been following Lewis' quest for the unexpected since she co-founded Rilo Kiley with Blake Sennett, a former child actor like herself, in 1998. That band was part of a shift in indie music away from heavy, primal rock toward a more eclectic, self-consciously literate sound. Along with allies including Death Cab for Cutie, Bright Eyes and the Decemberists, Rilo Kiley picked up the line that connects J.D. Salinger to Elvis Costello to David Foster Wallace to the guitar-strumming, creative writing undergrads of today.
For Lewis, however, Rilo Kiley isn't enough. All the members of that now on-again, off-again band have side projects; her solo efforts have found the biggest audience. "Rabbit Fur Coat," the 2006 album she made with the vocal duo the Watson Twins, was a critical favorite and one of Billboard's Top 10 Independent Albums of 2006.
Rilo Kiley's fourth album, last year's "Under the Blacklight," wasn't as well-loved as that release; since then, fans have pondered whether Lewis might leave the band for good.
"We'll see what kind of songs I'll write, and that's going to guide me," she said. "We don't hang out as much as we used to, but it's been that way for a couple of years, Jason [Boesel, Rilo's drummer] played on my record, and Pierre [de Reeder, bassist] and I did the album art together. So we're involved in each others' lives. We're family, really. And even if we don't make another record, we'll still be a family."
Musicians often naturally move beyond the nuclear unit of a band, but Lewis hasn't given up on family. Scattered or shattered kinship is a dominant theme in her songs, especially on "Rabbit Fur Coat," which was partially a meditation on her parents' broken marriage. "Acid Tongue" forms family in a different way. There are special appearances by her sister, Leslie Lewis, and her father, Eddie Gordon, a harmonica virtuoso who spent much of Lewis' childhood touring in a group called the Harmonicats.
"The act was very schticky," Lewis said, smiling.
Lewis had never played music with her dad, but the sessions for "Acid Tongue" provided the right atmosphere. This was due to her other family, the circle of musicians she's been cultivating for the past 10 years.
"I knew I was surrounded by my friends and that they would treat him with respect, and he'd feel comfortable," she said. "And it was really lovely having him. He hung out in the studio for a couple of days, and my sister came down and she sang on a couple of songs, which was incredible."
"Acid Tongue" has an all-star roster -- Elvis Costello, Zooey Deschanel, M. Ward, A Perfect Circle bassist Paz Lenchantin and Chris Robinson of the Black Crowes all participated -- but these better-known names represent just a fraction of Lewis' crew. Other key players include Rice, who co-wrote several of the new album's songs; producers Farmer Dave Scher and Jason Lader; and singer-songwriters Benji Hughes and Jonathan Wilson.
Lewis wanted to capture the atmosphere she'd encountered at Wilson's Laurel Canyon house parties. "We'd go to these jams in the canyon," she said. "They're fantastic. Jonathan invites older session musicians from the real Laurel Canyon era, and younger people who are just starting their bands who happen to live in the canyon, and we all get together and sing Grateful Dead covers and J.J. Cale songs."
She sighed. " 'Jam,' a word I don't often use. That and 'gig bag,' those are the two I try to avoid!"
Her joke exposed a conflict within Lewis, between a longing for the connections artists shared when Crosby, Stills, Nash and Young wandered Laurel Canyon, and her suspicions about the nostalgia that longing represents. The tension, not unrelated to Lewis' fragmented upbringing, becomes artistically fruitful when she feels safe enough to explore it musically.
"She is the songbird of the scene," said Wilson, reached by phone in Chicago, where he is touring. "I see her cut loose when she comes over and maybe she does a song that she's hearing for the first time. I definitely hear it on the album, that sense of freedom. Who better to implement that than her? Because she's a bird. Not only can she write songs but she's got the technical thing, it's just completely effortless."
"Acid Tongue" abounds with genre experiments that take dangerous turns. "Black Sand" is a "Teen Angel"-style car-crash ballad that substitutes misogynistic murder for the dead man's curves of the early 1960s. "Fernando" is a rockabilly romp that celebrates Mexican vacationing as a route to oblivion.
The gospel-flavored "Jack Killed Mom" is about, you guessed it, matricide. And in the title track, a country-pop ballad Dolly Parton could have written if she'd gone to Woodstock, Lewis presents herself as a female adventurer whose ultimate prize is exhaustion.
"Everything tends to be a response to the thing that I've written before," Lewis said of her songwriting process. "It's even as simple as, 'OK, I've written a ballad, now I want to push myself to write something that's uptempo.' If I'm writing about myself, well, that subject can be tiresome, so then I focus on character-driven songs. So I'm always doing this back-and-forth just to keep myself interested."
This drive to try new approaches is a quality Lewis shares with Costello, her onetime admirer (a few years back, he started declaring Lewis his favorite young songwriter) and current occasional collaborator. The alternative rock statesman proves a spirited duet partner on "Carpetbaggers," a Rice composition on "Acid Tongue." The session inspired Costello to make his 35th album, "Momofuku," upon which Lewis and her posse appear.
"On the day we finished my record he booked the studio for about a week and finished what would become 'Momofuku,' " Lewis said. "I was like, 'I'm backing him?' I truly can't believe it. And he's so cool. He's a chiller, that's what we'd say in Southern California."
Chill is a state Lewis favors these days. She kept the sessions for "Acid Tongue" as open as possible, inviting her friends to drop by and join in on the analog equipment at Sound City Studios in Van Nuys, near where she grew up. Each song was left more or less intact after recording -- no fixing on Pro Tools. This approach was a typical switch for the songwriter, away from the slicker "Under the Blacklight" and toward that more grass-roots feel.
She's still proud of "Blacklight," though it divided Rilo Kiley fans. Some questioned the band's motivations in making a more commercial album. At the time, Lewis favored wearing very short skirts or hotpants onstage; one music journalist, Kate Richardson, created a flow chart of Rilo Kiley's decline as it correlated to the rise in Lewis' hemlines.
"Part of her appeal is that she at least used to write these really good, sad, bitter songs that were kinda sharp," said Richardson, who crafted the chart for Idolator.com. "She had a lot of emotion behind her. But she's also really hot, really cute. So girls were projecting and guys thought she was really attractive. As she started owning the sexual part of her image more, I thought that was fine, good for her. But it coincidentally went along with a change in their sound."
Lewis took it in stride. "That's what you get with a record like 'Under the Blacklight,' she said. "I was wearing hot pants and singing about sexuality. Not everyone understood that we were poking fun."
Lewis said she might be ready for a new persona -- another step in her restless evolution. "It doesn't really have to do with that response," she said. "It's just my own back-and-forth with what I do. So I want to wear hot pants, and then I want to wear cargo pants."
She laughed. "Now, that would be really flattering." Some things, perhaps, are best left undiscovered.
---
From the Oscars to the Emmys.
Get the Envelope newsletter for exclusive awards season coverage, behind-the-scenes stories from the Envelope podcast and columnist Glenn Whipp's must-read analysis.
You may occasionally receive promotional content from the Los Angeles Times.