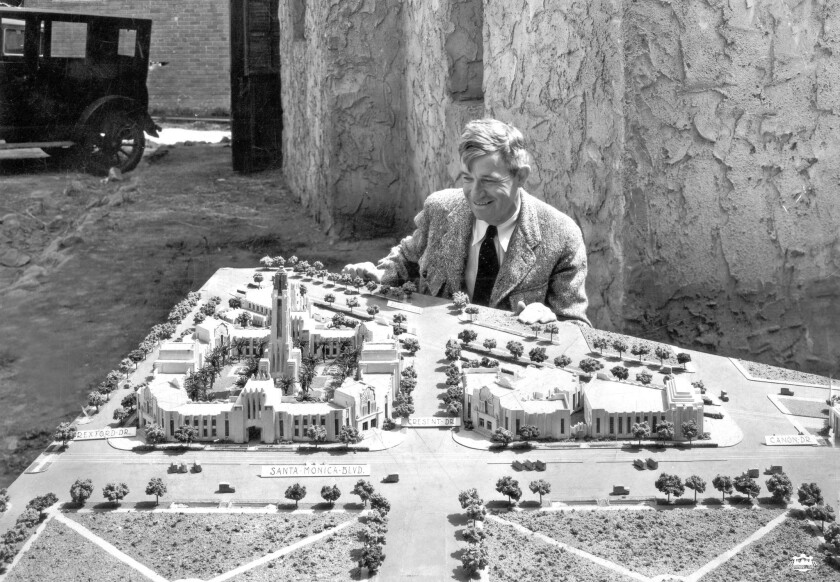 Los Angeles Times
Long before the swank fashion and jewelry stores opened on Rodeo Drive, Beverly Hills was attracting a fast crowd.
More than 90 years ago, the superstars of the silent cinema could be found enjoying auto racing at the Beverly Hills Speedway on their rare days off. You got that right, the Beverly Hills Speedway.
------------
FOR THE RECORD:
Beverly Hills High: In the Dec. 25 Calendar section, an article about the book "Beverly Hills: The First 100 Years" said that Beverly Hills High School is located near Beverly Drive. The school is on Moreno Drive.
------------
Director/producer Cecil B. DeMille and pioneering film producer Jesse Lasky were among the investors in the racetrack property, bordered on the north by Wilshire Boulevard, on the south by Olympic, on the west by Moreno Drive and on the east by Beverly Drive, near where Beverly Hills High School is now.
Robert S. Anderson, author of the lavishly illustrated coffee table history book "Beverly Hills: The First 100 Years," said the track was a little over a mile long.
Douglas Fairbanks officiated at opening day on Feb. 28, 1920. Over the next four years of its existence it attracted such stars as Mary Pickford, Charlie Chaplin and Tom Mix.
The popularity of the racetrack – and Beverly Hills in general – actually led to its demise. Though the speedway drew big crowds, it became more economically advantageous to sell the land for homes and businesses.
"Real estate values started to jump," said Anderson, Beverly Hills' official centennial historian and the great-grandson of Margaret Anderson and grandson of Stanley Anderson, founders of the Beverly Hills Hotel.
Published by Rizzoli in November, "Beverly Hills: The First 100 Years" offers an exhaustively researched history of the famously wealthy city, from the first settlers to the building of the fabled mansions and the continuing ongoing connection to Hollywood and the entertainment industry.
The book features vintage and new photographs, including a view from the crest of Alpine Drive 100 years ago to the classic Union 76 gas station on Crescent Drive.
Several of the top stars lived in Beverly Hills during its early years in places so lavish they gave them names. Fairbanks and Pickford held court at their legendary mansion Pickfair. Comedian Harold Lloyd lived in the expansive estate he named Greenacres, and sex symbol Rudolph Valentino found refuge from his adoring fans at Falcon's Lair.
Humorist and film star Will Rogers first came to Beverly Hills in 1920. Six years later, the former Oklahoma cowboy was made honorary mayor.
"My grandfather filmed him giving his speech on the lawn in front of the Beverly Hills Hotel," said Anderson. "It really put Beverly Hills on the map with newsreels going out around the world."
Rogers wasn't the only famous actor involved in city politics. "Back then the actors stood up for Beverly Hills," said Anderson. "They were on the Chamber of Commerce. They would rally the vote. The reason we have a post office today is because of Will Rogers."
---