Why Chrissy Metz prayed so hard in new miracle movie 'Breakthrough'
When Chrissy Metz was filming her first scenes for "Breakthrough," she prayed like she had never prayed before. She cried, she wailed, she pleaded with God. She wept over her onscreen son's unresponsive body 10 times in a row, and brought tears to the eyes of her fellow cast and crew members.
"It's such a pivotal part of the story, so I wanted to make sure I did it right," she told The Times of the major moment in the medical miracle movie.
Released in theaters Wednesday, the faith-based Fox film recounts how John Smith, a 14-year-old boy who catastrophically fell through a frozen lake in Missouri and was declared dead by doctors, came back to life after steadfast prayers by his mother, Joyce.
Making her feature-film debut, Metz felt extra pressure in the emotionally demanding role.
"My mom had a stroke a few years ago, and I told her doctors, 'You can give your prognosis, but you're only going to speak positive thoughts around and about her,' " she said.
"That's almost verbatim what Joyce Smith said to John's doctors — there was no coincidence in that," added Metz. "Making this movie, I felt that I had to not only honor the Smiths' story, but also my mother's."
A number of other wonders occurred in bringing "Breakthrough" to the big screen. Producer DeVon Franklin first met the Smiths while promoting the 2016 movie "Miracles From Heaven" on an episode of pastor Samuel Rodriguez's TBN program.
"They were telling their story in the segment before mine, and I was backstage, completely blown away," Franklin said. "'Wait, what do you mean he died? And in the medical records, it says, 'Patient dead, mother prayed, patient came back to life?' "
From there, screenwriter Grant Nieporte wrote a moving script that quickly secured Stephen Curry as an executive producer. The basketball player had quietly begun looking for projects that prioritized sports, faith and family, and "Breakthrough" is his first foray into Hollywood via his new production company, Unanimous Media.
Seasoned songwriter Diane Warren also penned the film's original song, "I'm Standing With You," which Metz recorded even though she wasn't used to singing in her previous roles. (Metz debuted the song in a bold live performance at this month's ACM Awards alongside country powerhouses such as Carrie Underwood.)
Veteran television director Roxann Dawson signed on to make her feature-film directorial debut with the drama, which also stars Marcel Ruiz, Topher Grace and Josh Lucas.
"The most important thing was to stay as true to the story as possible, and not embellish it, because it's not required and would've diminished the story," Dawson said. "It's a movie, yes, but for the Smiths, it's their real lives. And audiences today are so sophisticated, they can tell when you're embellishing."
The only strategic tweaks have to do with casting.
"The people who were involved in the true story are very diverse, and it was important to us that we accurately reflect that," Franklin said. "But like any movie, we had to make some difficult decisions about how many characters we could portray, given time constraints."
That's why Tommy Shine, the fire department emergency responder who found John under the ice, and Jeremy Garrett, the doctor who attended to him in the hospital, are portrayed by African American actors — Mike Colter and Dennis Haysbert, respectively — even though the two characters are Caucasian in real life.
"What we're talking about is the essence of these people, and these actors captured that essence and emotional content perfectly," said Dawson.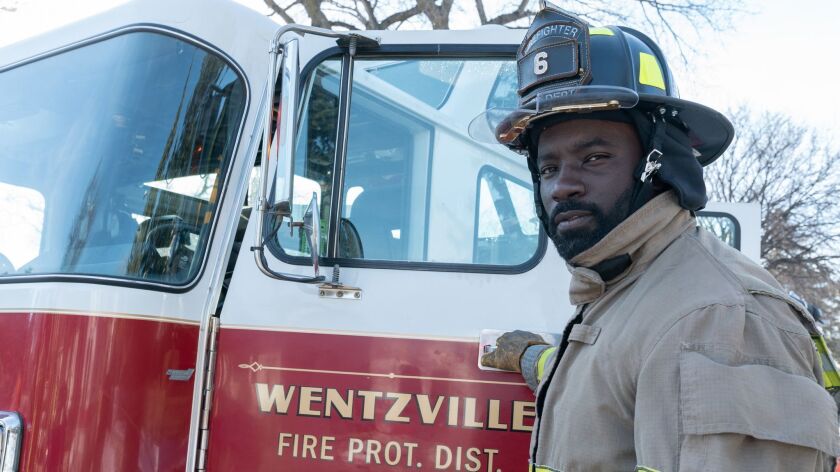 These casting choices were beyond flattering for the men they were portraying.
"The real Tommy Shine was like, 'Yeah, Luke Cage can play me any day of the week!' " Franklin said of Colter's former character on the Netflix series of the same name. "And the real Dr. Garrett said, 'The president' — referring to Dennis Haysbert's role on '24' — 'is gonna play me? No problem!' "
Writing for The Times, Katie Walsh praised "Breakthrough" as "one of the more authentically moving entries" in the faith-based film genre. But that particular designation might be doing more harm than good.
"The moment that movies are called 'faith-based' and put into that category, some people assume it's automatically not for them," Franklin said. "Sometimes, people view these movies not as stories but as extensions of a religious agenda. But this is a true story, an inspirational drama. That medical record is not a religious assessment; it's an official document."
Dawson agreed. "I think the term 'faith-based,' especially when used in Hollywood, has a demeaning connotation to it, which is kind of unfortunate, because it shouldn't," she explained.
"When Hollywood, in particular, labels something as 'faith-based,' they're not able to really see it with clear eyes as a film that stands on its own, versus what it's doing for its 'target audience,' " she said. "But we set out to make a film for everybody, not to preach to the converted but document this amazing event."
"It's so much more than that — it's got some funny moments too." added Metz. "It's like life, which is never really just one thing."
Twitter: @cashleelee
---
Get our daily Entertainment newsletter
Get the day's top stories on Hollywood, film, television, music, arts, culture and more.
You may occasionally receive promotional content from the Los Angeles Times.