Q&A: Best Coast's Bethany Cosentino talks with a kid about her new kids' album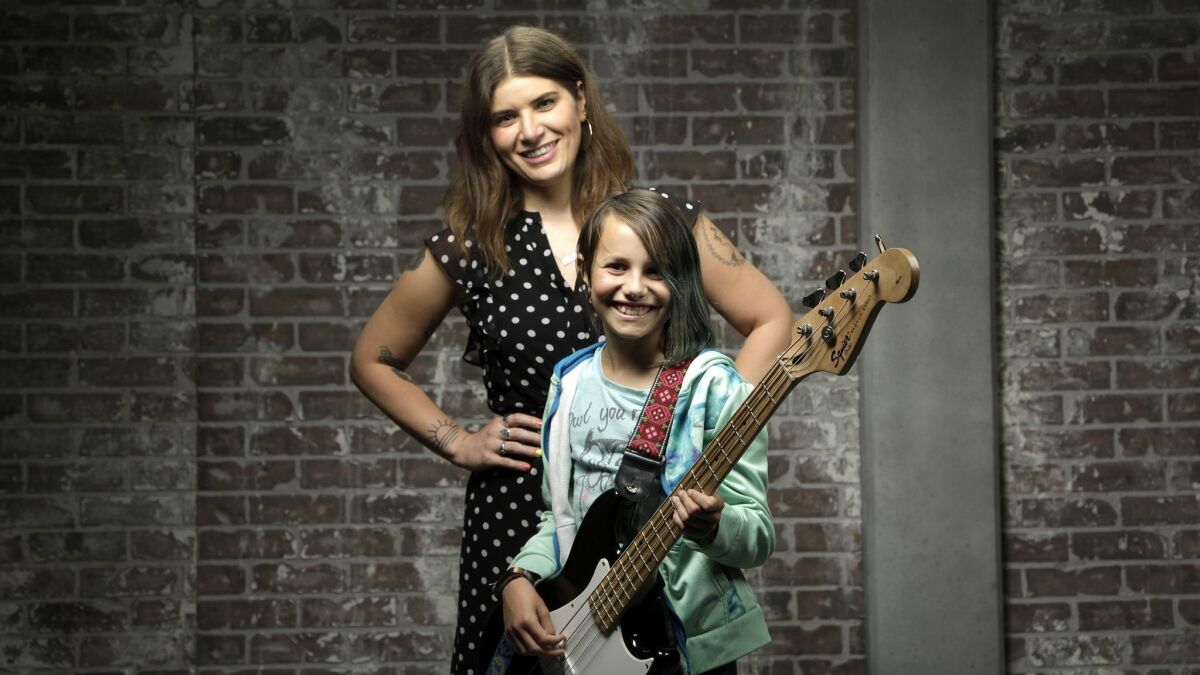 For nearly a decade, Bethany Cosentino has been vividly chronicling the romance and ennui of twentysomething life as the frontwoman of Los Angeles' Best Coast.
But with her latest project the Glendale native, now 31, is turning her attention to a different demographic.
"Best Kids" is the first album of children's music from Best Coast, which also includes guitarist Bobb Bruno. Released last month through Amazon Music, the 11-track set complements characteristically fuzzed-out renditions of classics like "Rainbow Connection" and "When You Wish Upon a Star" with Best Coast originals such as "Ice Cream Mountain" (where "all the trees are made of sprinkles") and "Cats & Dogs," a cleverly phrased message song about how "anyone can love anyone that they want."
There's also a newly imagined version of "When I'm With You" — a winsome cut from the band's 2010 debut, "Crazy for You" — with guest vocals from girls that joined Best Coast during a recent concert benefit for Girlschool, an L.A.-based organization that seeks to "present creative, interdisciplinary women-forward experiences on the forefront of culture," according to its website.
Asked about her goal with "Best Kids," Cosentino said she wanted to make "a record for kids that isn't your typical children's album — something that had a bit of an edge but was also joyous and fun and upbeat.
"No offense if you like the 'Frozen' soundtrack, but I was thinking about younger people who maybe don't gravitate toward the typical stuff," added the singer, whose band will perform Saturday with the Bangles at downtown's Pershing Square park.
To hear more about her connection to those kids, I sat down on a recent afternoon with Cosentino and Alia Briglia, an 11-year-old alum of L.A.'s Rock 'n' Roll Camp for Girls who now studies bass at the School of Rock in Venice.
Briglia's thoughts on the "Frozen" soundtrack?
"I've heard it way too many times," she said with a weary grin.
Cosentino laughed. "See?"
Tell me about getting into music. What sparked your interest?
Alia Briglia: I saw the movie "School of Rock" a few years ago and I thought it was really cool that a girl was playing the bass. So the next time my dad went to Guitar Center — he likes to look at the musical instruments — I was just like, "Hey, can we go to the bass room? I think I want to try it." And then for Christmas I got a bass.
Bethany Cosentino: I remember seeing the Distillers and thinking it was really cool that there were women playing punk music. That was really the first time I ever saw that.
Did you take lessons of some kind?
Cosentino: I got my first guitar when I was 13, and a lot of my friends were taking lessons from this guy in our town, Hector. Basically we'd make these mix CDs of songs that we wanted to learn, then take it to him and he'd teach us the songs. So I learned to play guitar to Blink-182 songs and Green Day songs — just very simple pop-punk power chords, which for the most part is still what I play.
What kind of music do you like, Alia?
Briglia: I don't really have a preference in genre, but I really like the Beatles. I like how each album they sort of have a different style. Before I took bass lessons, I took piano, and I learned "Lucy in the Sky With Diamonds," and I thought it was a really cool song, so I started listening to their other songs.
Did you learn to play any others?
Briglia: I learned "Eight Days a Week," but then I forgot it.
Cosentino: I forget songs I learn all the time. It's fine.
At School of Rock, you're taking lessons but you're also performing, right?
Briglia: In the performance program you're in a band with people where you work for like three months on 10 songs. Then at the end of the three months you get to play a club. It's really fun. A couple of shows ago, we got introduced to a green room.
Cosentino: Oooh, did you guys get a rider?
Briglia: Well, there were lots of waters.
Bethany, do you remember your first performance?
Cosentino: When I was really young I sang at school and at church. But my dad's a musician, and there was this restaurant in Glendale called the Rusty Pelican. I always used to go sit in with my dad there and sing Des'ree's "You Gotta Be." [To Briglia] I must've been around your age, and it was a bar. They'd be like, "OK, she can come in to sing the song — but then she has to leave." It was so exciting.
Briglia: Some of my friends, even though they're in the performance program, still are a bit shy. I remember at my first performance program show, there was one singer in our group, and she was really stiff; she didn't really move a lot. But now she actually moves around onstage. She's grown a lot.
Cosentino: I was so nervous when I started out. I never knew what to do with my hands when I wasn't playing guitar, or how to talk to people.
Briglia: Sometimes I'm tired afterwards because my feet start to really hurt.
Do you guys spend a lot of time practicing?
Cosentino: Not really, if we're being honest. For me, practice is when I'm writing, or if we're practicing for a show. But I don't sit around and tinker with the guitar the way I used to.
Briglia: I'm sort of forced to.
Cosentino: That's good, though! Do you sing at all?
Briglia: I don't take lessons for it, but I sing.
Cosentino: Can you sing and play at the same time? That's hard to do.
Briglia: I can. But I found out something from Jake, my bass teacher, which is that Jimi Hendrix, when he first started singing and playing, he wasn't very good at it. So he made the song "Fire" so that he just played guitar and then he just sang.
Talk about writing your own songs. How did you start?
Cosentino: I think for me it was when I discovered Gwen Stefani. All I ever saw before that was the Beatles and the Rolling Stones, and so I was like, "OK, I guess this is just what guys do?" But seeing No Doubt, the "Don't Speak" video, I realized she was telling this story that happened to her. You can tell your own stories. So then I started to mess around and write. It wasn't good. But it was me learning how to do it.
Briglia: I wrote one song when I was 8. I was sitting on my grandma's porch and I just started writing a song about nature. And then I wrote another one, which was about best friends.
Cosentino: It was almost therapeutic for me because I'd talk about things I was going through — boys or whatever it was at the time. It's crazy to me now that it was ever something that didn't seem like it was possible for a woman to do.
Briglia: Did you ever feel like you were going to be unsuccessful in your career?
Cosentino: I still feel like that sometimes. Success, it's such a complicated thing. But at the end of the day, I just love making music, and I love to create things for people to relate to and think, "I've felt that way too — I'm glad I'm not the only one." Having that ability is what keeps me going even when I'm sort of down on myself. That's why you keep trying.
Also: Free waters in the green room.
Cosentino: Lots of free waters.
Get our L.A. Goes Out newsletter, with the week's best events, to help you explore and experience our city.
You may occasionally receive promotional content from the Los Angeles Times.