A new riot on Sunset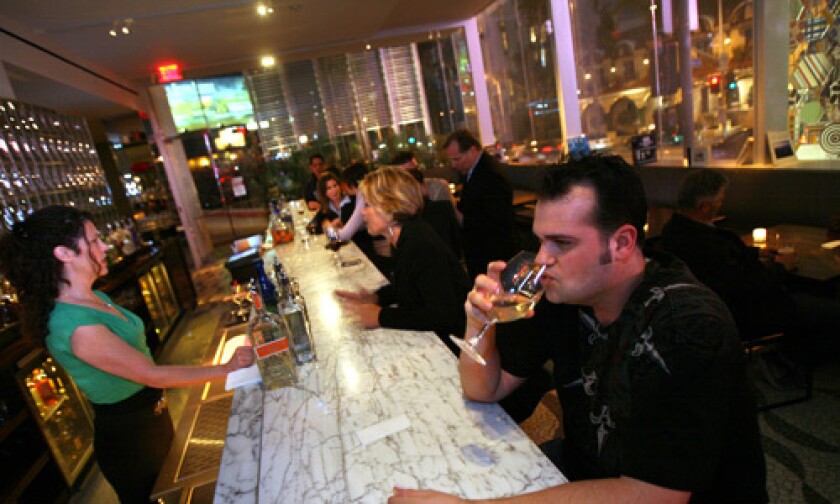 Los Angeles Times Staff Writer
Los Angeles is a city rife with symbols of cultural evolution, or if you prefer, gentrification. (Take vast swaths of downtown, for example.) But nowhere is the contrast between L.A.'s anarchic rock 'n' roll past and its slick, upscale present thrown into starker relief than on the Sunset Strip, where the onetime Continental Hyatt House, a.k.a. the Riot Hyatt, has reemerged as the Andaz West Hollywood.
Jimmy Page won't be throwing champagne bottles out of windows, but you might find a quote from him printed on a floor-to-ceiling window in one of the guest rooms. "It's all about very subtle hints to the past," says Michel Morauw, the hotel's general manager. Morauw's right -- but not in the obvious way.
It's not the area's hippie heyday that the Andaz recalls. Before the curfew riots of the mid-'60s, before the Summer of Love, before it was a nexus of hippie counterculture, the Sunset Strip was a playground for gangsters, writers and Hollywood players who noshed and guzzled their way through the 1930s and '40s at legendary clubs such as Ciro's, the Trocadero and the Mocambo. This new incarnation of the 46-year-old hotel is decidedly vintage.
The centerpiece of the hotel, just to the right of the entryway, is RH (in honor of the Riot Hyatt nickname), a bar and restaurant with floor-to-ceiling windows that make you feel as though you're sitting on Sunset Boulevard -- without any of the hassle of walking among the washed and coiffed masses.
Bathed in the glow of an electronic billboard that manages to penetrate the bar from across the street, you can peruse conveniently placed Taschen art books while waiting for your cocktail. The Mr. Plant (named after Robert Plant, who was standing on the balcony of Room 905 when he said the famous line, "I am a golden god") is an unexpectedly addictive concoction of No. 209 Hendricks Plymouth gin, tangerine juice, agave syrup, soda and muddled cucumber slices.
"Our first focus is the local clientele more than the hotel guests," Morauw says. "We do that in many hotels around the world. First, the hotel bar has to be attractive to locals. When people travel, they want to go where the locals drink and eat. We like to be that neighborhood place."
Perhaps if you live in the hills above the Andaz West Hollywood, you'd expect your local pub to serve $16 martinis and $35 burgers. RH is striving to be a neighborhood bar, but that's a pretty rarefied neighborhood.
On the other side of the bar separated by a floating wall of Pop art bubble mirrors, the restaurant has one of the most open kitchens anywhere in Los Angeles. White marble countertops surround an island of stoves constantly bustling with activity. Floor-to-ceiling, refrigerated glass cases display fresh produce while a leg of jamón ibérico sits prominently on the counter.
Designed by executive chef Sebastien Archambault, who has worked under Alain Ducasse, Jean-Francois Rouquette and Guy Savoy, the menu emphasizes market-to-table, local produce. So much so that it comes with a confusing addendum called the Market Menu, which allows diners to choose any combination of the restaurant's nine proteins, 14 vegetables and 11 sauces and chutneys to create a made-to-order meal.
Atkins devotees should be pleased. But they'll probably want to avoid the complimentary mini-loaves of crusty French bread that arrive before dinner. That's fine. The bread is merely a carrier device for organic butter.
If the concept of choosing your own meal seems too tedious, RH also offers dishes such as seared scallops, chicken breast stuffed with house-made foie gras and a double-thick pork chop topped with pancetta cubes.
But the menu's signature item is the RH burger, a hunk of black Angus beef topped with morels and foie gras. What does a $35 burger at the RH offer you that a $14 burger at any of L.A.'s other top eateries doesn't? The knowledge that you're the kind of person who can afford to spend $35 on a burger.
"In Hindi, 'andaz' means 'personal style,' " Morauw says. "That's what the brand is after. We're not trying to serve all the customers in the same way. There's a market for a more young-at-heart clientele, someone who is not set on the traditional form of hospitality."
RH at the Andaz West HollywoodWhere: 8401 W. Sunset Blvd., West HollywoodWhen: Bar: 11:30 a.m. to midnight Sundays through Wednesdays, 11:30 a.m. to 1:30 a.m. Thursdays through Saturdays; restaurant: 6:30 a.m. to 11 p.m. dailyPrice: beer, $7; cocktails, $16; wine: $12-$140; appetizers, $8-$22; entrees, $15-$35Contact: (323) 785-6090, www.westhollywood.andaz.com
---
Your essential guide to the arts in L.A.
Get Carolina A. Miranda's weekly newsletter for what's happening, plus openings, critics' picks and more.
You may occasionally receive promotional content from the Los Angeles Times.