In one corner, Ryan O'Neal. In another, his sportscaster son. The outcome may surprise you
"There aren't many legends left," I tell the veteran actor, saying that it's an honor to meet him.
"And you were late. Big deal," Ryan O'Neal quips.

For the record:
1:30 p.m. June 14, 2019An earlier version of this post gave the facility's name as POW Gym. It is PRO Gym.
"I'm glad you've gotten past that," I say.
Quick-witted, impatient, vainglorious, indomitable, handsome, edgy — at 78, O'Neal still has all the movie star attributes you might remember.
Patient and forgiving? Maybe a little more than before. Physically frail? Yeah, insists the former box-office beast, after battling various health issues: diabetes, leukemia (remission), a bad heart, a bum shoulder, sepsis.
Six months ago, friends called his famed costar Ali MacGraw to warn her: This might be it.
It wasn't it.
With his trademark Irish twinkle, O'Neal is still kicking, jabbing, bobbing, weaving, like the Golden Glove boxer he once was.
"A six-rounder, at best," he says of his short stint in the ring.
Longer and more successful is an acting career that has spanned almost 60 years, with impressive range and triumphs such as "Love Story," "What's Up, Doc?" and "Paper Moon," plus a headline-grabbing personal saga that eclipsed whatever you saw on screen.
Indeed, he had a Hollywood life that was far bigger and more dramatic "than the characters I played," he says, finishing the thought.
This day, Ryan "Big Deal" O'Neal is in a Brentwoood gym on Montana Avenue, at San Vicente, that offers a boxing ring and bit of a past. The place is a passion project for him and his son Patrick, 51, who hosts Kings and Angels telecasts for Fox Sports West.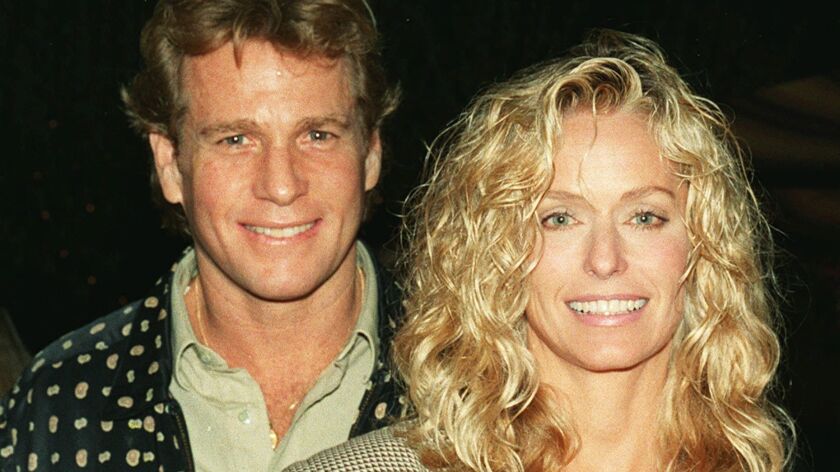 Their banter is easy, the old-school stuff of dads and their boys. It's not till one or the other is alone that they really open up about how much the other means to them.
"He was so wonderful; he was right there for me," the father says, referring to his health struggles. "I said, 'Take the gym!'
"I'm so proud of him," he says.
The neighborhood gym is a metaphor — aren't all gyms? — for perseverance and rebirth. In this case, old man O'Neal opened it with a partner in 1988, with Farrah Fawcett helping design it, a place where she would work out ferociously: crunches, crunches, more crunches.
O'Neal eventually gave up his stake. But when the gym closed suddenly early last year, the actor felt like it was still his to save. Patrick stepped in to help him buy the place, to get it up off the mat.
They are celebrating more than the comeback story of a friendly neighborhood hangout, of course. They are celebrating what it did for them as a father and son, for the actor's spirits, for their relationship.
PRO Gym was named for Ryan O'Neal, using the initials for his given name, Patrick Ryan O'Neal, which he had to change when he registered with the Screen Actors Guild because it was taken.
For 30 years, the gym drew from the neighborhood: actors, doctors, industry types — even Bruce Springsteen showed up once. It was known for its sense of camaraderie and a pleasant vibe. Nothing fancy. Lots of mirrors. Cardio and free weights. The boxing ring outdoors on the deck.
It has become more than merely a comfort zone to O'Neal. The partnership with his son is, to him, evidence that he is a caring and functional father, after epic struggles in the tricky territory of celebrity parenting, where in one world, you're worshiped and another, you're just a dad trying to figure life out.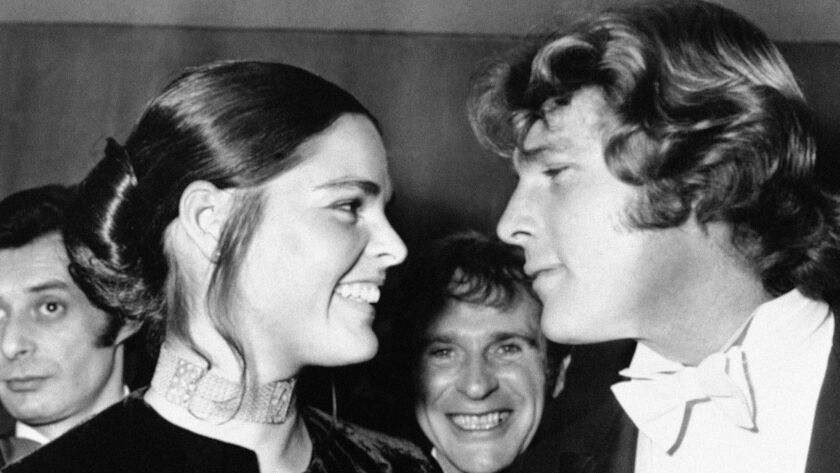 The flashpoints are still raw. Four children with three women. Estrangement from Tatum and Griffin. Addiction and then jail for Redmond, who remains there.
Then there was the agony of Fawcett's cancer fight, which she lost 10 years ago this month.
"I haven't been able to watch her documentary," he says of the 2009 TV movie about her cancer battle. "I'm still fragile. I was there. I lived it.
"Dear Farrah..." he says wistfully. "She is so missed," though he doesn't shy from discussing the challenges they faced.
"[It's] very uncomfortable to live with that, to have a girlfriend that the whole world is interested in, fascinated by, [that] was a little uncomfortable….I shared her."
With Father's Day nearly here, the O'Neals have this gleaming rainbow where thanks to Patrick's business savvy and Ryan's money, membership in the gym has bounced from 40 members to nearly 200 in a year's time.
The adjacent boxing ring, mostly used for conditioning, sits like a keepsake from O'Neal's career, which included the screwball boxing comedy "The Main Event" with Barbra Streisand.
A lover of sports, of women, of movies and L.A., O'Neal grew up in the Palisades, the son of an actress mom and a writer dad. He started in TV with "The Many Loves of Dobie Gillis," then found heartthrob status on "Peyton Place" and a major career with "Love Story," the highest-grossing movie of 1970.
Next year will mark 50 years since "Love Story" swept the nation, drawing sobs from sold-out theaters and Oscar nominations for the lead actor and his costar MacGraw.
"What can you say about a 25-year-old girl who died?" is the haunting opening line.
For O'Neal, the film's thematic overlaps now seem prophetic: daddy issues and tragic illness.
"I don't know what makes good movies, I don't know," O'Neal says now. "I did have a big crush on her so maybe there was some chemistry."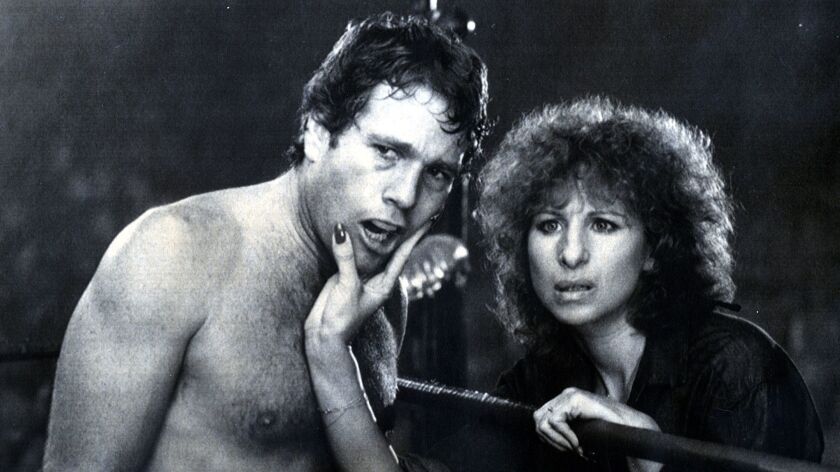 At the time, MacGraw was married to Robert Evans, then-head of Paramount, the studio that made "Love Story." O'Neal pretends to spit over his shoulder in disgust at the mention of Evans' name.
"It saved me that she was married," he says. "I would've fallen deeper in love with her except for her taste in men."
Jab, jab, punch. Move those feet. Jab. Duck. Jab. Escape.
The old boxer's body may be disappointing him now, but the mind is sharp…he remembers the details. When he launches into memories of movie sets and costars, he almost sounds 21 again, like a youthful Oliver Barrett IV.
And what stories. He tells of strolling the Fox lot with Mia Farrow when she spotted future husband Frank Sinatra for the very first time.
"I had a crush on Mia too…she was so smart," O'Neal says.
Working with Streisand on two movies, he says, helped teach him timing, which he considers an actor's best tool.
There were long days on set with director Stanley Kubrick on "Barry Lyndon," a film that was derided at the time but has gained respect over the years.
"We shot so many takes. …I don't know what [Kubrick] was aiming at, maybe just to tire us, to see what comes out of fatigue."
On the set of "A Bridge Too Far," he remembers tossing a baseball with Robert Redford between takes, just two sun-lacquered California boys having a catch.
"He could really throw. He's a stud."
Were there roles he didn't take?
"Rambo," O'Neal says, and smiles at the thought. "Hard to imagine me, in the long hair, with all the guns. Sly did a terrific job, of course."
Today, he spends days in Malibu, his home for 50 years, walking the dogs on the beach, then watching Patrick host Angels telecasts. When he leaves town, it's often to perform in "Love Letters," the two-person play, with MacGraw.
And he sits with pride, when he can, in this cozy Brentwood gym that he and his son saved, a rescue pet, a salvation, a bond.
"He's always given me such wonderful advice, he's always been my biggest fan," says Patrick, a three-time sports Emmy winner who is married to Disney exec Summer Imai. "He just means the world to me. I want everyone to know I love my dad.
"For us to have this partnership in this gym…I was so set on making that happen so that we had something to share," he says.
Full redemption? Hardly. A feel-good Father's Day role? No question.
Jab. Duck. Move those feet….
---
Get our daily Entertainment newsletter
Get the day's top stories on Hollywood, film, television, music, arts, culture and more.
You may occasionally receive promotional content from the Los Angeles Times.