Courteney Cox puts her money where her heart is for 'Just Before I Go'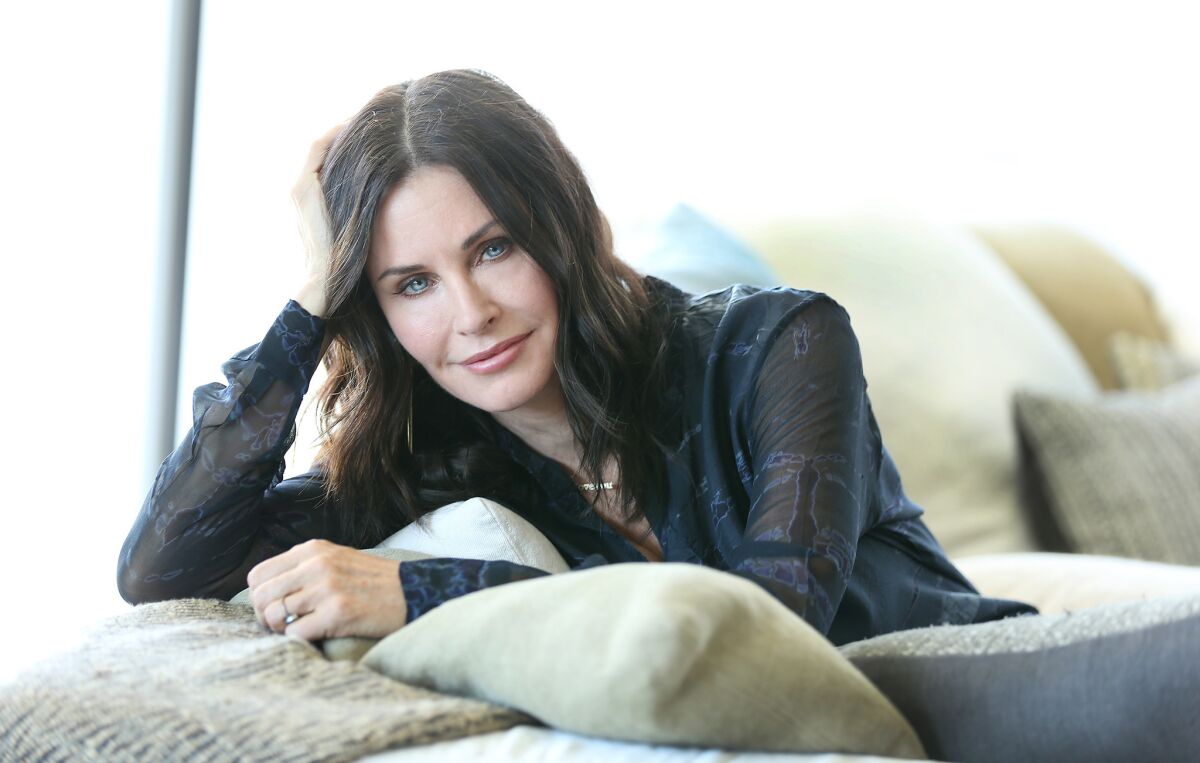 Courteney Cox was in a real bind two years ago. After directing a short film, the 2012 TV movie "Talhotblond" and several episodes of her TBS comedy series "Cougar Town," Cox felt she was ready to direct a feature film.
She'd found the perfect project for her debut — the dark, edgy comedy "Just Before I Go."
And the actress-producer, best known for her role as Monica Geller on NBC's 1994-2004 comedy series "Friends," was determined to shoot the film, which opens Friday in limited release, during her "Cougar Town" hiatus.
But there was a little issue of money.
"You really can't get a cast unless you have financing," said Cox, who exudes a warm and a tenacious spirit during a recent interview in Los Angeles. "And you can't get financing unless you have a cast. It's hard to get people to believe you can do it."
So she put up the $1.5 million to finance the film herself, "which I hear is not a very wise thing to do, but I did it. When I set my mind on something, I have to do it."
Shot in just 23 days, mainly in and around Studio City, the decidely R-rated comedy stars Seann William Scott ("American Pie") as Ted Morgan, a sweet but rather lost young man who decides to end it all after his wife leaves him. But before he commits suicide, he returns to his small hometown seeking revenge on those who bullied and abused him when he was young.
But everyone he knows back home is having problems of their own.
His classmate (Rob Riggle), who bullied him relentlessly, is now a widowed father with a son who has Down syndrome. The love of his life (Mackenzie Marsh) in high school is an overweight mother of five who wants to leave her husband (David Arquette, Cox's ex-husband). Ted's mother (Connie Stevens) is living with a female Elvis impersonator (Diane Ladd). And his police officer brother's (Garret Dillahunt) restless wife (Kate Walsh), who keeps creeping into Ted's room at night.
"Just Before I Go" was written by David Flebott, who worked on "Dirt," the 2007-08 FX drama series produced by Cox and Arquette, in which she played a tabloid editor.
She took Flebott to lunch to see whether he had any scripts she could read. Cox's timing was perfect because Flebott had just finished "Just Before I Go."
"The script made me laugh out loud and get teary-eyed. I thought the characters just jumped off the page."
Cox had never seen Scott as the wild and crazy Steve Stifler in the "American Pie" comedies.
"I did know he had a lot of fans based on ['American Pie']," she said. "That was a selling point for me but not nearly as much as him sitting across from me saying there is no one better for this part. I thought he was so passionate."
Scott loved the fact that Cox "really stayed true to her convictions that this was going to be a comedy. She was prepared, but she let anybody improvise as long as it was on point. It was really a collaborative experience. It was like a true independent film in that sense. Courteney knew exactly what she was doing at every level."
Still, she had issues with the film's tone. "I didn't have problems switching back and forth from the sad subject of suicide and then inappropriate behavior. It's getting people to know that it's OK to laugh at such a serious subject matter."
Cox ended up sending a copy of the film to Oscar-nominated director Gus Van Sant ("Good Will Hunting," "Milk") for advice since the two have the same agent.
Not only did he watch the film, Van Sant put down a new temporary music track for the opening scene in which Ted attempts to drown himself. His choice of music, said Cox, was light and funny, signaling to audiences that the movie was a comedy.
"I had a Coldplay song or the Van Morrison version of 'Comfortably Numb,'" said Cox. "Hearing more of a comedic beat did change the feeling of it. Music was really important."
(Her fiance Johnny McDaid's group, Snow Patrol, also provided songs for the soundtrack.)
Cox, who first came to audiences' attention as the young woman who dances with Bruce Springsteen in the Brian De Palma-directed 1984 "Dancing in the Dark" music video, became interested in working behind the camera while observing such directors as Emmy Award-winning James Burrows on "Friends" and Wes Craven, who helmed the four "Scream" horror films in which she starred.
"I am very visual," she said. "I kind of always say I suffer from acute awareness. I just can't help it. I walk into a room and just notice everything. Telling a story on film is perfect because I get to design, which I am extremely interested in."
After six seasons and 102 episodes, "Cougar Town" came to an end in March. "It wasn't necessarily my choice," she said. "TBS has been so good to us, but it's an expensive show to shoot."
Cox definitely would like to star in another series. "I think I have another one in me for sure," she said.
She certainly has a lot of new fans thanks to repeats of "Friends" on TV Land and Netflix.
"I was reading this quote that [co-star Matthew Perry] said, which made me laugh," she said, scrolling through her cellphone to find the quote. "'I am getting recognized by a whole new generation of people who are very confused by how old I look.' "
Before she returns to the small screen, Cox would like to get her second film as a director under her belt. "I get sent scripts, but it's amazing how many horrible scripts there are out there. I am hoping this movie brings me better opportunities."
---
Get our L.A. Goes Out newsletter, with the week's best events, to help you explore and experience our city.
You may occasionally receive promotional content from the Los Angeles Times.