AFI anniversary draws legends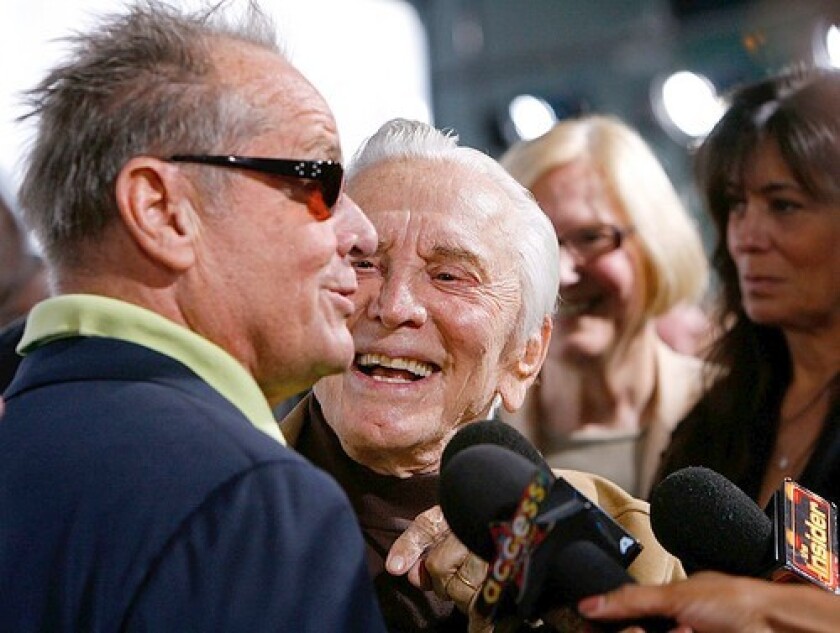 Los Angeles Times Staff Writer
Tippi Hedren wore the seed pearls and gold broach shaped like birds in flight that was given to her by Alfred Hitchcock and his wife at Chasen's on the night they told her she would star in 1963's "The Birds."
Angela Lansbury said young people know her as the voice of Mrs. Potts in Disney's 1991 animated musical "Beauty and the Beast," but the veteran actress of stage and screen doubts if they would recognize her face, despite "Murder, She Wrote."
And asked why he thought his Oscar-winning 1992 western "Unforgiven" had emerged as a classic of its genre, Clint Eastwood was simple and direct: "It was a good script, a very good story," he said, adding that Gene Hackman and Morgan Freeman made for a "good ensemble" cast.
Everywhere one looked Wednesday night, there were legends of the film world as Jack Nicholson, Kirk Douglas, Warren Beatty, George Lucas and more walked up the red carpet at the ArcLight Theaters in Hollywood to celebrate the American Film Institute's 40th anniversary.
The event was unprecedented, if only for this reason: The AFI brought together actors and filmmakers on one night to introduce screenings of their classic films.
Beatty talked about his 1967 gangster film, "Bonnie and Clyde." Julie Andrews introduced 1965's Oscar winner "The Sound of Music." Nicholson, sunglasses and hair askew, discussed 1975's "One Flew Over the Cuckoo's Nest." Sylvester Stallone and Talia Shire were invited to share their thoughts on 1976's Oscar-winning "Rocky." George Lucas was there to discuss his sci-fi epic "Star Wars." And star Billy Crystal and director Rob Reiner introduced their 1989 romantic comedy "When Harry Met Sally. . . ."
One of the big draws on this night was Douglas, now 90, his voice impaired by a stroke but his mind lively and sharp, introducing 1960's "Spartacus," director Stanley Kubrick's epic story of a slave revolt against the Roman Empire in which Douglas starred.
After a standing ovation inside the Cinerama Dome, the veteran actor delivered a brief but moving speech, in which he said the most important thing about "Spartacus" was that "it broke the blacklist."
"Most of you people are too young to remember the McCarthy era," Douglas said. "It was a terrible time and Sen. [Joseph] McCarthy kind of concentrated on Hollywood, especially the writers. Dalton Trumbo, a great writer, spent one year in jail and when he came out, no blacklisted writer could write. They had to use an assumed name. And they were never allowed to enter a studio. So, when I started 'Spartacus,' I was guilty of hypocrisy because Dalton Trumbo was writing 'Spartacus' under the name Sam Jackson. But in the middle of the picture it bothered me, this hypocrisy, and I think I was just young enough -- or old enough -- to say, 'Let's end it now.' . . . I said, 'Listen, I don't want to send Jackson's name. I want the real name of Dalton Trumbo on that script.' And that, to me, that's the best memory of the good picture 'Spartacus.' "
He also noted that the film is "so pertinent now, because 'Spartacus' was about freedom, and freedom is something very precious that we always have to be fighting for."
Outside on the red carpet, the mood was upbeat. Three fans of "Spartacus" were dressed as Roman legionnaires.
Douglas said he felt like a "movie fan" just watching Nicholson, Eastwood, Lansbury and the others. "I tell you, I'm really excited and glad to be a part of it."
When Eastwood was answering questions put to him by a line of reporters, Douglas came up behind him and joked: "Don't believe a word he says."
Eastwood turned and broke into a wide grin. "It's Spartacus talking!"
Hedren flew in from Europe for the event. She said she believes "The Birds" remains a frightening movie because "the thought of all of the birds of the world banding together and deciding to take over the world. . . we wouldn't have a chance. It's a pretty frightening thought."
She said Hitchcock was not only her director but also her drama coach since "The Birds" was her first movie. "It was amazing to have that kind of support."
Hedren noted that in the scene in which the birds come down the chimney, "We thought that they would come down the chimney and fly all over and they didn't. They sat on the hearth and they sat on the coffee table and the arm of the chair. I think it was the first time I saw Mr. Hitchcock kind of stunned, as in 'What do we do now?' So, we did that whole scene and there were no birds there at all. Once it was edited and put together, it went over to Disney and they put the birds in."
Reiner has probably been asked a million times about the famous fake orgasm scene in "When Harry Met Sally. . . ." Inevitably, the question was put to him again Wednesday night. He noted that Meg Ryan "was a little nervous about doing it at first because she was in front of strangers and crew members. . . . I actually sat down and showed her what I thought the scene would be." And didn't that prove embarrassing, pounding the table in ecstasy with his mother right there on set, he added.
Shire was asked about the challenges she faced in "Rocky." She noted that since Rocky Balboa was such an extraordinary character, she wanted to make her character simple and make it a "perfect partnering, if I could."
Howard Stringer, the chief executive of Sony Corp. and chairman of the AFI's board of trustees, said selecting the movies for the night's event meant "you had to marry the movie with the star who was available.
"Steven Spielberg was out filming and I'd loved to have had him here for any number of movies," he said. "So, we picked movies where actors were around and nobody turned us down."
Does Lansbury think there will be great movies to honor 40 years from now? "Probably not," she said. "We're going to run out of the desire to make movies the way we do now. We're going to use different techniques, everything we do will be faster and cheaper and we won't have the great stars. We don't have the great stars anymore, I'm sorry, except for maybe a handful." She looked around the red carpet and added: "Well, a few of us oldies are still around."
---
From the Oscars to the Emmys.
Get the Envelope newsletter for exclusive awards season coverage, behind-the-scenes stories from the Envelope podcast and columnist Glenn Whipp's must-read analysis.
You may occasionally receive promotional content from the Los Angeles Times.