Newsletter: Indie Focus: 'De Palma' doc spurs revival alongside new discoveries in 'The Fits' and 'Viktoria'
Hello! I'm Mark Olsen, and welcome to your weekly field guide to a world of Only Good Movies.
Part of the reason this newsletter exists is that there are a lot of movies out there these days, coming at us in all sorts of ways on all manner of screens. And hopefully this newsletter helps you, the reader, save time by just skimming the cream off the top — curation, as they call it these days.
But I'm far from infallible, and things get by me too. Take "The Wailing," for instance. I was a huge fan of Korean filmmaker Na Hong-jin's "The Yellow Sea" a few years back, yet somehow I had no idea he had a new film that premiered at Cannes last month and was already in theaters here in the U.S.
Our own Justin Chang reviewed it and liked it, saying last week, "It's a film you watch in a state of slowly gathering dread … because you're never quite sure, on a deeper level, what it wants from you. At times the movie doesn't seem too sure, either. It's a supremely patient freakout."
And we'll have some more exciting screening/Q&A events coming up soon. (For real! We just booked a title I'm very excited about.) Check events.latimes.com for more info.
Nonstop movies. Movies nonstop.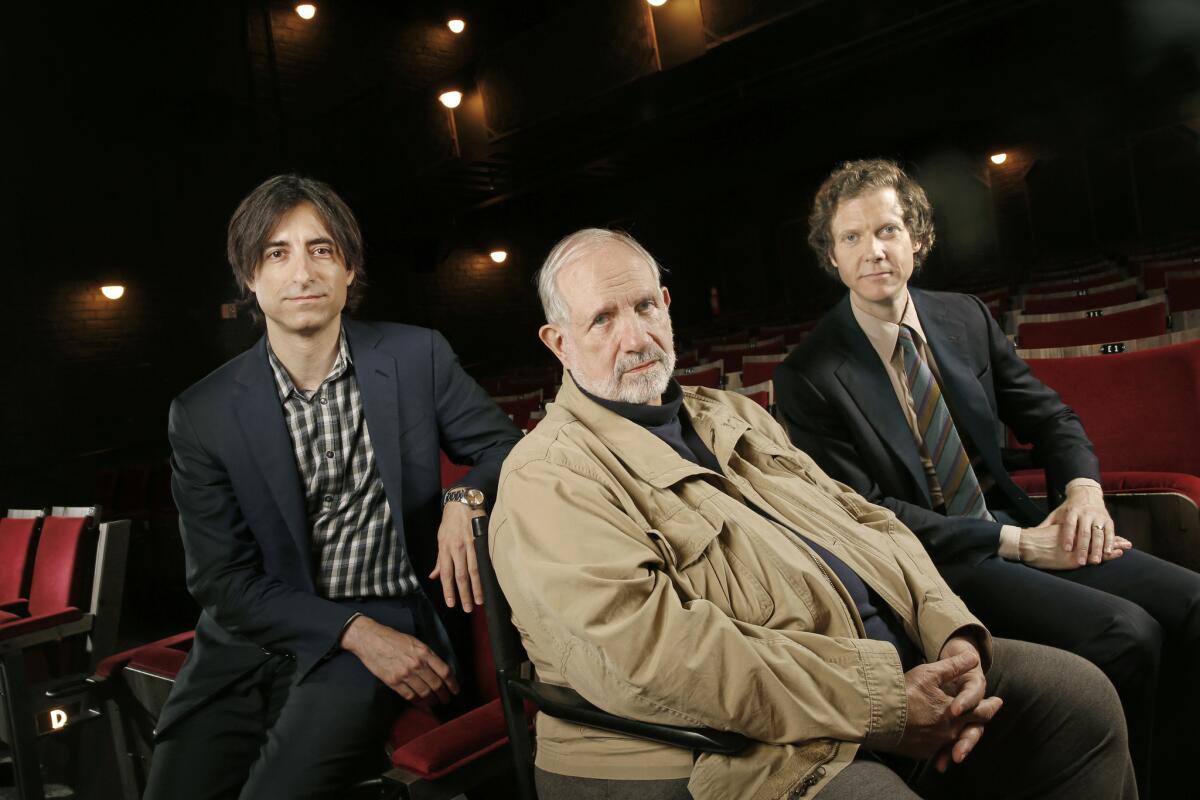 'De Palma'
Filmmaker Brian De Palma has long been a figure of controversy due to his delirious depictions of sex and violence. But he has also long been a movie connoisseur favorite for his incredible skill as a visual stylist, someone who has been able to make the most of filmmaking as a medium.
The new documentary "De Palma" is simply a delight. Made by directors Noah Baumbach and Jake Paltrow, the film features De Palma talking candidly about his life's work and provides a vital opportunity for reassessing his career.
In his Times review, Kenneth Turan said, "'De Palma's biggest asset, not surprisingly, is the man himself. A formidable talker who is invariably smart, candid and acerbic, De Palma is a person of considerable self-confidence, and listening to him hold forth gives us an always-involving glimpse inside a singular cinematic mind."
I spoke to De Palma, Baumbach and Paltrow about their mutual friendship and the making of the doc. Of his honesty in the film about his films and himself, De Palma said, "I just think if you're going to do it, you've got to be as honest as possible. I've always been very much of a realist about my career."
One of the biggest lessons of the doc is that when it comes to De Palma, there is something interesting in every single one of his films. Justin and I made our way through some of his lesser-known films and even surprised ourselves, as Justin got into "Mission to Mars" while I took on "The Bonfire of the Vanities."
At the New York Times, Wesley Morris grapples with the fact that there is so much in De Palma's work that is troubling or demands some reconciling. (He thinks less of "Bonfire" than I do, for example.) But he also gets to the fact that so much of what makes De Palma seem dangerous is also what is sorely missing from so much moviemaking today.
As Morris writes, "And yet here's the thing about Mr. De Palma. He never stops — never stops trying to pull the rug out from under us, never stops trying to twist our arm, never stops believing that nonsense can be an aphrodisiac, too."
'The Fits'
After playing at Venice and Sundance, "The Fits" is now in theaters and is one of the most exciting debuts of the year. The first feature from filmmaker Anna Rose Holmer, the film is part allegory of adolescence, part coming-of-age film and part dance movie.
As Kenneth Turan put it in his review, "Made by a first-time feature director working with a microscopic budget and a tiny, 11-year-old protagonist, it's a 72-minute wonder, a self-assured, gently mysterious little film that is hypnotic in unexpected ways … 'The Fits' is an allusive, artistic film that prefers not to spell everything out, but we all know what it means."
Lorraine Ali wrote about the making of the film. As Holmer told her, "All the girls we're putting on screen are complex and complicated, strong and vulnerable, questioning and content. They carry contradictions around with them, making it really hard to define them as a group."
In the New York Times, Manohla Dargis called the film "a dreamy, beautifully syncopated coming-of-age tale … Any uplift that you may feel won't come from having your ideas affirmed, but from something ineluctable — call it art."
Holmer and the filmmaking team also participated in a Q&A after the film's screening at the New Directors/New Films series in New York in the spring. You can watch it here.
'Viktoria'
Some films take a little longer to find their way into the world. "Viktoria" played at the 2014 Sundance Film Festival and is just reaching Los Angeles theaters now. The debut feature from Bulgarian filmmaker Maya Vitkova, the movie follows three generations of women in the years of transition to democracy.
In her L.A. Times review, Sheri Linden said, "Such inventively surreal virtues mark Maya Vitkova's ambitious debut feature as the arrival of a bracing cinematic talent … she fuses artfully composed visuals and stinging black comedy around a lead performance, by Irmena Chichikova, of stunningly unapologetic gloom."
In the New Yorker, Richard Brody called it "a wildly imaginative yet fiercely precise, grandly political yet bracingly intimate report on being a woman in Bulgaria at a time when politics and private life were conspicuously intertwined."
'Marquee Movies: Movies on Moviegoing'
The UCLA Film & Television Archive has put together an inventive program of movies that feature going to the movies for a series called "Marquee Movies: Movies on Moviegoing." Though already underway, which means that such delights as Joe Dante's "Matinee" and Woody Allen's "The Purple Rose of Cairo" have already played, there is still plenty in store. Not least of which is a 35mm screening of Tsai Ming-liang's achingly melancholy 2003 "Goodbye Dragon Inn," set amid a crumbling Taipei movie theater showing King Hu's "Dragon Inn." Other films still to come include Lamberto Bava's "Demons," produced by Dario Argento and the original director's cut of Giuseppe Tornatore's "Cinema Paradiso." There will also be a panel discussion on June 15 with programmers from repertory venues all over Los Angeles.
Email me if you have questions, comments or suggestions, and follow me on Twitter @IndieFocus.
Get the Indie Focus newsletter, Mark Olsen's weekly guide to the world of cinema.
You may occasionally receive promotional content from the Los Angeles Times.