'Dunkirk' editor Lee Smith fused a tense score and three story lines to make history new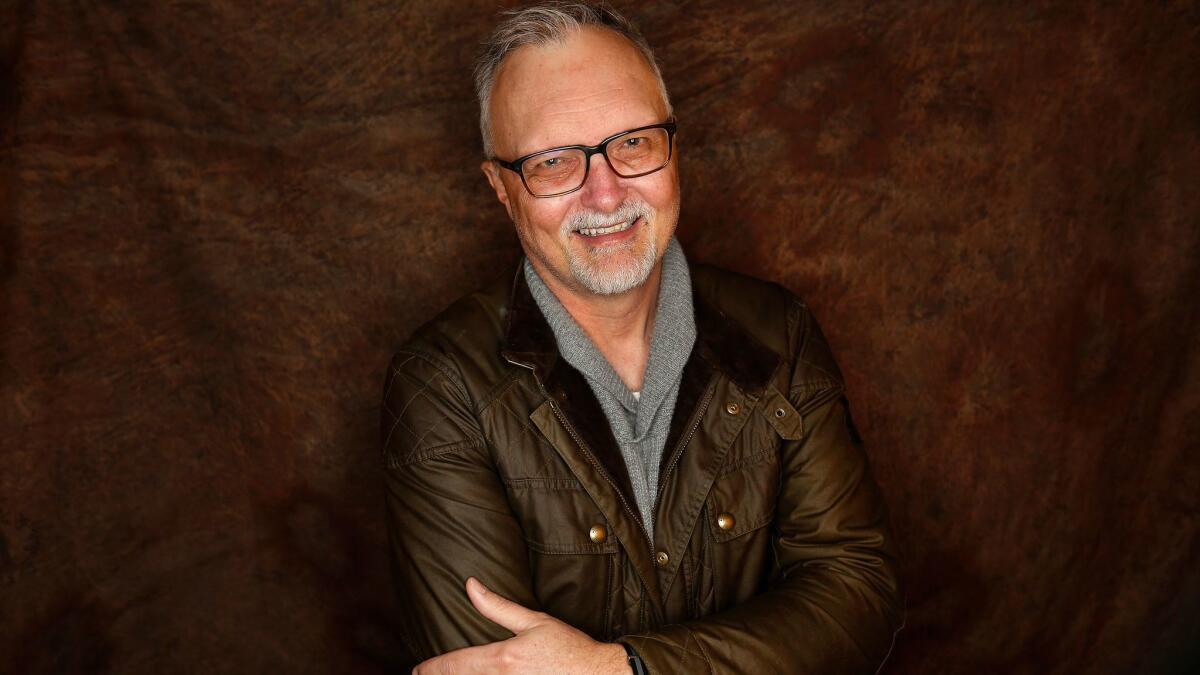 Lee Smith had edited six films for Christopher Nolan by the time he arrived on an intemperate beach in northern France.
The director handed him headphones and said their new collaboration had sparse dialogue but would pulse with incessant sound, like the ticking of a clock, to capture the quickening fear of more than 300,000 Allied soldiers trapped in the sand by an advancing German army.
"The movie was a visceral experience rather than a spoken narrative," said Smith, nominated for a film editing Academy Award for "Dunkirk." "The challenge of having a lack of dialogue means the conventions of that style of editing disappear and you've got to tell the story as if it's a silent movie. That was a very new dynamic for Chris and for me. It was challenging and terrifying all at once."
"Dunkirk" is a war movie without much blood or computer-generated mayhem; it is an unrelenting twist of the soul, a psychological thriller of intersecting timelines and a pincer score by Hans Zimmer that captures the excruciating tick-tock of British and French soldiers waiting to escape a beach in the early days of World War II. What happened in the coastal town of Dunkirk in 1940 became synonymous with British resolve as hundreds of civilians in trawlers and leisure boats raced to the rescue.
A film editor's creed is to distill a director's vision and propel an imagined world without showing its seams or artistic calculus. Smith, who was born in Australia, has worked on a range of films including the surreal fable "The Truman Show," Nolan's mind-bending "Inception" and the upcoming comic-book caper "X-Men: Dark Phoenix." He has been previously nominated for Academy Awards for "Master and Commander: The Far Side of the World" and for Nolan's "The Dark Knight."
The test in "Dunkirk," nominated for eight Academy Awards, was compressing, expanding and blending three narratives: soldiers on the beach, civilians sailing toward them, and Spitfire pilots trying protect them from the sky. The pace of the film, shot amid intermittent squalls with 65 mm and Imax cameras, which gave an immersive sensation, relied on deciding when to cut from scene to scene as the story lines, each with their own time sequences and subplots, converged.
"Weaving timelines together that intersect at various parts in the film was a very intricate job," said Smith. "In my world what you have to guard against the most is that if a film has no emotion there's no reason for it to exist. It's got to push your buttons. If the timelines didn't work, you'd just have a quirky, strange war movie that people would have probably gone, 'Huh, interesting?' But it would have been relegated to 'nice attempt, guys.'"
Long hours of editing and experimenting with syncopated images and sounds — boots, wind, waves, the ping of bullets, muffled voices in cockpits — drew out tension and sustained momentum while keeping emotional connections alive amid changing points of view. It was akin to turning valves to build and release steam. That was most evident, he said, on determining when the rescuing boats would arrive: "We tweaked that scene forwards and backwards to make sure we got the strongest emotional hit."
Much of the emotion was driven by Zimmer's score, nominated for an Oscar, which was "the most unconventional I've ever heard in a film," said Smith. It became its own character, a persistent, prickly presence that articulated the anxiousness of scared men trying to get home and others trying to save them.
When Smith arrived in Dunkirk, he was subsumed by one of the last century's defining moments and by Nolan's vision that the music's sonic beat, which included cellos and double bass, would form a permeating coda that would intensify throughout the film.
"It was basically the sound of a ticking watch doing a seemingly implausible thing," said Smith, a sound editor earlier in his career. Nolan, a frequent collaborator with Zimmer to make music and image indivisible, had described the sound in "Dunkirk" as the whirring of a projector in a movie booth. "I thought, 'Oh, boy. We're in for an interesting ride.' But we kept plowing on with it."
"This is a film where music and sound effects completely meet," said Smith. "The boat motors are exactly in tempo and beats per minute with the music. The sound of ascension and endless tension runs through the whole movie. Hundreds and hundreds of separate audio tracks were running and being manipulated on every cut." He says with a laugh: "I mean it's not something you can hum but it had the desired psychological effect."
The Battle of Dunkirk and the evacuation of soldiers — their deaths or capture would have decimated British armed forces — was pivotal to Prime Minister Winston Churchill in rallying his country for the long war ahead. The movie crystallizes that sense of prelude, of harrowing moments mixed with small personal and national victories that marked the outcome of a world conflict that killed more than 50 million people.
Gusts, storm surges and low gray skies were frequent during filming. "I was in the comfort of my portable editing room as these black clouds and howling winds came up," said Smith. The crew, including cinematographer Hoyte van Hoytema, who shot holding heavy Imax cameras, "abused me at the end of the day," said Smith. "I'd walk in calm and relaxed and they'd all have their hair standing on end with bright red faces."
Smith and Nolan viewed footage every night on high-resolution 70mm film. "I was loving it in my world," said Smith. "I was looking at more the finished film, not the crew and the lights and everything else, and what I saw was a movie coming together. Early on, I thought, this is pretty special. But you never know if what you end up with people will like. The worry is you've made a $100-million art movie."
The film, said Smith, has a purity, a sense of the genuine; unlike many war movies, there is no shocking violence, no elaborate computer tricks. The characters, including those by Kenneth Branagh and Mark Rylance, are fierce yet quiet. The face of the pilot played by Tom Hardy is hidden by a flight mask for almost the entire story. It is history revisited without dressing it up in modern trappings.
"Chris and I have a short-hand of thinking and talking and know what's what," said Smith. "But the biggest challenge of this film was that it was stepping way outside of the conventions of a dialogue-driven narrative. Chris hadn't made anything like that before. But this is everything I want a movie to be. I'm taken someplace, lifted out of my normal world."
See the most-read stories this hour »
Twitter: @JeffreyLAT
ALSO
Oscar-nominated 'On Body and Soul' wonders if love in a dream can survive the real world
Bitcoin promises filmmakers and writers tales of get-rich fever and cyber intrigue
Get our L.A. Goes Out newsletter, with the week's best events, to help you explore and experience our city.
You may occasionally receive promotional content from the Los Angeles Times.