Why Hans Zimmer is bringing his Oscar-winning film music to Coachella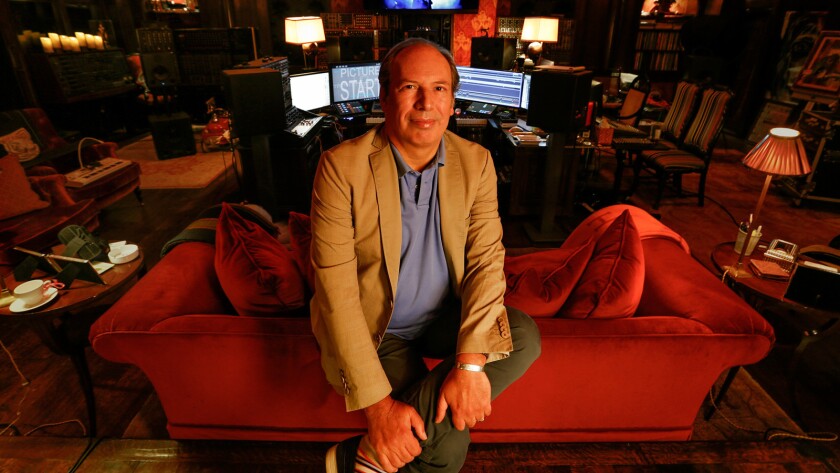 Pop Music Critic
Hans Zimmer's natural habitat is a dark, windowless room.
As one of Hollywood's most successful film composers — with scores for dozens of movies stretching from "Interstellar" and "The Dark Knight" back to "The Lion King" and "Driving Miss Daisy" — the 59-year-old Oscar winner spends untold hours in screening rooms and recording studios, including his own private space tucked into a larger complex on a quiet industrial street in Santa Monica.
Filled with polished woodwork and red velvet furniture, it has proved to be an inspiring spot for the man whose music combines lush orchestral arrangements with unconventional electronic textures.
But that didn't keep Zimmer's friends from pushing him to try a change of scenery.
"This whole thing started with Johnny Marr and Pharrell Williams sitting me down and going, 'You've got to get out of here and look your audience in the eye,'" the composer said the other day, referring to the Smiths guitarist (whom Zimmer drafted to play on "Inception") and the hip-hop producer turned pop star (with whom Zimmer worked on "Hidden Figures").
"And they're right," he added. "At some point you have to see if any of the stuff you've been doing while hiding behind a screen actually resonates with people."
That's what Zimmer is doing this week by launching the North American leg of his first concert tour, scheduled to stop Friday night at the Microsoft Theater before moving on to a performance Sunday at the Coachella Valley Music and Arts Festival in Indio. (The tour, which the German-born musician took through Europe last year, will return to Los Angeles on Aug. 11 for an encore at the Shrine Auditorium.)
At Coachella, where the bill is dominated by singers and rappers such as Lady Gaga and Kendrick Lamar, Zimmer's instrumental music will no doubt be an oddity. But the composer insists the show he's put together is far from the buttoned-up occasion one might expect.
"The reason I didn't do this for the longest time is that I've always had a problem with the way we present orchestral music," he said, reclined on a sofa with a cup of coffee. "Why would you spend an evening of your precious time with a man with his back to you and a bunch of people in suits reading the paper?"
Instead, he's promising a more rock-informed experience, with Zimmer not as conductor but as frontman leading a group of more than 70 musicians through freewheeling renditions of some of his favorite themes.
One of those musicians is Marr's 25-year-old son, Nile, who also plays in the British indie trio Man Made and says the Zimmer outfit is "basically the biggest band you've ever seen playing the most epic music you've ever heard."
The band approach isn't entirely new for Zimmer. Before he moved into composing for movies, he played briefly as a member of the Buggles, Trevor Horn's late-'70s new-wave group that scored a hit with "Video Killed the Radio Star."
"But after that the record company just wanted us to do the same thing again and again and again," he said. "So you suddenly realize in rock and roll you're very easily typecast."
Film music, in contrast, offered limitless variation. "I wrote 'Driving Miss Daisy' and 'Black Rain' in the same month, and they couldn't be any more different."
Zimmer, who plays keyboard, guitar and banjo in the show, intends to show off the stylistic breadth of his work on tour. But he won't show images from the movies themselves — they seduce an audience into ignoring the players onstage, he says. Nor does he plan to deliver any kind of canned commentary.
"Scripted, I'm terrible," he said. "Can't do it. Long time ago, Jeffrey Katzenberg asked me to take part in a presentation about animation at Lincoln Center. And his main press person, I overheard her say, 'Don't script Hans — he's like a plank of wood.'
"The only way I can treat this is like I'm having a dinner party with a few friends. Sometimes I ramble on and lose my way, and sometimes somebody in the band says, 'Come on, let's play some music.'"
Is his head sufficiently full of anecdotes that he can conjure stories at the mention of a title?
"Go ahead," he said. "Name one."
"Rain Man."
"My first movie in Hollywood," he shot back. "I'd come to Los Angeles not knowing anybody, not knowing my way around. So I wrote the whole score in Barry [Levinson]'s office."
Another windowless room.
"It's my fate."
In statements about the tour, Zimmer's handlers have said he'll be joined onstage by special guests — an especially tantalizing prospect at Coachella, with its densely packed roster. Yet the composer initially played down that idea at his studio, saying he'd been "completely and utterly consumed" by an upcoming movie and hadn't arranged any specific cameos.
Then he kept talking.
"Look, Kendrick and I are playing the same night," he said. "I haven't talked to him about it, but we've done things together. And I think there might be a chance I can persuade Pharrell to come and do something."
"Maybe I'll phone somebody."
Twitter: @mikaelwood
---
Your essential guide to the arts in L.A.
Get Carolina A. Miranda's weekly newsletter for what's happening, plus openings, critics' picks and more.
You may occasionally receive promotional content from the Los Angeles Times.