Mary Steenburgen knows how to coax a laugh but is equally at home with the dark side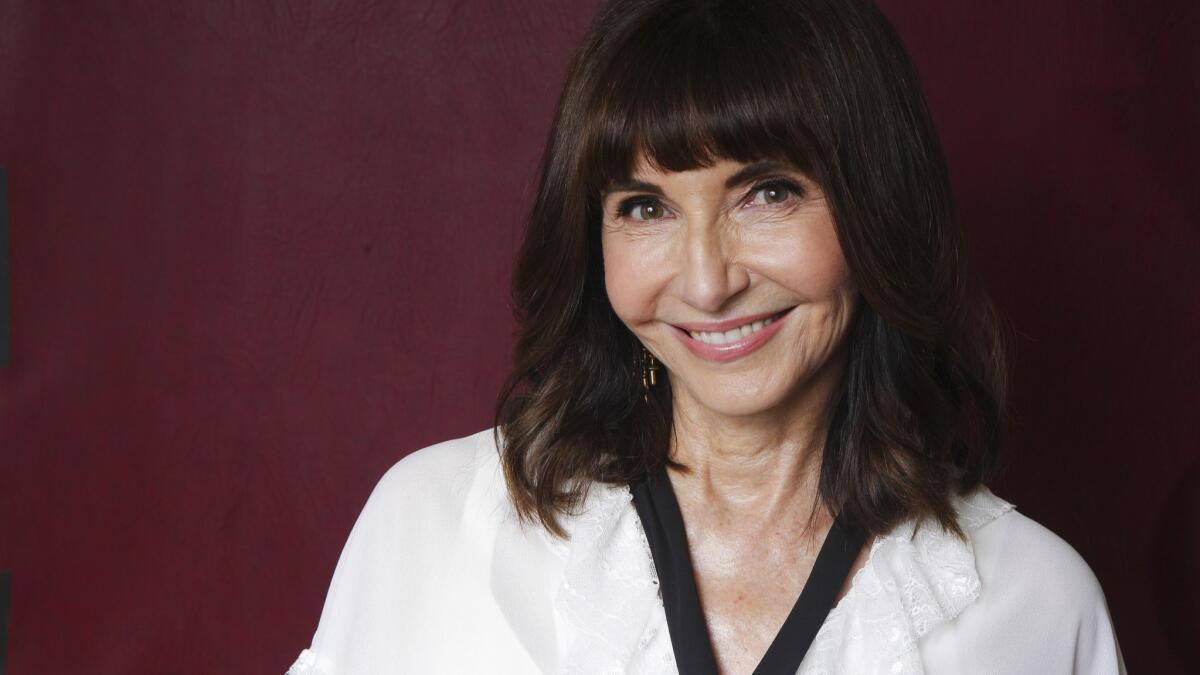 She can still see him, her father, waving from the top of a boxcar, dawn filling the sky behind him, many years and miles from where she is now, sitting in a glass house near a redwood, taking stock of her latest movie, her long Hollywood career and the wondrous and scary things learned in an Arkansas childhood.
Mary Steenburgen set out cheeses and blackberries. Her husband, Ted Danson, left a bit ago, and the garden was quiet in a morning cool that reached up from the ocean in Santa Monica. The daughter of a freight train conductor, Steenburgen has been a recurring whisper through our lives for decades, an intuitive comedic presence who is at once innocent and knowing, inured and rebellious, a woman who can see a dream dying but not be broken.
Her middle-class upbringing, with its church-going and southern sensibilities, has lent an American aesthetic to her acting and her life. She's a woman you could laugh it up with in a bowling alley but know that by night's end, your secrets would be safe. "Mary's the glue that holds us together," said Will Forte, creator and star of the TV comedy "The Last Man on Earth," in which Steenburgen plays a chef navigating life after the apocalypse.
She sat back, listened to the wind and unfolded a story: Before she won a supporting actress Oscar in 1981 for her portrayal of Lynda Dummar, a flighty, if resilient, stripper in "Melvin and Howard," Steenburgen waited tables in a New York restaurant. A casting director would stroll in every Wednesday with her stuttering brother to order the spaghetti chicken parmesan special. The woman never acknowledged Steenburgen; never left a tip.
At a party years later, said Steenburgen, "She came up to me and said, 'I'm your biggest fan. I am the definite Mary Steenburgen expert.' And I just looked at her and said, 'Chicken parmesan, hold the spaghetti, Wednesday nights Hudson Bay Inn.' She stared at me, went pale and walked away."
The anecdote carries the weight of a parable for an actor, who early on was underestimated by some. She did, after all, wear an off-the-rack dress, flats and a strange flower in her hair to accept her Academy Award. "The home-madeness of my experience was crazy." She has since been in more than 60 films, including cultural touchstones such as "Philadelphia," "Parenthood" and "What's Eating Gilbert Grape" and has thrived in TV's latest renaissance, appearing in "Orange is the New Black" and "Justified," in which she played Katherine Hale, a-gun-in-the-purse sexy crime boss with a taste for robbery and dope.
Appearances to the contrary, she is drawn to the sinister, belying in mischievous ways the woman in the blue dress and embroidered sweater who's holding a mug of tea and talking grandchildren. When Steenburgen first slipped into our consciousness she was funny, slightly daft, an endearing flake. She was smart beyond her humor, a trait she has kept, but time, along with a deeper voice and a resonant edge, has given her characters — to paraphrase one of her favorite authors, Emerson — the inclination to glimpse at what frightens us.
"Fascinating and fun," she said of "Justified." "It was great writing. I love those parts. I like using the darker parts of me. Look, I love anything to do with comedy because I'm a laugh junkie and I like being around it. But I like going dark, to mine those depths a little more. I hope I create more of that."
It's a tough part to play. Gail does a lot of unseemly things, but it's impossible not to like Mary Steenburgen.
— Will Forte
A New York Times theater critic reviewing "The Beginning of August" in 2000 sensed this too, writing of Steenburgen's performance, "that dithery naivete is still there, but it seems somehow to have grown fangs." In "The Last Man on Earth", she plays Gail Klosterman, a heavy drinker turned midwife with a troubled past and a strange attachment to a dummy named Gordon.
"A lot of the stuff we ended up going for in Gail we found along the way," said Forte, whose show was canceled by Fox Thursday after four seasons. "When Mary came in she helped us flesh it out by putting her spin on everything. The character created itself. It's a tough part to play. Gail does a lot of unseemly things, but it's impossible not to like Mary Steenburgen. She's a brilliant dramatic actress, and she's so good at comedy."
Those dual aspects were part of her from the beginning. Steenburgen studied with acting teacher Sanford Meisner in New York and co-founded an improvisational comedy troupe. Her career began as independent cinema was exploring social realism for a restless generation of directors. In 1977, while she was working in a crepe restaurant, Jack Nicholson — "who I do owe pretty much everything" — cast her in her first film, "Goin South." She portrayed frontierswoman Julia Tate who marries Nicholson's outlaw Henry Lloyd Moon to save him from the gallows.
Three years later, Jonathan Demme, an empathetic director whose work was coiled with moral equations, chose her for "Melvin and Howard." She would work with Demme again as Belinda Conine, an emotionally conflicted corporate lawyer cross-examining AIDS patient Andrew Beckett (Tom Hanks) in "Philadelphia." The film confronted civil rights, homosexuality and the HIV/AIDS crisis.
"He was very important to me," she said of Demme, who died last year. "It's a big loss."
Her new film, "Book Club," which opens Friday, is more light-hearted. The comedy which also stars Jane Fonda, Diane Keaton and Candice Bergen, traces the yearnings, sexual frustrations and professional and family pressures endured by older, successful women. The plot centers on a book club's fascination with E.L. James' "Fifty Shades of Grey." It's a buddy movie shot in soft light that aspires to comfort an older generation while informing the young that life's messiness and sublimities don't end at 40.
"The truth is," she said, "women our age are almost never in a movie together unless you're somebody's dottie old aunt or the embarrassing person at a wedding."
Those are hard images to square with the woman who, 25 years ago, played an unfulfilled housewife with a wandering eye who seduced Johnny Depp's titular character in "Gilbert Grape." Steenburgen paused. A workman passed through the garden, a bird cawed from the shade and flew away.
"I don't know what it is society expects from women my age," she said. "I'm 65 years old. When I was in my 30s, I assumed that I would never be working. I didn't have enough examples of older women working in Hollywood. It was thrilling when Jessica Tandy did 'Driving Miss Daisy.' But there were so many people who got to a certain age, and the business forgot them or had to be reminded that there is such a thing as people who committed the sin of growing older. I expected it (work) not to exist for me, but it's not been that way at all."
The air these days, though, is charged with recrimination. The #MeToo movement and the sexual allegations against Harvey Weinstein and other once-powerful Hollywood men have forced a reckoning, but also a deeper examination of the sexual harassment, discrimination and complicity women and girls from all walks of life have endured for generations.
"I have my injurious experiences that I may someday write about. But they are not connected to Hollywood," said Steenburgen, who is close friends with fellow Razorbacks Bill and Hillary Clinton. "Part of the beauty of women sharing their stories is hopefully young women coming up don't think that the ticket to success is satisfying a monster. It was a failure of all of us, society and certainly of the business that looked too much the other way. Harvey [Weinstein] was really propped up by a lot of people. That's heartbreaking."
Steenburgen has a fierce sense of loyalty. When she spoke of Nicholson, Demme, her children and her 23 year marriage to Danson, it was of a woman holding close all that has enriched her, as if she was sitting on a farmhouse porch, looking across the evening fields to those heading toward her. After mainstream success in films such as "Back to the Future III," she retracted a bit from Hollywood — taking smaller parts in movies and television that mattered to her — and moved to Ojai to raise four children: two from her earlier marriage to Malcolm McDowell, whom she starred with in the thriller "Time After Time," and two from Danson's previous marriage.
"Those years were hilarious, delicious and hard," said Steenburgen. "When I look back, I feel pretty proud about that. The career had to roll with the punches. I have no interest in going for months away from my husband. I don't. Why would I? I might miss something. He's really fun. Sometimes, it is like watching a party through a window. Have I experienced that? Yes. But most of the time I'm grateful for the pj's I'm in."
"Mary is an incredibly versatile actor," said Bill Holderman, director of "Book Club." "But given all of that history and being in the business as long as she has, she's still one of the most genuine human beings. She's a gracious and giving soul. That helped set a tone of our film." He added: "Hollywood is so cynical, particularly when it comes to relationships. But every so often, Ted Danson would come by set with their dog just to visit and say hi or have lunch with Mary. It's not for show. They have this beautiful connection."
Steenburgen revels in small-talk in the make-up trailer, the camaraderie of working on a series and the way the sky looks at 4:30 a.m. on the way to a set. She also travels often to Nashville, where in recent years she has been writing songs and playing the accordion. A muse was stirred a decade ago after she underwent anesthesia for a minor operation. She said she woke up and heard music, as if a physiological change had sparked something that was always there but not heard.
"It's the musical weirdness in the life," said Steenburgen, whose accordion, which she plays on "The Last Man on Earth," sat by a piano in her living room. "Synapses were opened. I'm not saying the heavens opened up and I'm hearing choirs. I'm not nuts. I got a part of me that was there, but I didn't grow up with it. I'm not a talented musician, but I'm an obsessed one."
Wind rattled her door; she rose to fix a tilted plant. The sun shone bright in the glass house, warming two leather chairs and old brown covered books. She was in no hurry, enjoying going back, finding glimmers in the recesses. She was reflecting on the Arkansas of her youth, growing up in a state at the center of racism and school desegregation battles, and how she looked at a black girl's skin and thought it exotic and how her parents and her church, Disciples of Christ, taught her what she needed to know.
"My knowledge of Jesus as a child was absolutely equal to my knowledge of the concept of tolerance," she said. "It was born in my house and in my church."
And how, in the home of a train conductor and a secretary, she learned early to act, keeping quiet, being good and playing make-believe so as to keep her father, who suffered a string of heart attacks, rested and alive. If he had a setback, she blamed herself. "Imaginary worlds were very important to me. They were my abiding places." She liked to make her father laugh, especially when he shook silently and his eyes teared. "That's when you knew it was really funny," she said.
There was the time in the dark when she and her mother, "a dreamy steel magnolia," drove her father to the railroad yard. She knew its tracks, rust and big, creaking silhouettes. The car stopped. When her father got out, in that disappearing seam between night and day, he climbed atop a boxcar and waved to her, dawn rising around him. Like someone newborn. It was the kind of moment that leaves a mark, the kind you take with you, just like your father's conductor hat, its brim still shiny, that you keep by the front door.
See the most-read stories this hour »
Twitter: @JeffreyLAT
ALSO:
Rage and wonder in 1968: The year war came through the TV and I felt pieces of childhood ending
Czech-born director Milos Forman understood the American experience
Get the Indie Focus newsletter, Mark Olsen's weekly guide to the world of cinema.
You may occasionally receive promotional content from the Los Angeles Times.