With '20th Century Women,' Mike Mills drafts a portrait of people, a time and a place
Music, clothes, movies, haircuts and books may be among the outward signifiers of personal identity, the things that people use to both discover and display who they want to be. Then there are also the people who first point us to those things, the cultural guides we encounter along our way. The new film "20th Century Women" is a look at the impact a small group of people have on one another in a specific time and place and the things, experiences and emotions they share.
Set in Santa Barbara in the late 1970s, the story focuses on Dorothea Fields (Annette Bening), a single mother in her mid-50s. To help her in raising her teenage son Jamie (Lucas Jade Zumann), she enlists Abbie (Greta Gerwig), a photographer renting a room in their house, and Julie (Elle Fanning), a too-worldly too-soon young neighbor. Another boarder, William (Billy Crudup), is a lost soul left adrift by unfulfilled promises of the 1960s counterculture.
"To me the film is three portraits of the women, seen by the boy but also seen by the women themselves," writer-director Mike Mills said recently, sitting for a conversation in Los Angeles along with Bening and Gerwig. "I think what I'm really interested in is how our ideas of ourselves, even our ideas of love or who we are, our innermost ideas of ourselves, are still shaped by society and history and the things around us and our relationship to American consumer society. I'm endlessly fascinated by that."
Mills, 50, himself grew up in Santa Barbara, and though Bening's character is rooted in Mills' own mother, who died in 1999, the film is not tied entirely to the point of view of the young boy. Rather, Mills creates a prismatic, multi-generational look at the women in Jamie's life, their own various stages of self-discovery and identity and how that affects Jamie's own development. If that sounds like a therapy session, indeed, there's some of that too.
The film is a continuation of the storytelling style that Mills first explored in his 2010 film "Beginners," which was based on Mills' father coming out as gay in his 70s. Mills again uses a discursive essay form that includes biographical segments to fill in the characters' backgrounds or, in one of the film's emotional high points, stopping to take in a group of people gathered around a television set to listen to what would become known as President Carter's "Crisis of Confidence" speech.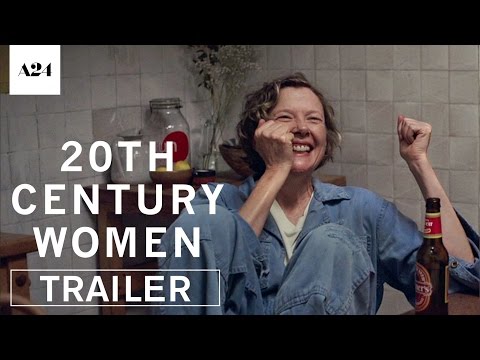 "Beginners" netted Christopher Plummer a supporting actor Oscar for the role based on Mills' father. Among the recognition for Bening's performance in "20th Century Women" so far have been nominations for a Golden Globe, a Gotham Award and a Spirit Award. (Mills was also nominated for a Spirit Award for screenplay and the movie was nominated in the musical or comedy category at the Globes.)
Mills' interest in cultural objects and how they fit into peoples' lives may be traced back to his training as a graphic designer or his work also as a director of commercials and music videos. Mills also stated that the confusion of not knowing exactly what he was looking for, the asking of questions being as important as the finding of answers, partly led to his unusual way of making films.
"Since Mike approaches it the way that he does, you're living in a question, you're living in a state of confusion and there is something very important about that," said Bening, 58. "It's not like you're trying to get to a place where you feel settled and 'I know what this is.' It's the opposite, it's being in a place of searching and being able to tolerate that."
Gerwig's character, Abbie, is based in part on Mills' older sister who, like the character in the movie, moved away to New York for a time and was diagnosed with cervical cancer at a young age. Gerwig interviewed her as part of her own research and the things she discovered were then filtered back into the story.
To me the film is three portraits of the women, seen by the boy but also seen by the women themselves.
— writer-director Mike Mills
"They talked about a lot more sexual stuff than an older sister talks about with her younger brother," said Mills. "So there's a whole part about her time in New York and how she figured out how to make men nervous and excited, how angry she was, how fun it was to find her sexuality and form a different part of herself. Greta told me about that, about my sister."
As young Jamie is given a cultural education by Abbie, Dorothea tries to be open to his new worlds too -- she earnestly tries to engage with music by the Raincoats, Black Flag and Talking Heads. At the same time, Abbie is herself exploring new ideas and ways of thinking.
While shooting the movie, Gerwig toted around a copy of Susan Sontag's book "On Photography" or the '70s feminist essay anthology "Sisterhood Is Powerful."
"I think what I was trying to do was almost hypnotize myself into a feeling of, I never lived in a world before the Talking Heads or before 'On Photography' or before the way that we look at art now," Gerwig, 33, said, "and I was trying to hypnotize myself into thinking, 'What if this was brand new, what if this was a new way of looking at the world?'
"I grew up with feminism in the water in a different way," Gerwig continued. "And I think that naiveté was the way I was trying to experience it and this idea of all of these ideas and roles and expectations being exploded in front of you."
As the film's youngest female character, Fanning's Julie is the one closest in age to Jamie but her experiences in the world are well advanced from his. To prepare Fanning for the role, Mills gave her a tattered vintage copy of M. Scott Peck's "The Road Less Traveled," a popular psychology book from the '70s, and asked her to describe it to him in her own words. Some of those conversations made their way into the film.
Fanning admitted that when she first read the script she didn't see much of herself in a character with such an elusive relationship with the truth, but has since realized she is more like her than she thought. As part of rehearsal, Mills had Fanning play the game "Two Truths and a Lie," in which people try to guess what one of three things someone is lying about, with her costars. Turns out a young woman who has been acting most of her life makes for a convincing liar.
"Mike and I talked about this, how the teenage years, a lot of it is manipulation," Fanning, 18, said on the phone from the Louisiana set of Sofia Coppola's upcoming movie "The Beguiled." "You're trying to manipulate the system; that's a way to rebel when you're in school, whether it's with teachers or parents or friends. When you're a teenager you have to figure out a way to pave your own path."
Mills' movie makes a path of its own too, an idiosyncratic combination of mixing his own personal experiences and emotions with larger mysteries to transform the film into an act of exploration, almost a form of cultural anthropology. It may not be an examination of every woman who fits under the title, but as a portrait of three specific women who lived in a specific place in a specific moment, "20th Century Women" feels complete.
"I feel like my best chance to make a good movie is to make a movie from this position of something I have closely observed and closely felt and feel deeply in love with and confused by," said Mills. "That's the sweet spot."
SIGN UP for the free Indie Focus movies newsletter »
Follow on Twitter: @IndieFocus
Also
Carrie Fisher's death came in the middle of a busy, creative period
Human connections and telling new stories motivate these actresses
From franchises to gentle lyricism, these leading men share insights into filmmaking
Get the Indie Focus newsletter, Mark Olsen's weekly guide to the world of cinema.
You may occasionally receive promotional content from the Los Angeles Times.