Jessica Biel doesn't care if you call her snotty for her kid-friendly restaurant Au Fudge
It was the chicken nuggets that did her in. Or was it the cheese pizza? She can't remember, but anyway: It was all gross, the food at this kid birthday party. And her son had severe allergies, so he couldn't eat any of it.
"I was devastated," recalled Estee Stanley, a celebrity fashion stylist and interior designer. "That's all they're giving me for an option? In this Whole Foods generation of humans? I almost had a panic attack. I was like, 'I can't do this. This is terrible.' It's not nutritious. It's not healthy. It's kids running around like lunatics."
She went to one of her closest friends, Kimberly Muller, to vent. She knew that Muller, a children's book author, also loathed so-called kid-friendly restaurants and preferred to meet fellow moms at Bouchon, Thomas Keller's pricey French restaurant and watch her kids frolic in the adjacent Beverly Cañon Gardens.
"At every place associated with kids, the kids were happy and the parents were miserable," said Muller. "What we were looking for was a place that didn't exist."
And so they turned to Jessica Biel. The actress has been toying around with healthful baking for a few years, incorporating vegetables into recipes, trying to make tasty vegan options. Her creations were delicious but looked dreadful, so she considered starting a business called "The Ugly Cake Company."
Instead, she joined forces with Stanley and Muller to create Au Fudge, a restaurant where the food — even the grass-fed beef burger and baked mac and cheese — is organic, all-natural and dye-free. With an Anthropologie-furnished creative space where kids can play under the supervision of au pairs employed by the restaurant. And whimsical touches, like an indoor treehouse and a bookshelf that has a secret door. Plus a marketplace filled with bespoke candy necklaces from Paris and flower petal confetti.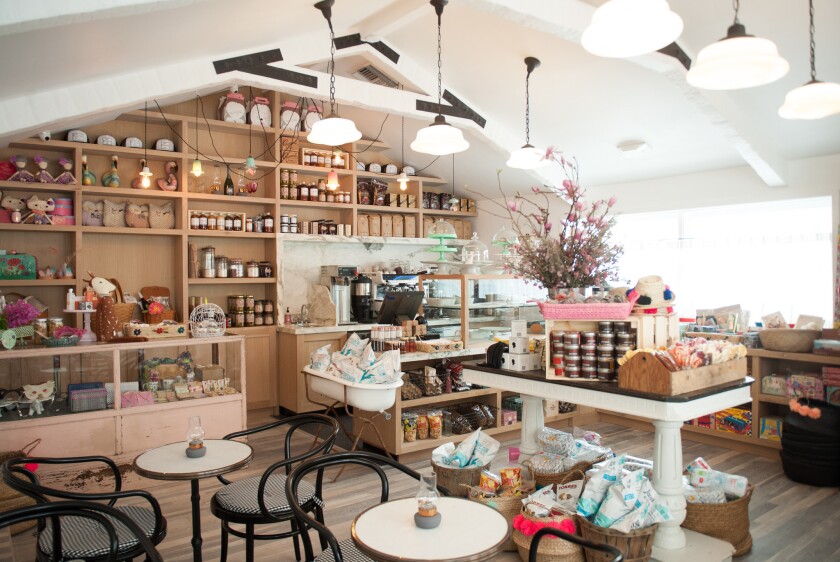 Biel is the latest actress to pursue a business endeavor outside of Hollywood after becoming a mother. (She has a 10-month old son with husband Justin Timberlake.) Gwyneth Paltrow, whose lifestyle brand Goop recently launched its own line of beauty products, said this month on the "Today" show that she is taking a break from acting because she felt a financial responsibility to her Goop investors to focus on the company. Drew Barrymore, who also has her own cosmetics line, has said that her acting roles will be "few and far between" until her two daughters are older. And the Honest Company co-founder Jessica Alba, whose nontoxic household goods brand is now valued at more than $1 billion, is so busy running her business she hasn't had a major role in a film since 2014.
There are of course business-minded actresses with young children who are starring in movies, including Reese Witherspoon and Kate Hudson. Biel, who rose to fame on the WB show "7th Heaven," said she intends to follow that track. Though she took the majority of last year off from acting to focus on raising her baby, she has three films in production for 2016, including "The Devil and the Deep Blue Sea," which premieres in April at the Tribeca Film Festival.
Stanley, who has long dressed Biel for the red carpet and also designed the interior of her home, initially thought the actress might be interested in providing the baked goods for Au Fudge.
"But I'm not a baker, really. I have no clue what I'm doing," said Biel. "So I put my focus toward helping be a part of the nutritional stuff … here. I want this to be like our version of 'Cheers.' We want a local spot."
Before Au Fudge opened this month, Biel was with Stanley and Muller at one of the restaurant's corner tables. They had coordinated their outfits: three gauzy pastel floral ensembles that made them look like the sisters in "The Virgin Suicides."
"We're wearing Zimmermann," Stanley said, referring to the Australian designer. "Will you be sure to say we were wearing Zimmermann?"
When news of Au Fudge first leaked in 2014, the press wasn't exactly kind. Page Six described the project as an elitist "Soho House for kids," a place where "A-listers would feel comfortable bringing their kids."
And in fact, special measures have been put into place for celebs like Emily Blunt, Rachel Zoe and Lea Michele, who have already visited the venue, which is on a trendy stretch of Melrose Avenue in West Hollywood. Because of its location right near the paparazzi hot spot Craig's, Au Fudge is attracting star onlookers. So the restaurant's main dining room has curtains that can be pulled when necessary, and the patio has large shutters that will close if shutterbugs get too close.
But unlike the Soho House, Au Fudge is open to the public. There is no membership fee, though leaving your child with an au pair for two hours does cost $15. Still, Biel seems defensive about the idea that the restaurant is uppity.
"You can call me snotty. You can call me elitist. Whatever you want," said Biel. "We are providing a space where you can eat and be comfortable and confident that your children are not being pumped full of hormones and chemicals. You can come here and know that it's safe for your kid to crawl on the floor because what we're cleaning the floor with is safe. You can come in here and know we are doing everything we can to be sustainable in terms of our energy and our waste. And if we're snot faces or elitists for that, I think we're OK with that."
It's important that Au Fudge be viewed as more than an only-in-L.A. vanity project for financial reasons too. Biel views the idea as a long-term play — the kind of place that could have locations nationwide — which is why she brought in partners Jonathan Rollo and Joey Gonzalez. Rollo is the founder of Greenleaf Gourmet Chopshop, while Gonzalez is the CEO of Barry's Bootcamp; they are also a married couple. (Australia-based Monica Saunders-Weinberg, co-chairman of Terrace Tower, is also a partner in the restaurant.)
"We want to make this part of the country's community," Biel said. "This should be in places where families are going all the time. Like airports!"
"I think everyone is starting to understand that you get what you pay for," added Rollo, who had joined the conversation midway. "When you can establish yourself as a trustworthy brand — which is what we are doing — people will be more accepting of the price. We're not here to gouge people. We are not looking to pay this back in six months. The idea is not to be just a small, one-off anything. This is a long-term play for us."
"You can find me at the one in Italy or the Hamps," joked Stanley, referring to the Hamptons. (Rollo says he's already fielding requests to open locations in London and Dubai.)
To start the brand extension, Muller has written a children's book called "The Story of Au Fudge," which incorporates characters, including a unicorn named Creme Brulee, that are represented by faux taxidermy heads (from Paris, where else?) mounted on the restaurant walls.
Other touches include an old-timey photo booth and arcade games. Special craft kits let kids make kaleidoscopes, snow globes or kites.
"Aesthetically beautiful arts and crafts projects that you'd actually want to hang on your wall," explained Muller. "And we'll have classes too. During dinner, maybe the kids are making bread and the au pairs will put it in the oven so when you leave, you're leaving with fresh bread for the morning."
"It's called a creative space for a reason," added Stanley, who said they'd received more than 1,100 resumes for the au pair positions. "There's not like a plastic ball thing and jungle gyms. That creates children to be loud, and we didn't create that space for that to happen."
Twitter: @AmyKinLA
ALSO:
Justin Timberlake, Jessica Biel introduce son Silas, a Grizzlies fan
Jessica Biel makes first post-baby appearance, to support her brother
Forget the messy dyes: 7 unique ways to decorate your Easter eggs
Hillary Clinton gets mansplained by Jimmy Kimmel
Garry Shandling dies at 66; comedian's influential career spanned decades
You can get tattoos and photocopies in the Los Feliz building where Walt Disney once made magic
---
Get the Indie Focus newsletter, Mark Olsen's weekly guide to the world of cinema.
You may occasionally receive promotional content from the Los Angeles Times.