Park Chan-wook returns with 'The Handmaiden,' an erotic romance, con-artist story and period piece
"The Handmaiden" may be one of the best movie bargains of the year. The latest from acclaimed South Korean filmmaker Park Chan-wook, the film packs in more plot twists, story turns and character shifts than a season of "Scandal." An erotic lesbian romance, a scheming con-artist story and a period drama, with much of the story taking place within the confines of a dazzling mansion with surprises of its own — the film continually reorients itself, refusing to the very end to show all its cards.
In the film a young pickpocket named Sookee (Kim Tae-ri) is sent to work as the handmaiden to an heiress, Hideko (Kim Min-hee), on the secluded estate where she lives with her Uncle Kouzuki (Cho Jin-woong). Sookee is secretly in league with a swindler known as the Count (Ha Jung-woo) in a plan to steal Hideko's fortune. That is until Sookee and Hideko begin to have deeper feelings for each other and the scheme becomes more complicated.
Despite its running time of almost 2½ hours, "The Handmaiden" is not a movie for catching a nap. The film's surprises — not to mention some of the most explicit and intense sex scenes since "Blue Is the Warmest Color" — should be more than enough to keep viewers awake and engaged. It was that possibility for inventive storytelling presented by adapting Sarah Waters' 2002 novel "Fingersmith" that most excited Park.
"That's the exact kind of fun to be had with this film and the reason why I chose to make this film," said Park during a recent interview in Los Angeles via a translator. "Everything becomes a game of perception. Rather than to say it's a difficult thing to navigate, it is fun to deal with. Not only for me as a filmmaker but for the audience to see that and engage in that game."
Park has long been a favorite of the international genre film scene, hopping from one style to another from his emergence with the 2000 action-thriller "Joint Security Area" on to his revenge trilogy — 2002's "Sympathy for Mr. Vengeance," 2003's "Old Boy" and 2005's "Lady Vengeance." After his 2006 romantic comedy "I'm a Cyborg, But That's OK" and 2009's vampire-horror movie "Thirst," Park made his English-language debut with "Stoker" in 2013, a Hitchcock-style thriller of family dynamics starring Nicole Kidman, Mia Wasikowska and Matthew Goode.
Because of his prominence on the international scene, Park's return to filmmaking in Korea was met with great expectation, in particular once the film was chosen to play in the main competition at this year's Cannes Film Festival, where Park has previously won multiple awards.
If you look at all of my films, at the core of it, there is this idea of romance and love.
— Park Chan-wook
Waters' novel had already been adapted into a 2005 BBC miniseries starring Sally Hawkins that retained the book's setting in Victorian-era England. For Park, moving to Japanese-occupied Korea in the 1930s opened the story up. Differences in language — both Japanese and Korean are spoken in the film — only highlighted the conflicting cultural impulses of the period.
"It was adding one more obstacle for our characters," said Park. "And it added another layer to the villain, Uncle Kouzuki. Not only was he a sexually depraved man, perverted and oppressive, he's a product of when there were these Japanese sympathizers or colonial lackeys."
When it came to casting the film, performers Kim Min-hee, Ha Jung-woo and Cho Jin-woong are all established stars in South Korea. Park wanted a discovery for the role of Sookee, so after an extensive search he cast Kim Tae-ri in her feature film debut.
"That's the reason I liked the screenplay so much," said Kim, also speaking through a translator while sitting alongside Park. "It doesn't feel like any of the characters are just used up and discarded. It doesn't seem like any of the characters are exploited in any way. It's how I felt the screenplay is different from other screenplays. There are no little characters. They are all very vivid and alive and stay in your imagination."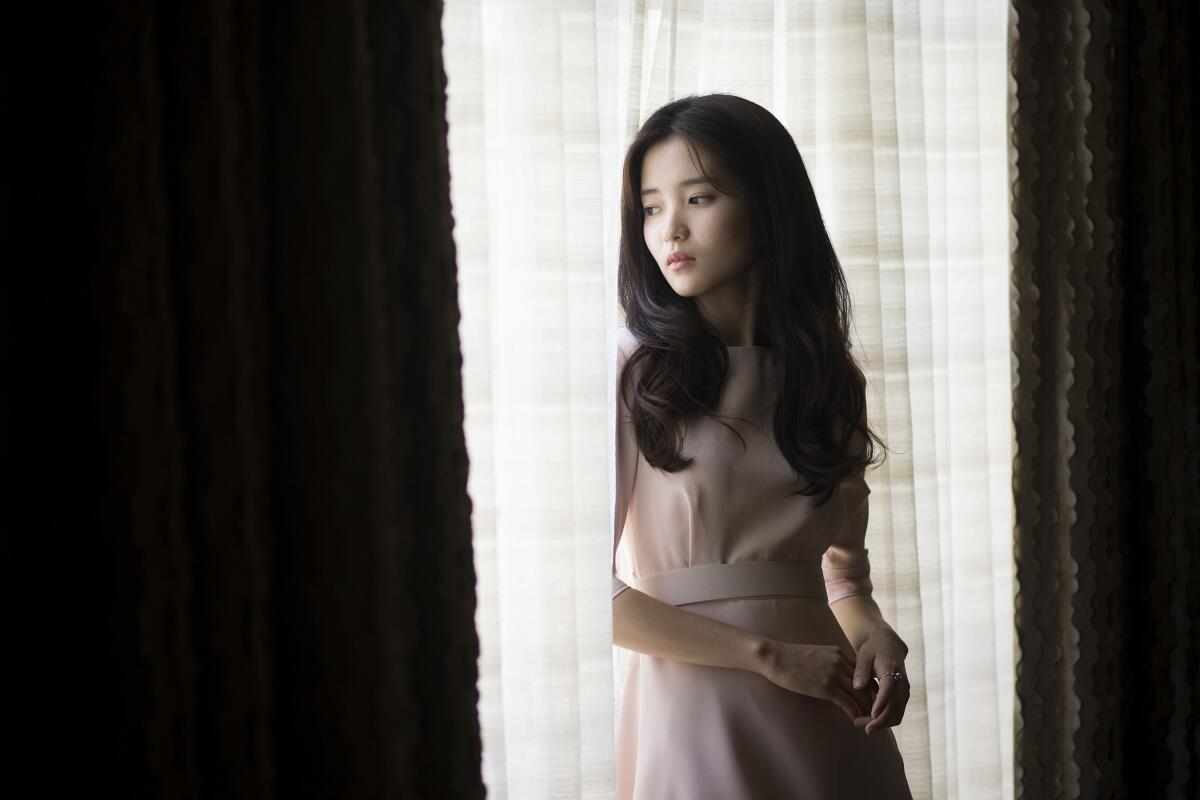 For her part, Kim was not put off by the love scenes in the film. In fact, she joked, the thing she most struggled with in making the movie was learning to swear in Japanese.
"I had read the script, so of course I knew what the role entailed," said Kim of the most explicit scenes. "In preparing for the role, becoming familiar with the emotional through-line of the character, I became convinced it was something that was absolutely necessary."
Rather than objectifying women in sex scenes, we need to move away from that.
— Park Chan-wook
For Park, there was something of a challenge in creating an air of true sensuality and erotic charge not only to the sex scenes, which become pivotal character moments for Sookee and Hideko. There are also scenes rooted in a sense of tactile restraint, of fingers lacing a corset or the soothing of an aching tooth.
"It's the time we live in, where you find sex so easily online, so you have to become more creative with sex scenes in movies," said Park. "And it's a filmmaker's job to come up with sex scenes that are even more close to the narrative and the characters. Just to show sex and sexual acts, you can't beat all the sex videos out there. Rather than objectifying women in sex scenes, we need to move away from that."
Park's English-language debut with "Stoker" had a similar atmosphere of hothouse sensuality, yet the filmmaker said most of what he learned from the experience of making that film had to do with practicalities of production, which helped him shoot "The Handmaiden" more quickly than initially planned.
And while he does not have anything he can talk about yet, he does have a number of English-language projects in development and hopes to move back-and-forth between making films in Korean and English.
But more than anything, he is pleased that the positive reception to "The Handmaiden" means that audiences that have long thought of him for the raw violence of something like "Old Boy" may at last see the soft heart that he feels beats through all of his films.
"Including 'Old Boy,' if you look at all of my films, at the core of it, there is this idea of romance and love," said Park. "But because violence is such a scintillating element, it hides everything else in its shadow. I'm glad that through this film I'm able to finally reveal my true subject of interest."
SIGN UP for the free Indie Focus movies newsletter »
Follow on Twitter: @IndieFocus
Also:
Beyond Fest blends classics like '2001' and 'Taxi Driver' with new films like 'The Bad Batch' and 'Raw'
'American Honey' weaves an ode to the road with Shia LeBeouf, Riley Keough and Sasha Lane
In 'Queen of Katwe,' Mira Nair considers chess, poverty and the vibrancy of life
Get our L.A. Goes Out newsletter, with the week's best events, to help you explore and experience our city.
You may occasionally receive promotional content from the Los Angeles Times.