In 'Queen of Katwe,' Mira Nair considers chess, poverty and the vibrancy of life
A mix of old-fashioned Hollywood optimism with an unblinking view of contemporary struggles, the new film "Queen of Katwe" is an upbeat tale from an impoverished place. With its Disney imprint, African locations, stars Lupita Nyong'o and David Oyelowo and lack of any major roles for white performers – there are no white saviors here – the film is quietly radical.
The same might be said of its director, Mira Nair. The Indian-born filmmaker saw her debut fiction feature, 1988's "Salaam Bombay," nominated for the foreign language Academy Award, and ever since, in films such as 1991's "Mississippi Masala," 2001's "Monsoon Wedding," 2006's "The Namesake" and 2012's "The Reluctant Fundamentalist," she has continued to explore issues of a world in flux, making films steeped in diversity and issues of representation long before those became industry watchwords.
In introducing the recent world premiere of "Queen of Katwe" at the Toronto International Film Festival, the festival's artistic director, Cameron Bailey said, "I think the film world and maybe the world generally is catching up with the stories she's been telling."
He added, "Mira Nair's time is now."
SIGN UP for the free Indie Focus movies newsletter »
Based in the true story of young Ugandan chess champion Phiona Mutesi (played by Madina Nalwanga in her screen debut), "Queen of Katwe" traces the way a young girl from the shantytown of Katwe discovers she has extraordinary abilities at the game. Under the watchful eye of her skeptical mother (Nyong'o in her first live-action role since winning the Oscar for "12 Years a Slave") and the coach who discovered her (Oyelowo), Mutesi learns to nurture and elevate her talent.
"I feel like my work is to make this world, to make these worlds," Nair, 58, said in an interview a few days later in a Toronto hotel conference room. While empty but for a pair of chairs and a small table, the room was nevertheless filled by Nair's bright, warm presence. "Phiona told me when she was teaching me chess, 'You must consider the other side of the table.'"
She paused for a moment, for herself as much as the reporter she was talking to, letting the idea ripple from Mutesi's chessboard to a broader worldview that could be read across Nair's work.
"You have to consider the other side," she restated.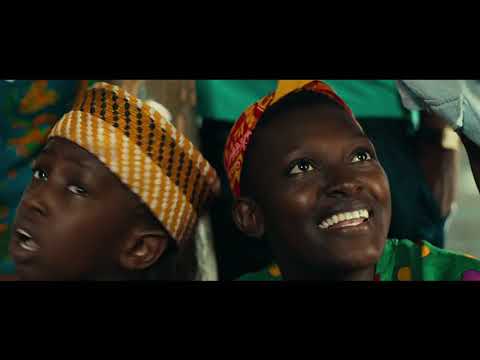 Watch the trailer for Disney's "Queen of Katwe."
Nair has a home in Kampala, Uganda, just a short way from Katwe. She first went to Uganda in 1989 while doing research for what would become her film "Mississippi Masala." As the country was beginning to rebuild after years of civil war, she was surprised by what she found there, not least in meeting Mahmood Mamdani, now her husband of 25 years. Mamdani is a professor at Columbia University in New York, where Nair has also taught, and at Makerere University in Kampala. He and Nair split their time between the cities.
In 2005, Nair started a film school, the Maisha Film Lab in Kampala. The school was a response to the disparity between the images she saw of Africa on film and the reality of her life in Kampala.
"Because I had one foot in Hollywood, somehow, if there were any films at all based in Africa they would usually come my way," she said. "And I would read these stories about a white woman having her neuroses in this faceless country with a sculptural warrior on the horizon and no one has a name and no one has a line. It's just about other people's lives set against the backdrop of Africa. And I got sick of all that, and thought, if we don't tell our own stories, really, no one will tell them."
If we don't tell our own stories, really, no one will tell them.
— Mira Nair, director of "Queen of Katwe"
Nair refers to her 2009 Amelia Earhart biopic "Amelia" starring Hilary Swank as her "only folly" for what she says was studio interference. So she was initially reluctant when she first heard of Mutesi's story from Tendo Nagenda, currently executive vice president of production at Walt Disney Studios and with family roots in Uganda.
"That was the absolutely unique and wonderful blessing of 'Queen of Katwe,' despite it being for Disney," Nair said. "Firstly that a major Hollywood studio comes to my home and offers me a film about something down the street is just too ironic.
"But the remarkable thing was, they not only inspired my sensibility, but they embraced it and they loved it," she said of the studio. "They loved the fact it was not sanitized, it was not cleaned up, it was visceral, stylish, like Kampala is, not just for its own sake. They trusted the truth of it, I think. And that is cool. It's not that I expected despair, but I did not expect that kind of respect."
In adapting Tim Crothers' initial article and book on Mutesi, Nair reached out to screenwriter William Wheeler, who worked with her on "The Reluctant Fundamentalist," to write the screenplay for "Queen of Katwe." Wheeler came to Kampala to meet and interview all the principal figures, and he and Nair approached the story as, in essence, a boxing film, with the chess matches punctuating the story of Mutesi and her struggles.
"What usually happens with Mira and I is I'm eager to make sure that the story functions in its genre capacities first," Wheeler said. "And for Mira it was about reminding me that thinking can lead to very linear solutions.
"So I think it was nice to try to meet in the middle," he added. "She definitely got me more interested in the family relationships, and I think I might have gotten her more interested in what can be a really satisfying genre film. If you could get people cheering à la 'Rocky' for an 11-year-old girl who was winning a chess tournament, that was worth trying to do."
Nair also made a short film in 2014 about Mutesi's coach, Robert Katende, called "A Fork, a Spoon and a Knight" that helped give Disney execs a glimpse of how she wanted to portray life in Katwe.
"We are not about suffering and despair," said Nair, "but it comes from a kind of vibrancy of how to live that is imbued in our character and imbued in how we actually live there. I think that became key to having them greenlight the film."
Nair's ability to balance the tough stuff with a lighter view of the world, as well as the film's unflinching portrait of struggle and triumph and its emphasis on telling an African story with performers with African ties help to make "Queen of Katwe" a feel-good movie you can feel good about enjoying.
"I don't like to sit in a harangue for two hours," said Nair. "I like to make movies that have you go on a journey. Like an accordion, they are expansive and then squeeze your heart and then let you go."
Follow on Twitter: @IndieFocus
ALSO
How 'The Bad Batch' director Ana Lily Amirpour found out she was invited to the Academy
James L. Brooks and Kelly Fremon Craig look to 'pay respect to the messiness' of adolescence with 'The Edge of Seventeen'
Get the Indie Focus newsletter, Mark Olsen's weekly guide to the world of cinema.
You may occasionally receive promotional content from the Los Angeles Times.