Why Clea DuVall cast Melanie Lynskey and other pals in her directorial debut 'The Intervention'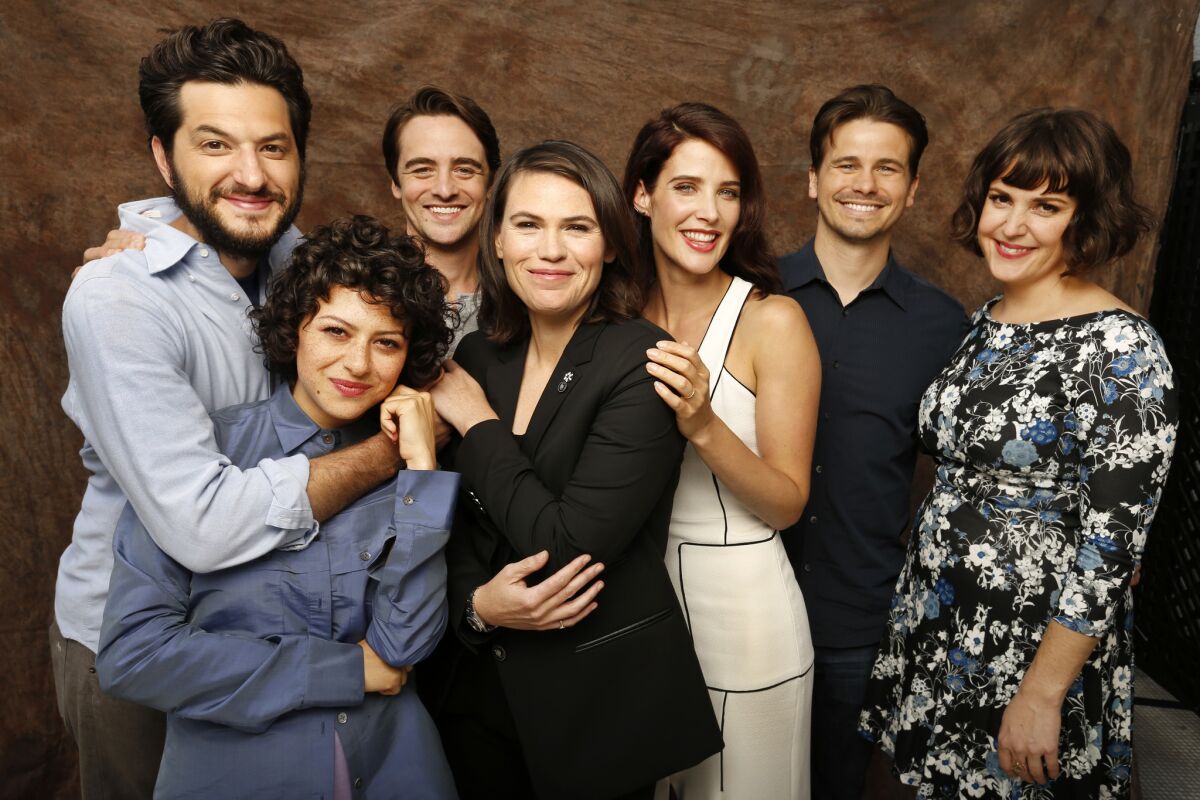 A movie that proved to have unexpected therapeutic value, and one that involved a bit of therapy to get made, "The Intervention" is an ensemble comedy about friendship and coupledom and the work required to make both flourish. And it also found unlikely benefits from a broken leg.
The film was rooted in multiple instincts. The debut as writer-director for actress Clea DuVall, known for roles in films such as "Girl, Interrupted" and "Argo" and seen on the most recent season of TV's "Veep," she wanted to create an ensemble piece that would invoke the same feelings she remembered from watching "The Big Chill" when she was younger. The 38-year-old also wanted to write a comedic role for her close friend, actress Melanie Lynskey.

For the record:
3:00 p.m. Aug. 18, 2016
In a photo caption accompanying an earlier version of this article, the names of Vincent Piazza and Jason Ritter were reversed.
When the movie premiered earlier this year at the Sundance Film Festival it garnered a special jury prize for Lynskey's performance. As it turned out, Lynskey's role of Annie, a busybody with an answer for everything except her own problems, was actually an unintentional act of self-examination about DuVall's inclination to judge the flaws in other people.
"I didn't realize it until we were at Sundance and doing interviews and I had this revelation, 'You know what, I think I'm a lot like Annie,'" said DuVall. "And Melanie was like, 'Yeah, you're exactly like that.' And I didn't know.
"I think because I always imagined Melanie, and wrote it for her, I was trying to write at things I thought she would be great at doing," she aded. "I wasn't thinking of myself. But it's hard for us to see ourselves. Unless someone is holding the mirror up. And I guess I was holding the mirror up to myself and just didn't notice."
In the film, which opens in Los Angeles on Aug. 26, four couples come together for a getaway weekend at a family summer home with the not-so-secret motive of intervening in the crumbling marriage of Ruby and Peter (Cobie Smulders and Vincent Piazza). Annie (Lynskey) seems to be orchestrating the whole thing in part to avoid planning her wedding to longtime fiancé Matt (Jason Rittter). Meanwhile, Jessie (DuVall) is anxious over whether to move in with her girlfriend, Sarah (Natasha Lyonne), while recently single Jack (Ben Schwartz) has arrived with the provocatively amorous Lola (Alia Shawkat), whose outsider status puts everyone on edge.
From the start of her career as a 16-year-old in Peter Jackson's "Heavenly Creatures," Lynskey has been in almost constant demand in both movie roles ("Up in the Air," "Win-Win") and TV (a long-running role in "Two and a Half Men," "Togetherness"). She's equally adept at comedy and drama, which was particularly useful for "The Intervention."
Lynskey, 39, read drafts of the screenplay over the few years that DuVall was writing and rewriting them, well aware that the part of Annie was being written for her. Yet before making the film Lynskey needed a final consultation.
"I knew I had to do it. She wrote a movie for me. There was no option," said Lynskey. "But I just talked to my therapist about how we could communicate without ending our friendship. I had three sessions about it. I was so nervous because I can get a little bit feisty at work. I can get very protective.
"And I know Clea," Lynskey added. "If you're going to lunch with Clea, the plan is so specific, 'I will pick you up at 11:45, we will stop at this store and look around for 10 minutes.' So I was like 'Clea as a director is going to be a challenge for me.' And so I was really happy that I went to therapy about it."
Additionally Lynskey and Ritter are a couple in real life and play a couple in the film, which could have potentially lead to conflict as well.
"Oh that's fine, he's so easy," Lynskey said. "He's not a problem."
In the film Smulders' character is on crutches with a broken leg, which adds an extra element of struggle to nearly every scene as she tries to hold her marriage together. Smulders had in fact broken her leg just before beginning work on the movie.
"Apparently people think it was a choice, which is perfect," said Smulders.
When DuVall and the production were faced with this unusual circumstance, they realized there were three options: replace Smulders, shoot around her leg as if it was not broken or simply include the injury in the film.
"It added so much to her character, to her relationship with Vincent and just the dynamic to the group in general.," Duvall said. "I couldn't have written it much better. It's one of my favorite things about the movie, that she has this broken leg and the problems it represents and the comedy of it."
A scene in which Smulders' character is rejected by her husband when she attempts to seduce him one night in their bedroom is made all the more poignant by the added effort of her attempting to maneuver her way around their bed with her leg in a brace.
"The scene was as written, we just added the leg to it, which added more vulnerability to it," noted Smulders.
The film was shot in the summer of last year at a large home just outside Savannah, Ga., and the entire cast stayed within a short distance from each other, many sharing houses together. While some of the cast already knew each other — DuVall, Lynskey and Lyonne appeared together in the popular 1999 film "But I'm a Cheerleader," DuVall has been friends with Shawkat for the last few years — the rest of them fell together with ease.
Schwartz and Piazza recalled being given specific instructions on what snakes to look out for in the surrounding woods. Lynskey pitched in at one point by folding the caterers' laundry to clear out a dryer for someone else.
While everyone else was impressed by how handily DuVall shifted between acting in scenes and directing, the on-set dynamic between her and Lynskey had a special resonance.
"Well, because I had done so much therapy, it was fine," said Lynskey with a laugh. "The first couple of days we were really tip-toeing around each other, because she knows I can be difficult.
"But I felt that we developed a really good dynamic," she said. "She was able to ask for what she wanted and I was able to say what I felt."
DuVall did find the experience rewarding and is writing something else for herself to direct. And the process of making "The Intervention" did indeed prove personally helpful as well.
"I definitely have become less judge-y and I definitely have become more aware when I start to go in that direction," DuVall said. "To kind of pull back and look at people from a place of compassion and understanding and being in their shoes. Most of the time we can relate to other people if we try."
Follow on Twitter: @IndieFocus
Chris Pine and Jeff Bridges celebrate the 'cowboy poetry' of modern western 'Hell or High Water'
Ira Sachs' new film 'Little Men' mines big drama from seemingly small issues
From 'American Pie' to 'Orange Is the New Black' Natasha Lyonne plays the IMDB game
---
Get our L.A. Goes Out newsletter, with the week's best events, to help you explore and experience our city.
You may occasionally receive promotional content from the Los Angeles Times.