Far from home: European filmmakers set their sights on American stories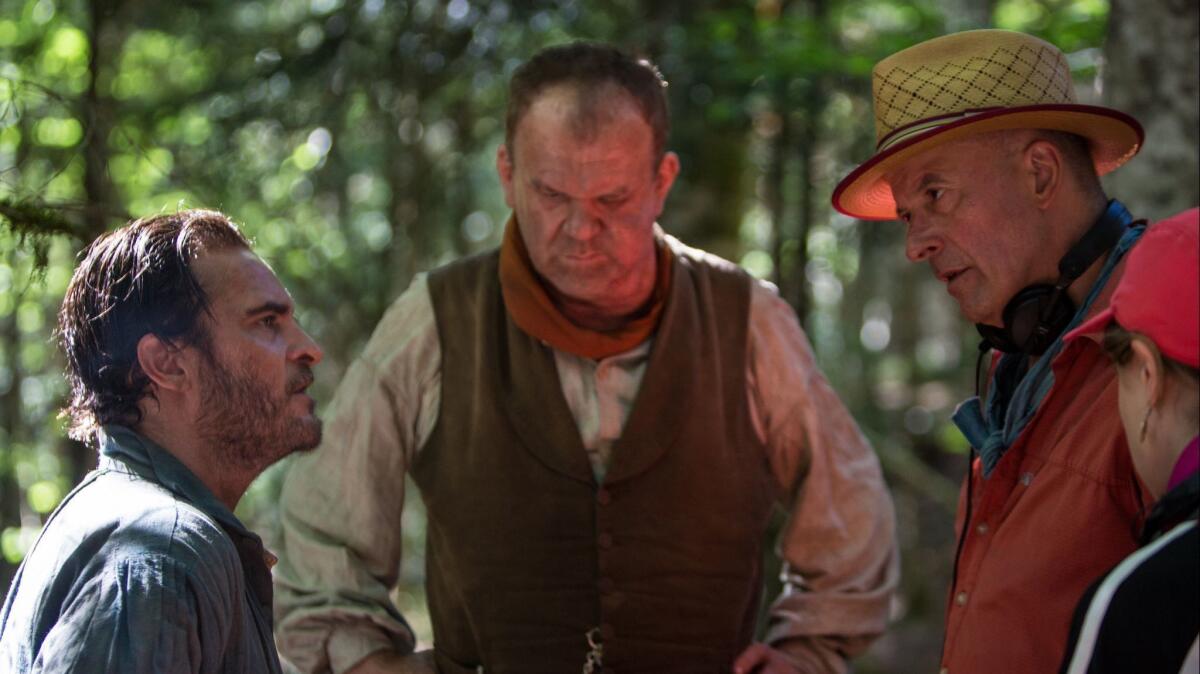 From Alfred Hitchcock to Steve McQueen, there's a long cinematic tradition of European directors crossing the pond to make films in or about America. This fall, three notable filmmakers will follow in their footsteps and release their first movies set in the United States.
London-based Yann Demange's "White Boy Rick" (Sept. 14) is a fact-based crime drama set in 1980s Detroit. Belgium's Felix Van Groeningen, working In English for the first time, has adapted two memoirs to craft the story of a family challenged by drug addiction in the Bay Area-set "Beautiful Boy" (Oct. 12). And France's Jacques Audiard, also working for the first time in English, spins an adventure story set in the Old West in "The Sisters Brothers" (Sept. 21).
Audiard is one of the France's best-known contemporary filmmakers. His 2009 film "A Prophet" was nominated for the foreign language Academy Award, while 2012's "Rust and Bone" was nominated for two Golden Globe awards. Audiard's 2015 film "Dheepan" won the prestigious Palme d'Or at the Cannes Film Festival.
His latest, adapted from the 2011 novel by Patrick deWitt, is about brothers Eli and Charlie Sisters, a pair of Wild West outlaws. They are sent on a mission to kill a man but soon discover he may have something more to offer them.
"I've never been obsessed with the idea of making a movie in the U.S.," Audiard said via email from France. "I've always been a little bit afraid of production constraints that could be imposed on me. I'm French, and the myth of the American production system swallowing up directors is very strong."
Though set in the iconic American West of the Gold Rush era, "The Sisters Brothers" was actually shot in Spain and Romania. Audiard says the production used some of the same locations and even sets from Sergio Leone's classic Westerns.
The location may have been closer to home, but Audiard specifically wanted to work with American actors. He cast John C. Reilly and Joaquin Phoenix as Eli and Charlie — "In their styles of acting, John and Joaquin are opposites, and that, without a doubt, was a reason to put them together," Audiard said — as well as Jake Gyllenhaal in a supporting role. (English-born Riz Ahmed rounds out the main cast.)
FULL COVERAGE: 2018 fall movie preview »
Born in France and raised in England, Demange gained acclaim for his 2014 feature "'71," set amidst the Troubles in Northern Ireland. The film's bracing blend of action and drama put him on the radar of Hollywood, and his name was frequently mentioned on a shortlist of possible directors for the James Bond franchise. (Talk that has recently resurfaced.)
Demange was on a break from shooting HBO's pilot "Lovecraft Country" a few hours north of Chicago, when he got on the phone to talk about "White Boy Rick."
"I wouldn't say it's my grand vision of America," Demange said. "But it was exploratory for me, dealing with shades of gray — the contradictions that people seem to live with comfortably here that for an outsider are perplexing."
The film is based on the real-life story of Ricky Wershe Jr., a Detroit teenager who became a drug dealer turned federal informant and wound up with a life prison sentence. For Demange, it was not the more obvious elements of the rise-and-fall gangster story that intrigued him but rather the simple human drama of a family struggling to hold it together.
"He wasn't what you wanted him to be, he wasn't a movie hero; he was this dumb kid who was a bit of a passenger, a victim," Demange said. "A lot of people project their own wants and needs onto him. That's part of what interested me; there's almost a banality to it."
To that end, he cast unknown Baltimore teenager Richie Merritt in the lead role. But casting, down to relatively small roles, was important, and the film is crammed with great actors. Oscar winner Matthew McConaughey disappears inside the pivotal role of Ricky's father, and the ensemble includes Bruce Dern, Piper Laurie, Jennifer Jason Leigh, Taylour Paige, Bel Powley, Eddie Marsan and Brian Tyree Henry.
Demange acknowledged that using an untested lead such as Merritt was a gamble, but one that both he and McConaughey saw as an exciting challenge.
"He doesn't emote the way a traditional performance would," said Demange. "But I felt that I would be living a bit of a lie if I came to Hollywood to make this story and then cast someone that has been in lots of great films and tried to give a transformative performance. It felt inauthentic to me. I thought, 'What if I take a Hollywood guy who might tend to be a bit heightened and put him with someone who just doesn't do that?' And Matthew was excited by that."
RELATED: Virtually every film coming out this fall »
Van Groeningen's previous movie, 2012's foreign language Oscar nominee "The Broken Circle Breakdown," dealt with a couple grappling through their daughter's illness while channeling their pain into a career as country and western singers.
Based on the memoirs of father and son David Sheff and Nic Sheff chronicling painful years of addiction, recovery and relapse, "Beautiful Boy" may be Van Groeningen's first film shot in America in English, but it is his sixth feature.
Each film has been a steady climb in ambitions and expectations, although he found the process of working with American producers — the film is produced by Plan B, the company behind films such as "Moonlight" — and casting Hollywood actors such as Steve Carell, Timothée Chalamet, Maura Tierney and Amy Ryan to be new experiences.
"In hindsight, the big difference is scale and everything leading up to making it," Van Groeningen said recently on the phone from Belgium. "But once you're making it, there's not that much difference. You gather people around you that feel like the right people to make this with … and my job is to get everybody excited and on the same page.
"So once you're doing that, you forget all about Hollywood or a bigger budget or whatever," he added. "And then it's me and the actors in a room, and where are we going to place the camera and how many takes are we going to do and how are we telling this story."
For all three filmmakers, it wasn't the specifics of America or American life that drew them to stories set in the United States, but the broader, more universal elements of family and dramatic storytelling.
"I felt this story had the potential to, in a very simple way, lay out this super complex problem and issue. I would have done it in Europe too if I had gotten the material," said Van Groeningen. "I felt a connection to their world even though my world is very different … the fact that this is in America, it doesn't really matter actually."
SIGN UP for the free Indie Focus movies newsletter »
Follow on Twitter: @IndieFocus
Get the Indie Focus newsletter, Mark Olsen's weekly guide to the world of cinema.
You may occasionally receive promotional content from the Los Angeles Times.