Comedy, horror and an unmasked Tom Hardy: How 'Venom's' director built a fresh 'Spider-Man' spinoff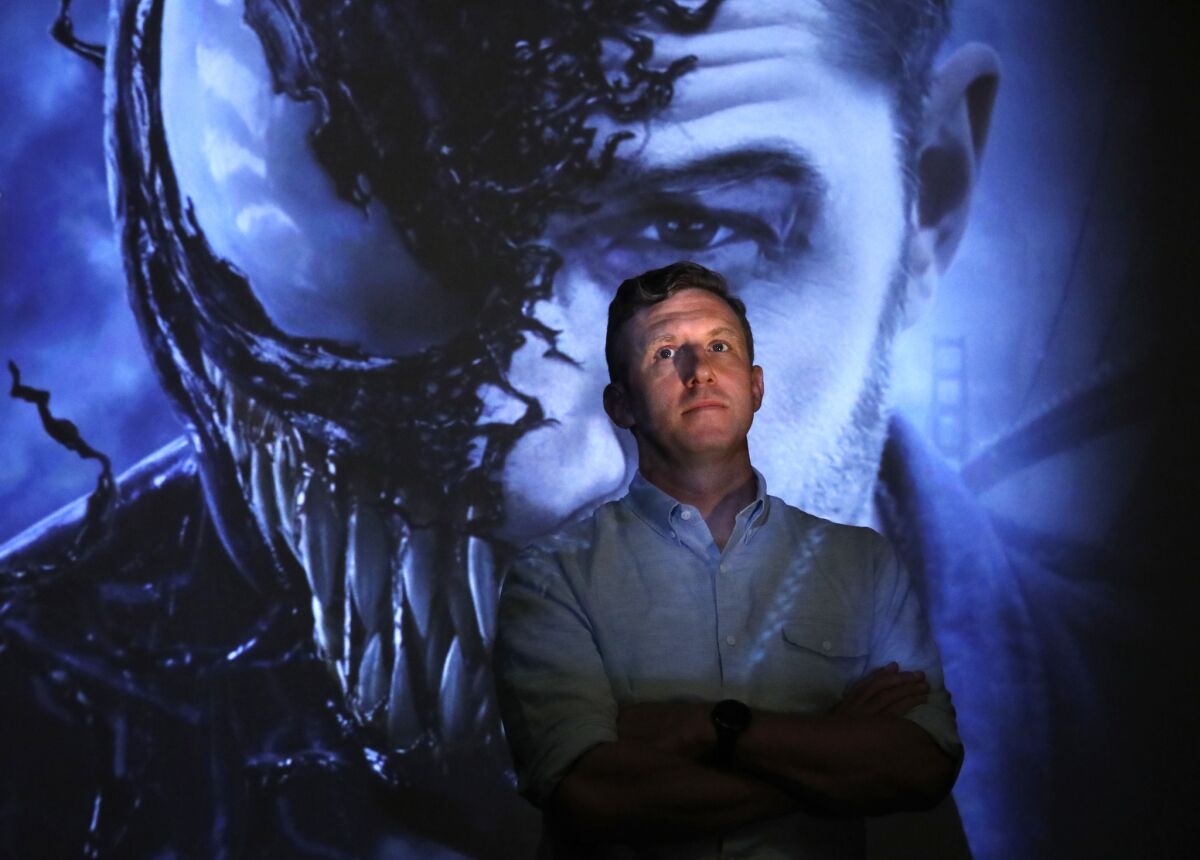 In an edit bay on the Sony Pictures lot, Ruben Fleischer looked outwardly calm but was clearly feeling some heat. At 43, the director was just weeks away from the release of the biggest film of his career: the dark comic-book movie "Venom," which Sony is banking on to launch a series of interconnected films that will expand on the world of the studio's marquee comic-book star, Spider-Man.
"Every time, you're nervous," said Fleischer, who previously directed "Zombieland," "30 Minutes or Less" and "Gangster Squad." "But this is the most predominant film genre so you're under a bigger magnifying glass. That's a new experience for me."
Building a cinematic universe is not for the faint of heart.
"Venom," arriving in theaters Oct. 5, stars Tom Hardy as Eddie Brock, a journalist whose body becomes the host for a bloodthirsty alien life form known as a symbiote, transforming him into the vicious, shape-shifting Venom.
FULL COVERAGE: 2018 fall movie preview »
In the comics, Venom was originally introduced as a foe for Spider-Man before evolving into a kind of vigilante antihero. (The character was played by Topher Grace in 2007's "Spider-Man 3.") But "Venom" wipes the slate clean with a wholly different origin story. A hybrid of man and monster, Venom falls into a gray zone between do-gooder and villain, with Brock's urge to defend the innocent counterpoised with the symbiote's penchant for biting off heads.
Beyond that basic description, plot details about "Venom" — which co-stars Michelle Williams and Riz Ahmed — have been kept tightly under wraps. "It's a big-stakes action movie, so the goal probably involves saving something," Fleischer said coyly.
Asked about fan speculation over whether Spider-Man himself will make an appearance in the film, Fleischer remained mum. "I honestly don't know what I'm allowed to say," he said apologetically. "I mean, I know the answer — I've seen the movie. But I don't want to get in trouble for saying something I'm not supposed to."
Earlier superhero films like "The Dark Knight" trilogy, "Deadpool" and "Logan" have pushed the genre's outer boundaries into grittier, more adult territory. But Fleischer says his touchstones for "Venom" were more along the lines of early 1980s horror films such as "An American Werewolf in London" and buddy comedies like "48 Hrs." and "Midnight Run."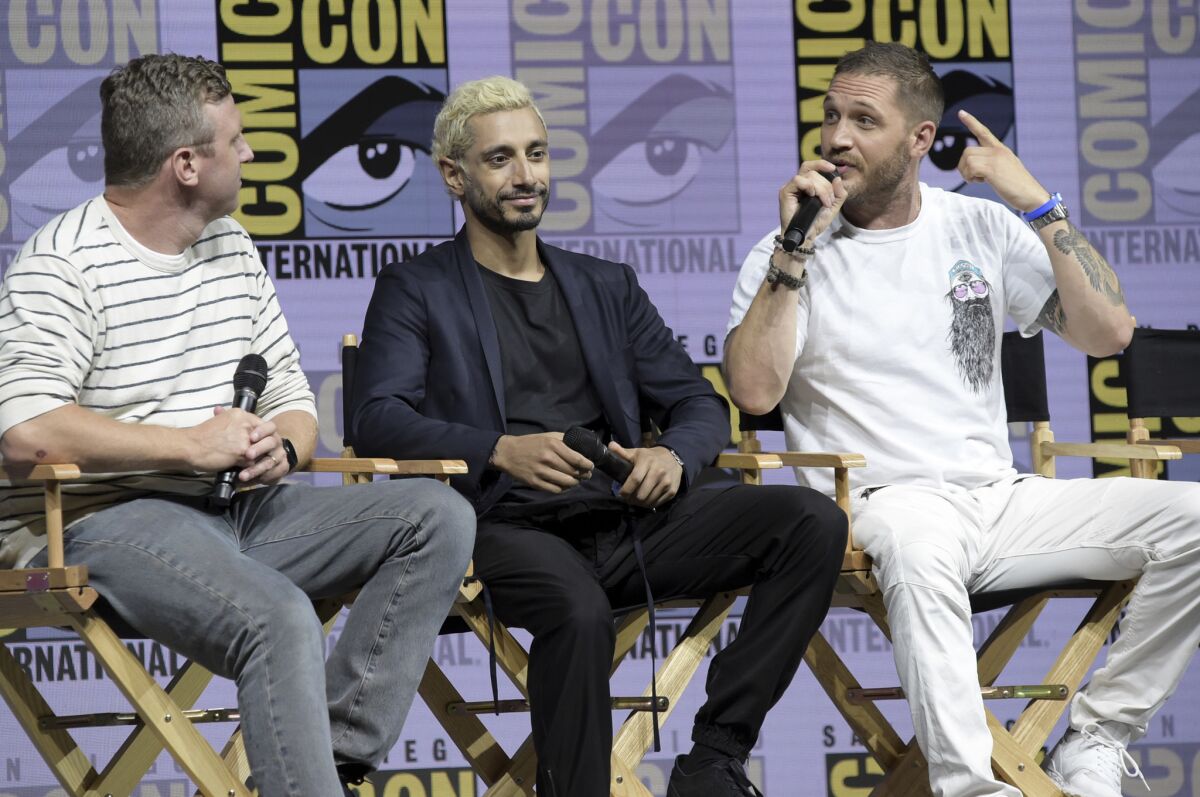 "The symbiote bonds early on with Eddie and it's kind of like 'The Odd Couple,' but instead of sharing an apartment, they share a body," Fleischer explained. "The fun of the movie is the dynamic between them, with Eddie trying to rein in this basically unbridled id and find a balance with him. That theme of duality and trying to control your id — I think that's what Tom and I responded to in terms of why this character is unique and special."
Hardy — who made an earlier foray into the comic-book realm as the villain Bane in 2012's "The Dark Knight Rises" — performed the dialogue of both Brock and the symbiote, with the alien's lines, modulated to sound more sinister, fed back into his ear on the set during scenes.
"I think Tom is going to surprise a lot of people with his performance in this movie," Fleischer said. "It's just a little different than we're used to seeing him. There's no mask in front of his face. He's not playing a period. He's just playing a contemporary guy. I think it's just a little more of Tom than people have seen in a little bit."
RELATED: Virtually every film coming out this fall »
In a landscape saturated with comic-book movies, Fleischer is hoping that "Venom" — a bouillabaisse of action, horror and comedy, with a level of violence that the director says will be "pushed to the hilt" (the film is as-yet unrated) — will stand apart. In its marketing campaign, Sony plays up the film's against-the-grain quality with the tagline, "The world has enough superheroes."
"I feel like the casting, the aesthetic and the character himself all combine to make something that just feels different," he said. "Tonally it doesn't remind you of other movies. It doesn't feel like we just tried to do what everyone else is doing…. The DC universe is so aggressively dark and the Marvel universe has become so light. It was kind of exciting to craft something that just felt a little bit more real and grounded and in our world."
Disney may control the characters of the Marvel Cinematic Universe, most notably the Avengers, but Sony's licensing agreement with Marvel includes the rights to some 900 characters. The studio hopes that "Venom" will help set the table for its own comic-book cinematic universe, with Spider-Man at the center of an ever-expanding web of films featuring characters like Morbius and Black Cat.
"I got really lucky because Venom is I think truly one of the coolest of the characters, and it's the opportunity to launch a whole new world as opposed to just being plugged into a pre-existing one," Fleischer said.
How exactly that new world might evolve, though, remains to be seen.
"As to where it goes from here and what worlds it intersects with, I think that remains to be written," Fleischer said. "Ultimately it comes down to the studio's deals with the different characters and I don't really know the specifics of all that. I'm a pawn on that board. I'm one of the pieces.
"My responsibility is honestly just to make this movie the best I can," he continued. "You just want people to like what you make and for it to be appreciated. That's all I can think about."
But beyond delivering a top-caliber film to the box office gods, Fleischer does have one more modest wish. "My hope is that it's going to be a big Halloween costume this year for kids," he said. " A Venom Halloween mask is such a winner."
Twitter: @joshrottenberg
---
Get our L.A. Goes Out newsletter, with the week's best events, to help you explore and experience our city.
You may occasionally receive promotional content from the Los Angeles Times.