Director Jason Connery's new film 'Tommy's Honour' reflects a love of golf he shares with his famous father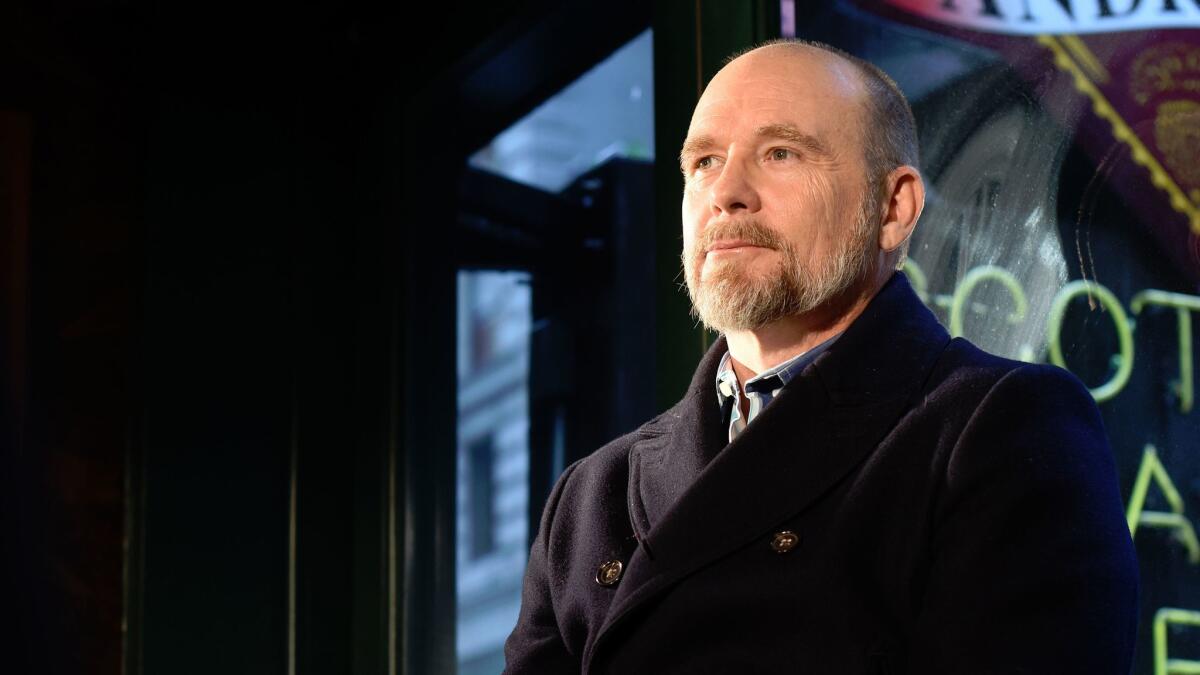 Jason Connery has warm memories of golfing with his father, Sean Connery, when the actor wasn't off portraying James Bond or starring in such films as 1975's "The Man Who Would Be King." And now the younger Connery is back on the links as director of the period drama "Tommy's Honour," the 2016 Scottish BAFTA winner for best feature film.
Based on an acclaimed book, the film — which opens in Los Angeles on Friday — revolves around the complex relationship between pioneering Scottish golf champions from the 1860s; Peter Mullan plays Old Tommy and Jack Lowden is Young Tom.
Connery, 54, made his acting debut in 1983's "The Lords of Discipline," played Robin Hood in the final 1986 season of the British series "Robin of Sherwood" and even played Bond creator Ian Fleming in the 1990 TV movie, "Spymaker: The Secret Life of Ian Fleming." His first directing effort was the 2009 indie thriller "Pandemic," and he's also directed such films as 2009's "The Devil's Tomb."
Connery recently chatted by phone from his New York home about "Tommy's Honour," golfing with his dad in Spain and getting the courage to tell him he wanted to be an actor.
Q: So did you get involved in "Tommy's Honour" because of you and your dad's relationship with golf?
A: No. I've always had a love for Scotland. I have a little cottage in the Borders and I was brought up in Scotland at Gordonstoun, which is a boarding school in the very far north where it can get very cold.
Q: Did you know the story of Old Tom and Young Tom?
A: A producer called me and said would I read this book. I knew the story of Old Tom in a sense that he was the head groundskeeper at St Andrews. But I didn't know the story of his son. It was really the relationship between Old Tom and Tommy and also the love [story] between Young Tommy and Meg, which drew me to the story.
Q: Did you work with the writers in shaping the script?
A: I was very involved in the writing of the script with Kevin Cook and his wife Pamela Marin. They were a good double act because you had Kevin, who knew all the historical accuracy, and then you had Pam, who didn't give [a damn] about golf, who was actually really into the drama.
Q: Golf was a joint passion for you and your dad. Is he still playing?
He's still plugging away. He's 86. He lived in Spain and we played a lot there. I would come with my stepbrother and stepmother and played often with them because Dad would be playing in the celebrity event. We just have great memories of the wonderful times — obviously, I'm able to romanticize because I remember it being sunny, and that's certainly not the case for the most part. But we did have lovely times.
Q: Did you chat with your father about the film before production began?
A: Yes. He saw the script. We talked about it. He's very knowledgeable about standards [of the game]. He did come and see the film at the Bahamian [Island House Film Festival]. It was lovely he was there and he was very complimentary to the movie. He does love the game, and also he's obviously very Scottish.
I was very aware of who Dad was. I felt very much like I had to defend myself or I had to say, I'm not just his son. I am not just riding on his coattails.
— Jason Connery on having a famous father
Q: Peter Mullan and Jack Lowden have a terrific chemistry in the film.
A. Peter Mullan, apart from the fact he's perfect for the part, he's also a phenomenal actor and kind of acknowledged universally. I was very lucky in the sense I had worked with him on a series called "Shoebox Zoo" when I was acting. He was playing a sort of wizard, and I was playing the father of the lead girl.
Jack is really beginning to take off. He's in [Christopher Nolan's] "Dunkirk." He's a very gifted actor, very natural. You almost have to say to him, "It is easy for you. Don't make it difficult. Just get into character, because you're really good."
Q: Being a former actor, what is your directing style?
A: It's different every time. What I try to to do is sort of have a completely set idea of how I want everything to be. Then I see what the actors bring and very often, they bring wonderful stuff. Perhaps stuff I hadn't even imagined Then we sort of go from there. I usually have a plan and then sometimes the plan goes out the window if something comes up that seems to be better.
Q: Did your father and your late mother, Diane Cilento, who was also an actor ("Tom Jones"), try to talk you out of entering acting?
A: I was frightened to tell them. I did some acting at school. There was a thing at Gordonstoun where I came up with something called the Inter-House where the girls' house joined the boys' house and put plays on. That's actually carried on today. Then I got into the Bristol big drama school (Bristol Old Vic Theatre School) and then of course I had to tell them.
My dad basically said, "Look, the thing about acting is, it' s a tough profession. If you really don't want to do it, you'll find out soon." I know what that means because it's tough going into a call room and sort of exposing yourself, so to speak, the way you do when you are auditioning and stuff.
Q: Did you find that having famous parents help open doors or make it more difficult for you when you were starting out?
A: I was talking about this the other day. It kind of goes on stages. It certainly did for me anyhow. I was very aware of who Dad was and everybody else was. I felt very much like I had to defend myself or I had to say, I'm not just his son. I can act. I am not just riding on his coattails.
Q: So with 'Tommy's Honour' you must have been delighted when it won the Scottish BAFTA for best feature film.
A: I had no idea we were going to win. I jumped up, ran to the stage and it hit me emotionally because it had been a long journey, and for it to be acknowledged that way, suddenly I was emotionally paralyzed. I opened my mouth and nothing came out.
Get the Indie Focus newsletter, Mark Olsen's weekly guide to the world of cinema.
You may occasionally receive promotional content from the Los Angeles Times.