Classic Hollywood: Jackie Gleason's full talents on display in new DVDs
Jackie Gleason was so much more than the blustery bus driver Ralph Kramden.
He played Kramden in the beloved 39 episodes of the CBS comedy series "The Honeymooners" which aired from 1955-56 — and have been playing in reruns ever since.
For one thing, Gleason was a serious actor. He earned an Oscar nomination for his indelible performance as pool shark Minnesota Fats in 1961's "The Hustler." For another, he was an agile song-and-dance man. He won a Tony in 1960 for the Broadway musical "Take Me Along." And he sang the Oscar-winning song "Call Me Irresponsible" in the 1963 film "Papa's Delicate Condition."
But it was on television that his wide-ranging talents got a chance to shine. Though his first foray into series TV, 1949's "The Life of Riley" was a disaster, Gleason was in his element when he was hired to headline DuMont's "Cavalcade of Stars" in 1950, the variety series where "The Honeymooners" was introduced as a sketch.
"He was made for a live television audience," said Ron Simon, curator of the Paley Center for Media in New York.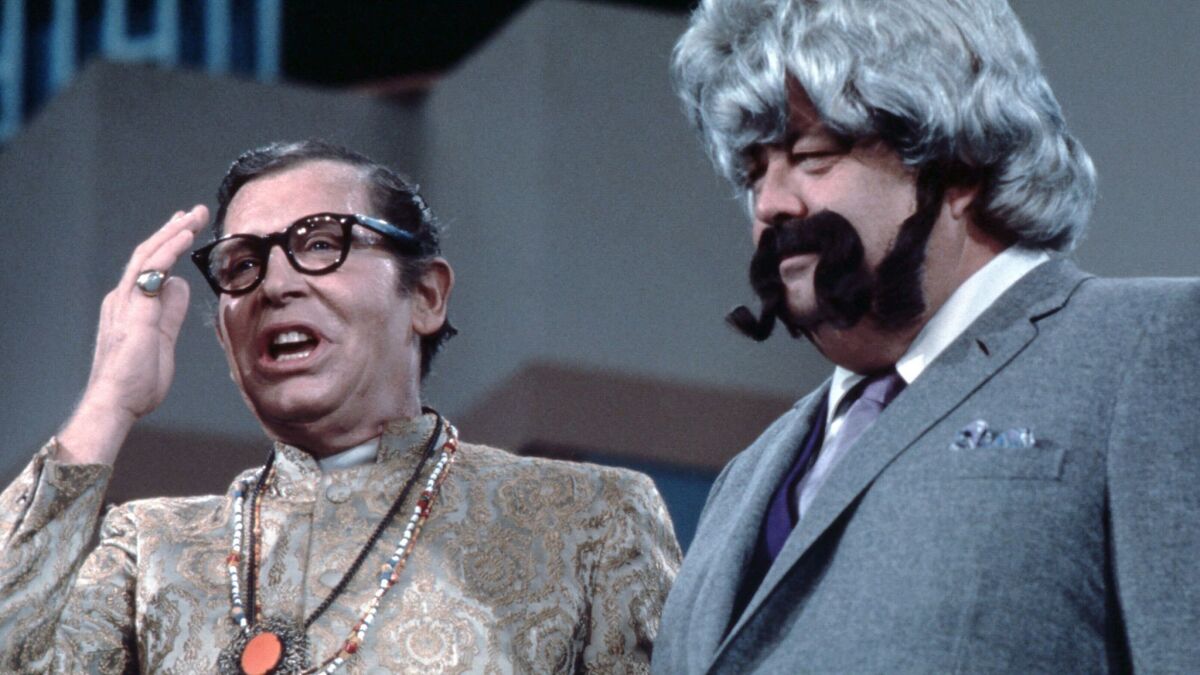 Gleason left "Cavalcade" in 1952 for CBS and "The Jackie Gleason Show." He returned to weekly TV in 1962 on CBS' "American Scene Magazine" and then returned to his '50s format with the color version of "The Jackie Gleason Show," which ran from 1966 to 1970.
Though he was a major force in television for nearly two decades, Gleason never earned an Emmy. "I don't think he got the credit he deserved," said Simon.
To Simon, Gleason had a quality that "embraced the optimism of postwar America. It's both loud, brash and also very sentimental. When you watch you really get a sense of the spirit of the times."
Now audiences can discover (or revisit) Gleason in a new DVD from Time-Life, "The Jackie Gleason Show in Color," which features four episodes of the series which haven't been seen since their original broadcast. These include "Honeymooners" sketches starring Gleason as Kramden and Art Carney as his best friend, sewer worker Ed Norton, Sheila MacRae — replacing Audrey Meadows from the original series — as Alice, and Jane Kean — filling in for Joyce Randolph — as Trixie.
But the majority of the shows, which were taped at the Miami Beach Auditorium, (now the Jackie Gleason Theatre of the Performing Arts), feature Gleason interacting with such veteran comedians and buddies as Red Buttons, Milton Berle and Phil Silvers, young comedians such as George Carlin and musical guests like Florence Henderson and Frankie Avalon.
(Time-Life will also soon be releasing a three-disc set of unseen episodes of the original "Jackie Gleason Show.")
Half of the shows from the color series — many of which were "Honeymooners" sketches — have already been released on DVD.
"The other half, which are these shows, were guests or themed shows," said Gleason's stepson Craig Horwich, who runs Jackie Gleason Enterprises. "There may be a birthday party celebration for Jackie or a country-western or big-band theme."
The reason why these episodes are just coming out now, said Horwich, is that there was a high demand for the color "Honeymooners."
Time-Life has tapped into baby boomers' love for the TV shows of their youth, having released episodes of "The Carol Burnett Show," "The Red Skelton Show" and Bob Hope specials. Longtime fans of the Gleason show may have a bone to pick with the episodes chosen for the DVD release.
The June Taylor Dancers would always open the show with an elaborate dance number. However, on the DVDs they only appear standing in place while Gleason walks out and tells the audience "How sweet it is." The numbers were cut because it was "cost prohibitive for the licenses and clearance," explained Horwich, who is the nephew of June Taylor.
Simon noted that "it's a very different Jackie Gleason" in these episodes than in the 1950s. And it's just not because he had a healthy tan due to playing Miami Beach golf courses. "He was always bigger than life. He was able to succeed in black-and-white television, but maybe his vision — he liked to use the word 'flamboyant' — was in color."
If your family owned a color TV in the 1960s, it would be hard to forget the almost Technicolor palette of the show with the vibrant sets, orchestra leader Sammy Spear's outrageous jackets and Gleason's natty attire that was always topped off by a carnation.
"He was always well-dressed on-screen and off-screen," said Horwich. "He had tailors. His clothes were custom-made. He knew how to dress for a man with his posture and size. He was always in a three-piece suit. His clothing would be brilliant, but always appropriate, always classy and timeless."
Gleason, who was 50 when he revived "The Jackie Gleason Show," is an "elder statesman" on these shows, said Simon.
"One of the nice things is he's welcoming all the people that made entertainment in the 20th century onto the show," Simon said. "You have the Jack Bennys and the Groucho Marxes and the Milton Berles. This is a private Gleason club that he's the chair of. In many ways, he's just telling us how important entertainment is/was to us in the 20th century and why these people are so great. Just his conversation and his sketches with them — that's what makes them special."
---
Get our L.A. Goes Out newsletter, with the week's best events, to help you explore and experience our city.
You may occasionally receive promotional content from the Los Angeles Times.