Cracking the shell of Yorgos Lanthimos' 'The Lobster'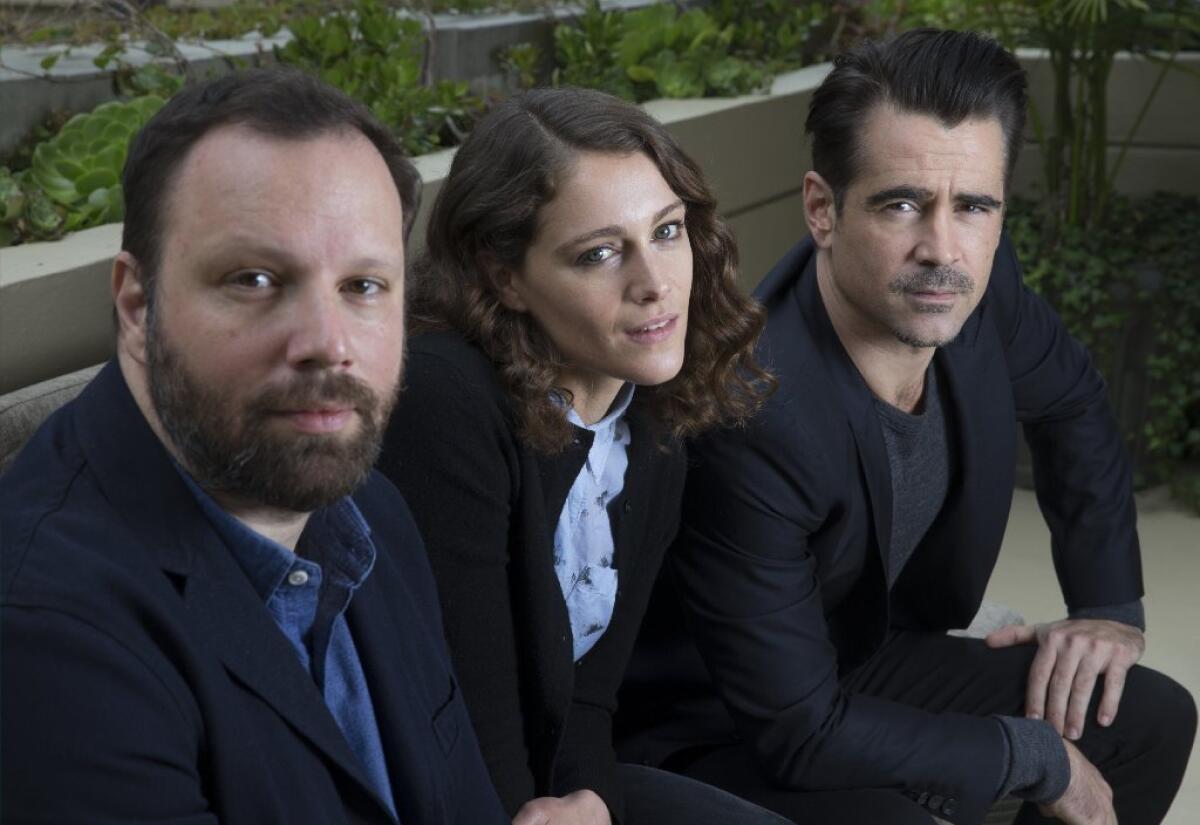 Yorgos Lanthimos makes enigmatic films that exist in universes all their own. His latest, "The Lobster," is at once cerebral and emotional, an abstracted allegory on power, love and the power of love. His films can also be so cryptic and inscrutable that they remain mysterious even to their maker. Few filmmakers are as reticent to give definitive answers, open to outside interpretations or willing to simply respond to questions with an "I don't know."
"Well, what am I going to do, fake it?" Lanthimos said with a friendly warmth during a recent interview in Los Angeles. "I don't know."
"The Lobster," co-written by Lanthimos and frequent collaborator Efthimis Filippou, is the Greek-born filmmaker's first feature in English and boasts an impressive international cast that includes Colin Farrell, Rachel Weisz, John C. Reilly, Olivia Colman, Ben Whishaw, Ariane Labed and Léa Seydoux.
The film is set in a world where adults must be in a couple. Those who are not are sent to a resort where they are given 45 days to find a new partner. Those who fail to do so are transformed into the animal of their choosing.
So it is that when David (Farrell) arrives there after having been left by his wife he declares he would like to be turned into a lobster, should it come to that. He eventually runs away from the hotel to take up with the rebel faction of the Loners who live in the woods. There he meets a woman (Weisz). After they fall for each other, the individualized order of the Loners is challenged.
The film is science fiction, sort of, a romance, in a way, and laced with enough dark humor to make it feel kind of like a comedy. Yet this is all presented in a dry, detached manner that makes even normal interactions seem strange and the strangest of ideas feel oddly normal.
"Yorgos' creative process is one born of curiosity and doesn't arrive in any place of clear definition," said Farrell, sitting alongside Lanthimos for the interview. "And it's an incredibly meticulous process for him to give birth to so much uncertainty. He's a very meticulous filmmaker."
This much is certain. Farrell put on about 45 pounds to achieve a doughy softness for the role – "I just ate and was sedentary," he said – and the film was shot in Ireland, with much of the cast actually staying at the scenic resort near the town of Sneem that serves as the hotel in the story.
Though there wasn't time for rehearsal before production, and Lanthimos certainly wasn't pushing them to perform in a certain register, everyone in the cast connected with the affectless manner of the story, presenting it with a matter-of-fact sensibility that only heightened its absurdity.
"Yorgos unified us as actors, tonally, in a very vivid way," said Weisz. "If directing is tone control then Yorgos has got a lot of that. I believe that's what makes the [film's] world work; it looks like our world, it sounds like our world. There's no spaceships, it's not the future, there are hotels and shopping malls, but it's just organized with different rules."
If the movie leaves most viewers, and at times even his cast, grasping for answers, Lanthimos said that's where it started for him too.
"I think you do this kind of work because you have some questions," he added. "And the films that we made we tried to structure in a way that they are very open and people can experience them in different ways according to who they are. I can give you an answer, but that's going to be as valid as someone else's answer."
Lanthimos broke through on the international filmmaking scene with his second feature, "Dogtooth," which won the Un Certain Regard sidebar when it premiered at the 2009 Cannes Film Festival and went on to be nominated for the Academy Award for foreign-language film. His next film, "Alps," won the screenplay prize at the 2011 Venice Film Festival. "The Lobster" won the Jury Prize when it premiered in the main competition at Cannes last year and later won two prizes at the European Film Awards.
After having made his first three features in Greece, Lanthimos wanted to make his next film abroad in English with hopes it would allow him access to additional resources of funding, casting and production. He moved to London and began pursuing a number of possible projects.
Off the international acclaim for "Dogtooth" and "Alps" and with the script for "The Lobster," Lanthimos attracted his impressive international cast. Though that doesn't mean he was any more forthcoming – "He is economical with his thoughts," said Reilly – when it came to what the movie is really about.
Labed also starred in "Alps" and is now married to Lanthimos. (She will also be seen in the upcoming "Assassin's Creed.") She said that the transition to working in English with better-known actors did not change Lanthimos' working methods or the atmosphere on set.
"It was absolutely the same," Labed said. "Yorgos has the same logic; he was really free to do whatever he wanted. The casting didn't change anything; all the people invited knew his work and they knew it was something particular. Everyone was very enthusiastic and enjoying what we were doing, even when they were like, 'My God, what is this scene about?' So it was no different at all."
The shift to working in English has so far served its purpose for Lanthimos. At the Cannes Film Festival, news broke that his next film will be "The Killing of a Sacred Deer," starring Farrell and to be distributed in the U.S. by A24, which is also putting out "The Lobster," and scheduled to begin shooting later this summer. He also still has a long-in-development project set during the reign of Queen Anne.
One thing that seems sure is that no matter where he makes a movie, or in what language, a film by Yorgos Lanthimos winds up being unmistakably his own.
Even his occasional diffidence or reluctance to give definitive responses comes to take on a keen logic, keeping the films open in a way that makes them genuinely singular. His use of "I don't know" can in its own way come to seem a secret form of knowledge.
"I think Yorgos is very wise to take that position when people are asking what does it mean and they want a final answer," said Reilly. "And there are no final answers, it's just how it affects you. If you just lost a parent and saw 'The Lobster' you might think it's about coping with the loss of someone, and if you've just broken up with your girlfriend you might think it's about something entirely different."
Follow on Twitter: @IndieFocus
Get our L.A. Goes Out newsletter, with the week's best events, to help you explore and experience our city.
You may occasionally receive promotional content from the Los Angeles Times.