Review: 'Ask Dr. Ruth' gently examines America's most famous sex therapist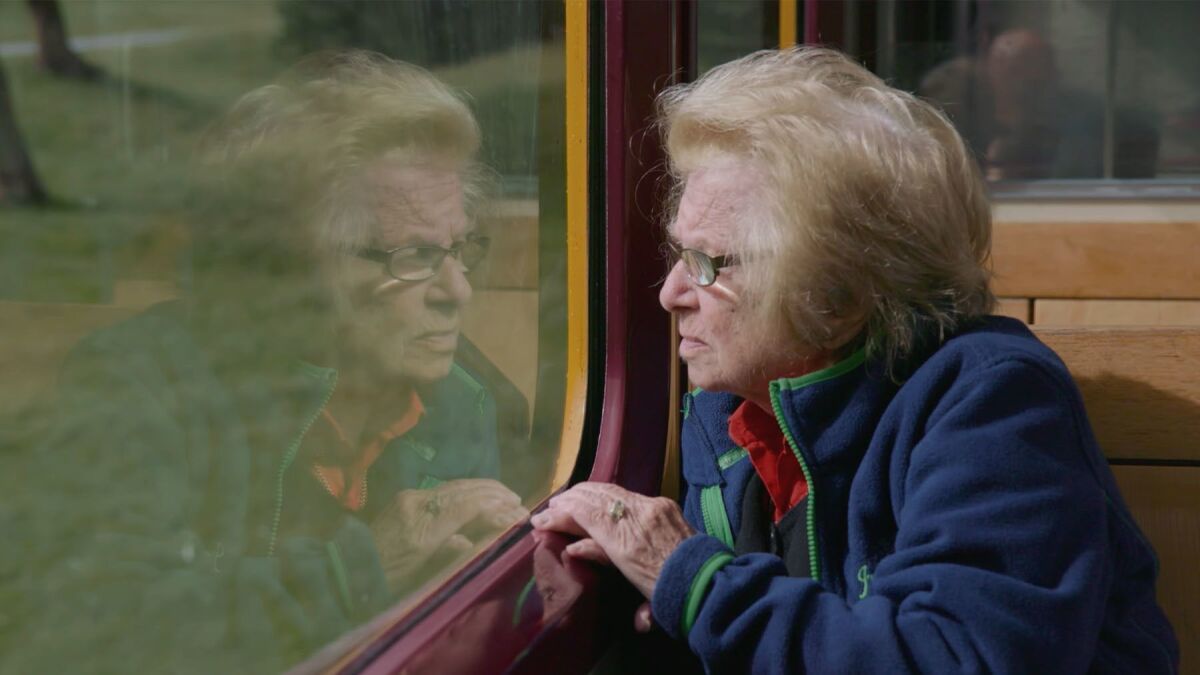 Film Critic
In one of the lovelier moments in "Ask Dr. Ruth," the famed American sex therapist Ruth Westheimer pays a visit to a former boyfriend, Walter, and his wife of many years. The young Ruth and Walter were childhood sweethearts in Switzerland during World War II, but Westheimer, her eyes sparkling with merriment and mischief, shows that her memory remains as sharp as her wits. The two never had sex, she recalls — if they had, it would have provoked a scandal — but she can still remember the taste of his kisses.
As unexpected admissions go, this one is quintessential Dr. Ruth: disarmingly frank, funny and matter of fact in its assertion of female desire. It's delivered, of course, in her endlessly imitable, thickly German-accented voice, which the Wall Street Journal once described as "a cross between Henry Kissinger and Minnie Mouse."
For years that voice was a warmly consoling and bracingly disruptive presence on America's airwaves. What made Westheimer's 1980s radio program, "Sexually Speaking," so radical wasn't just the frank advice she offered her anxious callers or the ease with which she normalized the use of words like "penis" and "vagina" on the air. It was the reassuring lilt in her delivery, the gentle, grandmotherly insistence that the matters under discussion, embarrassing though they might be to those listening, were nothing to be ashamed of.
Westheimer's program was such a revelation that talk shows and book deals soon followed, as did a Dr. Ruth-themed board game, a sitcom and a movie opposite Gérard Depardieu and Sigourney Weaver. The director Ryan White ("The Keepers") has fun exploring all that gimmicky pop-cultural detritus, and he also drops in a few greatest-hits montages covering Westheimer's rise to fame, including her interviews with Arsenio Hall and Conan O'Brien, who seem alternately delighted and alarmed by her uninhibited sex talk.
RELATED: Dr. Ruth is 90.5 and living her best life, but an Oscar would be nice »
Director Ryan White and Dr. Ruth Westheimer talk about her life story and what they want people to learn from "Ask Dr. Ruth" at the L.A. Times Studio at Chase Sapphire on Main.
Westheimer is happy to chat at length about her three marriages (the third, to Fred Westheimer, was the longest and happiest), and also about her children and grandchildren. We learn about her pioneering work during the conservative Reagan years, specifically her defense of abortion rights and her advocacy for the gay community at the height of the AIDS crisis, when LGBT issues were still rarely discussed in the public sphere. She insists that she's an apolitical figure, and at one point goes so far as to say that she doesn't consider herself a feminist. Her work, of course, tells a different story.
What we don't hear enough of, curiously, is Westheimer's actual advice, the specific counsel she dispensed so readily to people she was often meeting for the first time. A few of her signature crowd-pleasing quips aside, we hear more of her callers' questions than we do the therapist's answers. The experience of watching "Ask Dr. Ruth" is a bit like that of meeting someone unaccountably delightful and almost being knocked backward by the gale-force strength of her personality, and then wanting to go out and buy one of her books so as to actually learn something about her ideas.
RELATED: Which documentaries have a shot at breaking out at the summer box office? »
The pleasure of spending 100 minutes with that personality, of course, shouldn't be underestimated. Westheimer turned 90 last June and she remains a whirlwind of activity, a force of nature. She may be small at 4-foot-7, but the camera still seems to spend a lot of time racing to keep up as she makes her way around New York, bouncing between her Washington Heights apartment and her next speaking engagement.
Westheimer's own children see something faintly troubling in her chipper demeanor and intense workaholism, signs that she's never really recovered from the wounds of the past. In one key thread, Westheimer retraces her youthful footsteps across Switzerland, where her German Jewish parents sent her in 1939 to live at an orphanage; she never saw either of them again. She later visits Yad Vashem, Israel's Holocaust memorial and museum, to look up their death records.
There's a fascinating tension in the notion of someone famed for her candor, especially with regard to something as intimate as sexuality, being reluctant to express or discuss her emotions. But "Ask Dr. Ruth" never unlocks that tension, and not for lack of trying. It repeatedly falls back on animation to dramatize Westheimer's wartime memories, an attractive, banalizing touch that yields more pathos than insight. The movie seems to want something from its subject — a burst of emotion, a moment of personal reckoning — that to her credit she isn't able or willing to provide.
It might be instructive to compare the movie with "RBG," last year's crowd-pleasing, Sundance-premiered documentary about a tireless Jewish American crusader for women's rights named Ruth. Both movies are personality profiles and fairly conventional in form. But "RBG," straightforward though it was, nonetheless provided a deeper, richer grasp of Ruth Bader Ginsburg's scholarship. Partly because hers was the quieter, more reserved screen presence, the movie seemed to work harder, and more intuitively, to bridge the distance between her and the viewer.
With its irrepressible 90-year-old dynamo of a subject, "Ask Dr. Ruth" has no such distance to work with and no interest in establishing any. Unlike the one credentialed naysayer we see interviewed here, who describes her approach as "reckless" without delving into specifics, the film unabashedly adores Westheimer and assumes that we will follow suit. It's not entirely wrong on that score, even if it's much too content to coast on its subject's outsized charms.
Dr. Ruth Westheimer answers questions sent in from readers on Twitter at the L.A. Times Studio at Chase Sapphire on Main.
------------
'Ask Dr. Ruth'
Not rated
Running time: 1 hour, 40 minutes
Playing: Laemmle Playhouse 7, Pasadena; Laemmle Royal, West Los Angeles; and Laemmle Town Center 5, Encino
justin.chang@latimes.com | Twitter: @JustinCChang
---
Get our L.A. Goes Out newsletter, with the week's best events, to help you explore and experience our city.
You may occasionally receive promotional content from the Los Angeles Times.