As Brad Bird prepares for Cinematheque honor, the 'Incredibles 2' director looks to what's next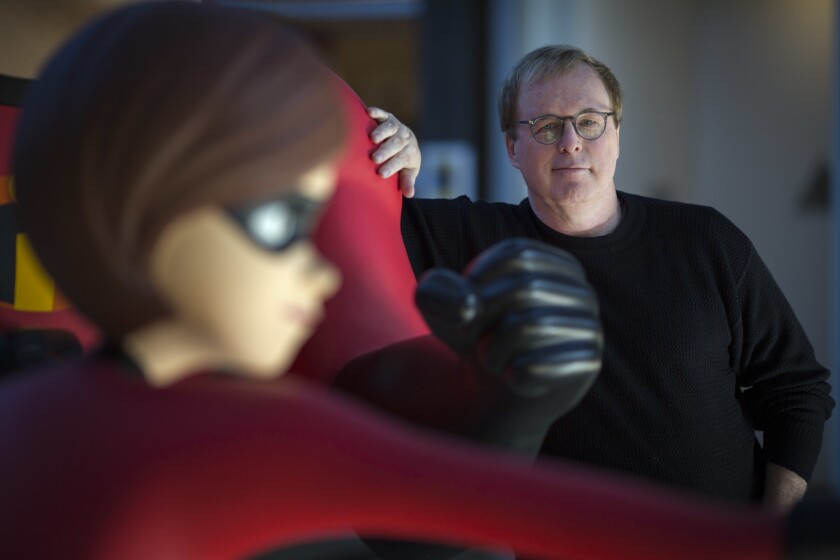 Brad Bird, the lauded director, animator, screenwriter and producer who earned Oscars for Disney/Pixar's 2004 and 2007 animated blockbusters "The Incredibles" and "Ratatouille," respectively, would go to the movies as a young boy growing up in Corvallis, Ore., to watch and rewatch animated films.
"It was before DVD and home video allowed you to see movies millions of times," said Bird, 61, in a recent phone interview.
"I can only imagine that Brad was doing the best bunnies and ducks and solves in front of flashlights at the age of 3," said Holly Hunter, the voice of Helen Parr, a.k.a. mom and superhero Elastigirl in "The Incredibles" and the 2018 Oscar-nominated "Incredibles 2," which is the highest-grossing animated film of all time, with a worldwide gross of $1.24 billion.
At age 11, Bird was lucky enough to get a tour of Walt Disney Studios where he met two of Disney's legendary Nine Old Men — animators Frank Thomas and Ollie Johnston. When they learned he had started an animated film and wanted to be an animator when he grew up, "they gave me this little smile that I still remember. It's burned into my retinas because it seemed to be 'Yeah, in two weeks you're going to lose interest, kid, and we'll never see you again.'"
The two were shocked when three years later, he showed up at Disney with a 15-minute-long film that had won a contest in Oregon and an honorable mention in a nationwide Kodak contest. And at 14, he was mentored by another of the Nine Old Men, Milt Kahl.
"They were just starting to get the idea that their animators weren't going to live forever, and they didn't have anyone trained in that kind of animation," recalled Bird. "So that's how the mentorship with Milton came about."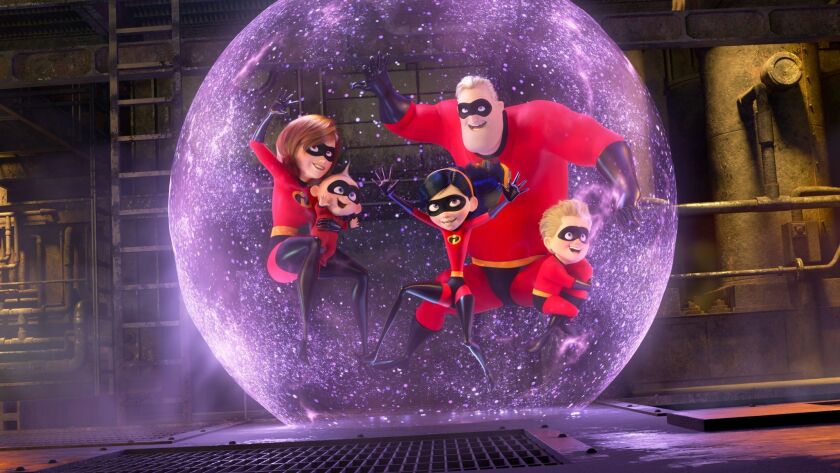 No doubt there will be several budding animators in the audience at the American Cinematheque's tribute to Bird, which kicks off Friday with his 1999 acclaimed debut feature "The Iron Giant," followed Saturday with his first Oscar-winning animated feature, 2004's "The Incredibles" and the blockbuster Oscar-nominated 2018 sequel "The Incredibles 2" on Saturday and "Ratatouille" on Feb. 10. Bird will participate in a Q&A on Friday and Saturday.
Bird, who also directed the 2011 and 2015 live-action films "Mission: Impossible — Ghost Protocol" and "Tomorrowland," respectively, joked he's "kicking myself because I don't make more films in the amount of time that's gone by. But at least I have enough to fit an afternoon. I'm attracted to kind of more complicated things."
Despite strong reviews, the heartwarming "The Iron Giant" failed to attract audiences, making just $23.2 million. But the animated film has a large and devoted following thanks to DVDs and cable airings.
Bird said there are a number of reasons why the film failed at the box office. "Some are Warner Brothers' fault, and some are my fault," he said.
The longevity of "Iron Giant," he said, is "really gratifying because it was made under really tough conditions. They had made so many budget overruns on everything that they made to that point and they were exiting the animation business on our film. If we could produce the film efficiently and I mean like brutally efficiently … we got a huge amount of freedom to make the movie that we wanted to make."
He has the rare capacity of giving you a sense of being and entitlement because of his belief in you.
— Holly Hunter
Hunter loves working with Bird because "he's always on the inside track — the loneliness of a long-distance runner — and that intimacy he has with the story and the characters gives me a deep sense of security," she said in an email interview. "He possesses that duality of the most wonderful directors. He has the rare capacity of giving you a sense of being and entitlement because of his belief in you."
Bird noted that these days, more people agree with him that animation is an art form and not just a film genre. Still, he acknowledged, "animators don't help when they kind of do a lot of clichés that play up obnoxious voices and an overly caffeinated pace. But I think as time goes on people are realizing that the medium is quite malleable and that you can tell all kinds of different stories with it."
Though "it's hard to get stories that are outside of the usual wheelhouse green lit, it is possible," he said. He singled out "Spider-Man: Into the Spider-Verse" — a competitor in the Oscar animated feature race — for special praise, saying "it "has a kind of hand-drawn veneer on it. I mean, it's still computer, but it is using some of the graphic look of hand-drawn films. I think all of that speaks to the health to the industry and art form."
And Bird is going out of the box for his next, as yet untitled, film — an original musical featuring score by his frequent collaborator Michael Giacchino.
"It will have at least 20 minutes of animation," Bird said. "It won't be one style of animation. There will be several different styles of animation in it. But probably the larger part of it will be hand-drawn animation. So, I'm looking forward to that."
----------------------------------------------------------------------------------
"Bird Watching: The Animation of Brad Bird"
American Cinematheque's Aero Theatre
1328 Montana Ave., Santa Monica
Feb. 1 at 7:30 p.m. "The Iron Giant"
Feb. 2 at 2 p.m. "The Incredibles" and "Incredibles 2"
Feb 10 at 4 p.m. "Ratatouille"
Admission: $8-$12
Admission is free for "Ratatouille" with RSVP to https://www.eventbrite.com/e/ratatouille-tickets-54956090145
For more information, go to www.americancinematheque.com
---
The complete guide to home viewing
Get Screen Gab for weekly recommendations, analysis, interviews and irreverent discussion of the TV and streaming movies everyone's talking about.
You may occasionally receive promotional content from the Los Angeles Times.