New releases: 'Theory' glosses over complexities of story of Stephen Hawking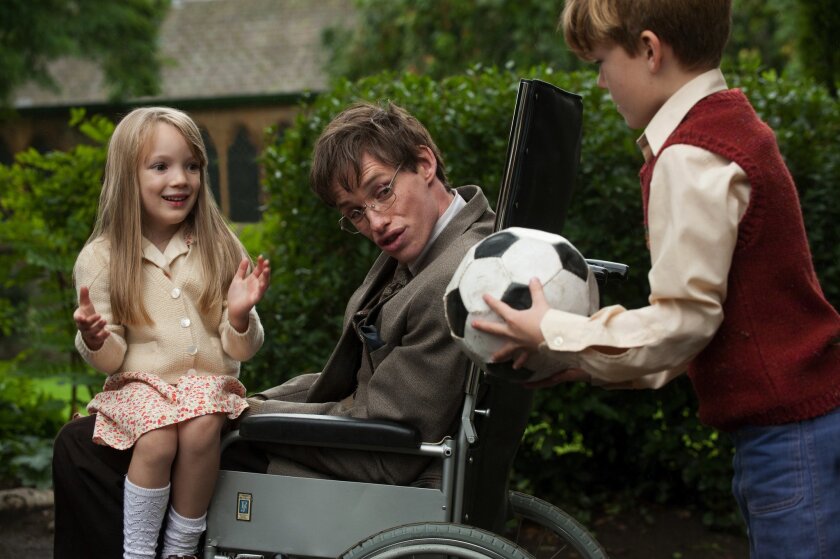 The Theory of Everything
Universal, $29.98; Blu-ray, $34.98
Available on VOD on Tuesday
The lack of diversity in this year's Oscar nominations wouldn't be so glaring if the Academy of Motion Picture Arts and Sciences hadn't been so charitable to indistinct awards-bait like "The Theory of Everything." Director James Marsh and screenwriter Anthony McCarten have made an easy-to-watch, well-acted biopic of Stephen Hawking, with Eddie Redmayne as the physicist and Felicity Jones playing his first wife, Jane. But while "The Theory of Everything" hits the high points of its subject's life and work, it's overly glossy and maudlin, forcing weak linkages between Hawking's degenerative neural disease, his changing relationships with his loved ones and his research into black holes. The filmmakers squeeze a complicated story into a disappointingly straightforward feel-good movie about overcoming obstacles. Marsh contributes a commentary track to the DVD and Blu-ray, which also has deleted scenes and a featurette.
CRITICS' PICKS: What to see, do and eat
The Interview
Sony, $14.99; Blu-ray, $19.99
It was probably naive for Sony Pictures, Seth Rogen, Evan Goldberg and James Franco to think they could avoid sparking an international incident with their comedy about a couple of dopes (played by Rogen and Franco) who try to assassinate real-life North Korean supreme leader Kim Jong-un. And it was probably just as naive for the showbiz press to believe that Sony would bury "The Interview" forever after cyber-terrorists pressured the company to cancel its release. After limited theatrical and VOD runs, "The Interview" now hits DVD and Blu-ray in what's being dubbed the "Freedom Edition" (containing featurettes, 90 minutes of deleted scenes, and a commentary track by writer-directors Rogen and Goldberg). But after all the hue and cry, the actual movie turns out to be overlong and only sporadically funny. It has every right to exist, but it's hardly worth all the trouble it caused.
Life Itself
Magnolia, $26.98; Blu-ray, $29.98
Steve James' documentary is a fairly thorough biography of a major American culture figure — the late film critic Roger Ebert — and an inspiring look at how a husband and wife persevere through an illness that robbed a master raconteur of his speaking voice. James contrasts Ebert's rowdy early years with the kinder person he became later, while delving into Ebert's love/hate relationship with his TV partner Gene Siskel and the not-always-positive reactions of other critics to their success. The result is a powerful film that should move even noncinephiles, given that Ebert was first and foremost a terrific writer who knew how to communicate with people. The "Life Itself" DVD and Blu-ray include additional scenes and a James interview.
The Tale of the Princess Kaguya
Universal, $29.98; Blu-ray, $34.98
Though Hayao Miyazaki is the best-known filmmaker from Studio Ghibli, his partner Isao Takahata is responsible for almost as many masterpieces of feature animation. Miyazaki may have made his last movie with 2013's "The Wind Rises," and Takahata is rumored to be retiring after last year's "The Tale of the Princess Kaguya." If so, this is a fine way to finish, with a beautifully designed adaptation of an ancient folk tale about a bamboo cutter who finds a pile of gold and a mysterious young girl in his grove and tries to raise her as royalty. The story has an elemental pull — all about one how one child's connection to nature clashes with her father's lust for wealth and prestige — and a look that resembles old paintings. The DVD and Blu-ray add a couple of brief featurettes.
And…
Dumb and Dumber To
Universal, $29.98; Blu-ray, $34.98
Available on VOD on Tuesday
Game of Thrones: The Complete Fourth Season
HBO, $59.99; Blu-ray, $79.98
The Homesman
Lionsgate, $19.98; Blu-ray, $24.99
St. Vincent
Starz/Anchor Bay, $29.98; Blu-ray, $34.99
Watchers of the Sky
Music Box, $29.95
---
Inside the business of entertainment
The Wide Shot brings you news, analysis and insights on everything from streaming wars to production — and what it all means for the future.
You may occasionally receive promotional content from the Los Angeles Times.