Fighting the patriarchy at Cannes with Jafar Panahi's '3 Faces' and Eva Husson's 'Girls of the Sun'
Film Critic
Reporting from Cannes, France —
The 71st Cannes Film Festival is underway (May 8-19), and L.A. Times critic Justin Chang is there, seeing as many movies as possible and writing about it for a day-by-day, film-by-film diary. This is one in a series of entries spanning from the opening festivities to closing night. For more entries and reviews, click here.
I saw a beautiful movie at Cannes on Saturday night — an artful, surprising and thrillingly intelligent story about a few women trying to make a difference, forging bonds of solidarity in quiet defiance of the repressive, small-minded men in their rural village. That movie is "3 Faces," the latest from the ever-resourceful Iranian writer-director Jafar Panahi, who has been restricted from traveling abroad by his country's government and so was unable to attend his film's festival premiere.
This has become fairly routine for Panahi, who was arrested in 2010 for allegedly making anti-Islamic propaganda and was sentenced to a 20-year ban from filmmaking. That hasn't stopped him, of course: While under house arrest, he shot the feature-length video diary "This Is Not a Film," which was smuggled out of Iran on a flash drive hidden inside a cake and premiered to deserved acclaim at Cannes in 2011. Panahi also appeared as himself (or a version thereof) in his next two pictures, "Closed Curtain" (2013) and "Taxi" (2015), both of which screened at the Berlin International Film Festival.
"3 Faces" marks Panahi's first shot at the Palme d'Or; if he wins, he will have effectively scored the European film-festival equivalent of the Triple Crown. ("Taxi" won the Golden Bear at Berlin in 2015, while Panahi's "The Circle" took the Golden Lion at the 2000 Venice International Film Festival.) But the prospect of awards feels especially beside the point with regard to "3 Faces," in which the pursuit of an artistic calling is shown to have potentially much graver consequences than merely losing a prize.
I'll be discreet. "3 Faces" may be modest and low-key on the surface, but its surprises are worth preserving, its insights casually profound. At the heart of the story is a mystery: What happened to Marziyeh (Marziyeh Rezaei), a teenage girl and aspiring actress from Iran's Turkish-speaking Azerbaijan region, who has suddenly gone missing? Before she vanished, Marziyeh, whose family strongly disapproves of her choice of calling, sent an alarming self-shot video to the famed actress Behnaz Jafari (playing herself). Jafahi was sufficiently rattled by the footage that she has now come to the girl's village in search of answers, chauffeured by none other than Panahi himself.
Much of this subtly, bracingly pleasurable movie is spent following Panahi and Jafari as they drop in on the villagers and make inquiries. They observe firsthand the environment — largely cut off from the outside world and ruled by small, superstitious minds — that undoubtedly both gave rise to and attempted to suppress Marziyeh's defiance. They drive slowly around the hilly, rocky countryside, along winding mountain roads that are often too narrow to accommodate two cars passing each other in opposite directions — a situation that Panahi turns into an ingenious metaphor for a society mired in tradition for tradition's sake, unable to see past the end of its patriarchal nose.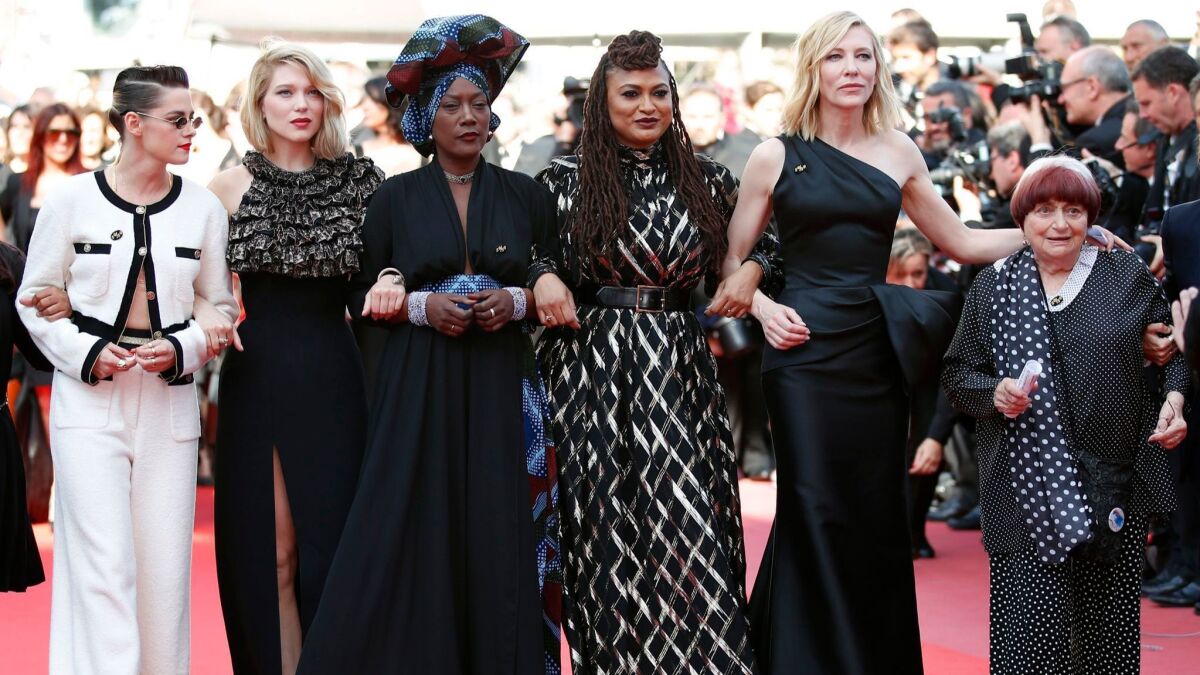 A puzzle, a tragicomedy and, by the end, something of a ghost story, "3 Faces" drew sustained applause after the screening for its no-show director, whose seat, marked with his name, was left symbolically empty on Saturday night. It was a sweet but somber occasion, especially compared with the rousing events that had unfolded on the red carpet a few hours earlier.
Eighty-two women — including Cate Blanchett, the president of the competition jury, and Agnès Varda, an honorary Palme d'Or winner — marched up the carpet in an act of protest against widespread gender disparity in the film industry. Each woman represented one of the 82 female-directed films that have been selected for competition at this festival; compared with the 1,645 that were directed by men, that's barely 5% of all the films selected for Cannes' most prestigious section.
The march was cannily timed to precede the world premiere of "Girls of the Sun" ("Les Filles du Soleil"), a war drama from the French writer-director Eva Husson, and the first of three pictures directed by a woman to screen in this year's 21-title competition. (The other two are Alice Rohrwacher's "Happy as Lazzaro" and Nadine Labaki's "Capernaum.")
Set in 2014, "Girls of the Sun" tells the ripped-from-the-headlines story of a battalion of female soldiers fighting extremist oppression in Iraqi Kurdistan. The commander, Bahar (Iranian star Golshifteh Farahani), saw her home village invaded by ISIS forces, who killed the men (including Bahar's husband) and took the women and children hostage; mass rapes and child-soldier indoctrinations ensued. Bahar managed to escape (as we see in flashbacks), and now is preparing to lead a peshmerga unit, consisting of other female ex-captors like herself, to liberate her hometown.
"Girls of the Sun" has some tense, muscular action filmmaking to recommend it, as well as a feel for tough-and-tender female camaraderie that reaches the screen far too rarely to be dismissed lightly. But Husson's formal chops — already on display in her lusty 2015 teen drama, "Bang Gang (A Modern Love Story)" — decidedly outstrip her instincts as a screenwriter. Representational merits alone can't distinguish this movie's clumsy farrago of good intentions, ham-fisted story choices and cloddishly on-the-nose dialogue.
You know what you're in for early on when Bahar gets asked a question about her background and replies, "I'm a lawyer," then glances sadly sideways and corrects herself: "Was a lawyer." She's addressing a hardened war correspondent, Mathilde (Emmanuelle Bercot, sporting an eyepatch), who initially plays the unnecessary role of audience surrogate.
Thankfully, Mathilde is cast aside for much of the running time, allowing Husson to favor the direct perspective of Bahar and her fellow captives-turned-fighters. But it simply raises the question of why this outside character, if that's the word, was deemed necessary to begin with. Surely not so that Bahar could tearfully exhort her to "write the truth" — advice that this movie, with its clunky manipulations in service of an unimpeachably noble cause, might have done better to follow.
The festival's general delegate, Thierry Frémaux, said in a press conference on Monday that he was open to taking any number of steps to improve the representation of women in the official selection, including diversifying the ranks of his selection committee (something he claimed to have already done in the past year) and helping to bolster the number of women enrolled at film schools. But he drew the line at programming films in competition simply because they were directed by women, noting that while he believed in positive discrimination in society, the Cannes selection process would always be strictly merit-based.
That's not entirely true, of course. All sorts of factors and favors come into play when programming a festival, and I've long suspected that if the process really were strictly merit-based, we would routinely see more female filmmakers in competition, not fewer.
In my 12 previous years of attending Cannes, I've wondered why each of the following movies — Claire Denis' "Bastards" and "Let the Sunshine In," Pascale Ferran's "Bird People," Agnès Varda's "Faces Places," Celine Sciamma's "Girlhood," Chloé Zhao's "The Rider," Clio Barnard's "The Selfish Giant," Kelly Reichardt's "Wendy and Lucy" and Valeska Grisebach's "Western" — hadn't scored a competition berth instead of some male-directed mediocrity.
There's also the infuriating reality that even if a female-directed movie is the best film in competition by several light years — as was the case just two years ago with Maren Ade's masterful "Toni Erdmann" — there's still a strong chance the jury will overlook it completely. (Yes, I'm still angry.)
As Saturday's red-carpet women's march suggests and as the endlessly debated #MeToo movement seems to demand, the question of Cannes' responsibility in all this has finally come to a head. In one of the less productive lines of discussion to emerge, I've heard several journalists offer their theory that with Blanchett presiding over a female-majority jury that includes Ava DuVernay, Khadja Nin, Léa Seydoux and Kristen Stewart, this year's Palme d'Or winner will almost certainly be directed by a woman. (To date, a jury has awarded the Palme to only one female director, Jane Campion, whose "The Piano" tied with Chen Kaige's "Farewell, My Concubine" in 1993.)
Of course it could happen. It also could not, and for reasons that might have everything or nothing do with gender, aesthetics, quality and other relevant concerns. At any rate, no one likes to be pigeonholed. To suggest that Blanchett's jury might be inclined to make a choice for purely political reasons — especially at this point, before all the films in competition have screened — feels both presumptuous and cynical, and serves no purpose other than to cast the harsh glare of bad faith on whatever choice they ultimately wind up making.
READ MORE: Daily updates from the 2018 Cannes Film Festival »
Get our L.A. Goes Out newsletter, with the week's best events, to help you explore and experience our city.
You may occasionally receive promotional content from the Los Angeles Times.